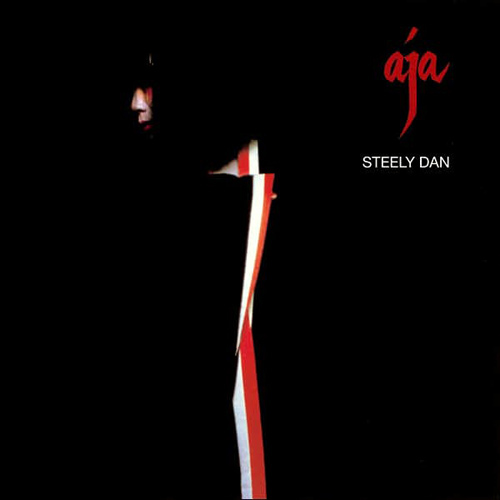 Steely Dan's early catalog charted a singular journey, marking the course of a band striving to figure itself out. Memorably experimental vinyl mapped the way, documenting progress in music and philosophy alike. Its destination: 1977's Aja, which completed the group's essential language, and has spent four decades not only as the band's best-selling album, reaching #3 on the Billboard chart, but as a monument to the possibilities of ultra-fastidious recording.
Their debut album Can't Buy a Thrill contains signature moments—"Reelin' in the Years" and the breakthrough "Do it Again," for starters—but also documents a band that has yet to fully coalesce. The Steely Dan of 1972 didn't yet recognize the full value it could (and soon would) derive from founders Donald Fagen as showcase vocalist (due in large part to his own reticence in that regard) and Walter Becker as a guitarist (he deferred to others and played bass in those days). Despite the rangy sonic palette (and many guest musicians) it embraced from the get-go—listen no further than the different instrumentation on the stereo and quadraphonic versions of the album—it was a collective yet to realize its most effective means of transforming ideas into finished art.
The band worked at cross purposes in the years that followed, with Becker and Fagen making studio work their focus, and the remainder zeroed in on touring—an arrangement that couldn't last. By 1975, most members were gone via attrition, leaving Becker and Fagen to pursue things their way, which they did with the group's fourth record, Katy Lied. Its process opened a new era, with the two primaries providing guiding vision to be developed by top-tier session musicians in exhaustive studio work.
That paradigm would be fine-tuned to a spectacular degree two albums later. Aja is a bravura exercise in music production that also happens to be loaded with great songs. An accessible jazz-pop fusion drives an economically epic album, adding up to less than 40 total minutes of music in which no note goes wasted. Long songs fly by, and short ones seem big, in a digestible, dazzling listen.
The opening track, "Black Cow," establishes the ground rules in a slinky opening with synthesized keyboard twinkle, tapping the gas on a silky, jazz-inflected flow.
Theoretically offered as a kiss-off to an unfaithful lover, the tune is just as much about establishing a cadence, nestled within a meticulously contoured montage. On an album that sees work from nearly 40 musicians in all, Larry Carlton's guitar is here and Victor Feldman's electric piano there, hovering cleanly within a spotless production design that enhances the song's enticements.
The title track follows, all polish and poise, but it's not built on empty calories. Smooth on the ear as it is, smart decision-making in the arrangement helps set the tune's vaguely Eastern-sounding hooks. When the first chorus closes with Fagen leaning into the line, "run to you," it is clipped sharply at its tail as a means of shifting gears—and not by mistake, as a second identical execution confirms soon enough. Fagen is its ideal ringmaster, his nasal punch delivering the personality and snap of intently off-center lyrics and ideas without resorting to histrionics. Atmosphere is a point of emphasis, but the foreground remains uncluttered. Its spacey close makes a curious fadeaway, but the whole is richly elegant without holding its nose in the air.
Listen to the title track from Aja
Ahead-of-its-time production and music that doesn't match then-contemporary tropes combine to make the album ageless, but one thing very much of its time was its design as two sides of vinyl. The A-side closes in style with the remarkable "Deacon Blues," a prime example of Steely Dan's capacity to meander well off the beaten path and still land firmly in the mainstream. Pete Christlieb's saxophone flexes and drapes across its pulse, and flavorful touches spring up like fish breaching water's surface. The arrangement is clearly finicky, yet sounds extemporaneous, and feels naturally performed.
Fagen's rigid-by-design singing holds the track together, going sweetly stiff when he declares, "I cried when I wrote this song/Sue me if I play too long," providing an anchoring punctuation. Across the breadth of seven-and-a-half minutes, the pristine interplay of Fagen and his female chorus lightly masks the arrangement, and makes discovery of what's behind them more rewarding. It's mellowness with a spark, driven by cleverness; with its mannered delivery, "Learn to work the saxophone," slips easily past the ear, but its just-quirky turn of phrase keeps the audience comfortably off balance.
The flip side opens in equally substantial fashion, with the near-delirious "Peg." Guitar lines in the background of its percolating open flex like trees bending in the wind.
Fagen's percussive vocals are easygoing, but with a bit of prickle—there's that great, near-groan "Peg" right after the first verse, just to screw around. The chorus sounds much simpler than it is: the Michael McDonald-fueled choral backdrop is shaped with unclear phonetics, small sonic bursts that land like sweet horn honks. Instrumental interplay is all over the place, with vocal touches buried here and there, but all the ideas make themselves known. It's sonic color, and remarkably distinctive, down to the tricksy beats of Rick Marotta (one of six drummers the album utilized). And is there a grabbier oddball crescendo lyric in music history than "It's your favorite foreign movie?"
Collaborative creation between Fagen and Becker is the mold into which "Home at Last" is poured. Horns transform a measured gait into a fluid bob, but rather than playing on the synthesis of pop and jazz, the tune relies on its principals, forming an alloy of Fagen's crisp cadence and the fully ornamented, blessedly orderly backdrop. By the time it reaches the refrain, Fagen and Becker are finishing each other's sentences, with the latter's guitar answering each lyric in a sharp, tasteful figure.
Related: Fagen's statement on the death of his partner
"I Got the News" willfully displays its seams, as instrumental pieces bound from the slippery mix of piano and bass that gives the tune its bouncy undercurrent. It is a procession of flourishes, rattling along when Michael McDonald's voice isn't swooping across its bridge. Electric guitar filigree is one of many flashes only briefly indulged, but they stack up into a mosaic that says all it needs to.
Aja rewards the bother of donning headphones, with some of its most substantial riches to be found in the closing "Josie." A microcosm for the album itself, the song registers as grander than its four-and-a-half-minute duration would seem to support. The guitars at its head are coolly portentous as they lead into a mildly insistent repeating figure. Fagen takes the baton from there, his vocal slicked with just the right trace of echo, angling toward a chorus that expands and elevates. Synthesizer and guitar develop an atmosphere with a bit of drama and edge, yet free of bluster. As the song cruises to its close, horns and guitar wrapped around one another like melodic lovers, it's a stunningly efficient piece of music, a complicated puzzle that, when assembled, looks an awful lot easier than it in fact is.
Watch Steely Dan perform "Josie" on Letterman
Fagen and Becker hardly stagnated in the wake of Aja, but the album did ultimately mark the last major piece of the group's identity falling into place. It's the album that delivered on all of the implicit ideas in the band's early years. Fagen's hipster leanings are in full blossom, stoking a surfeit of lyrics that studiously avoid clarity, yet prove evocative and memorable, while connecting thoroughly with Becker's efficiently ambitious instrumental concoctions. Six albums in, Steely Dan is all there, coalescing in a palette that sweats every detail without getting mired in a one.
Fagen still tours as Steely Dan. Tickets are available here and here.
Related: The Dan's vinyl catalog is getting a facelift
Latest posts by Thomas Kintner
(see all)