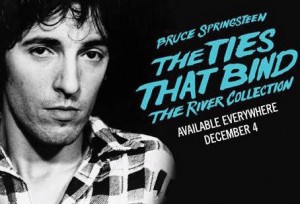 Update (12/1): Springsteen has just released a brilliant 1980 live video for "Out In The Street" included in The Ties That Bind: The River Collection (watch below).
Update (11/16): Bruce and the E Street Band will be the musical guests on the final 2015 Saturday Night Live episode co-hosted by Tina Fey and Amy Poehler on December 19th.
Update (11/10): The Times That Bind documentary will have its world television premiere on HBO November 27th (see trailer below). The film transitions between Springsteen telling the stories behind the music — and illustrating them with solo acoustic guitar performances — interspersed with rehearsal clips from September 1980 and period concert footage such as the legendary November 5, 1980 Arizona State University show and rare photos.
At long last, Bruce Springsteen has revealed details about his much-anticipated box set, The Ties That Bind: The River Collection out December 4th, via Columbia Records. The set will spotlight the album that brought him his first #1 spot on the Billboard Top 200 as well as the #5 single and now classic "Hungry Heart." A pivotal release in the Boss's career, The River contrasts punchy rock tunes with more solemn, reflective and seemingly paradoxical songs, paving the way for his successful catalog in later years.
In addition to the final double album that we all know and love, the box will feature the original version of The River (at the time called The Ties That Bind) that Springsteen planned to release in 1979, as well as 11 unreleased outtakes from recording sessions, concert footage, and a coffee table book with 200 rare photos and an essay by music journalist Mikal Gilmore. Only seven of the 10 songs on the first incarnation of the album made the final cut, some with alternate lyrics and arrangements.
Fans can also enjoy a brand new hour-long documentary that explores Springsteen's tumultuous experience writing and recording The River. Stories behind the music are illustrated with solo acoustic guitar performances and rare concert clips and photos.
The announcement of the four-CD, three-DVD box set comes just prior to the 35th anniversary of The River's release on October 17, 1980.
The Ties That Bind: The River Collection Track List:
CD 1
The River – Disc One
1. The Ties That Bind
2. Sherry Darling
3. Jackson Cage
4. Two Hearts
5. Independence Day
6. Hungry Heart
7. Out In The Street
8. Crush On You
9. You Can Look (But You Better Not Touch)
10. I Wanna Marry You
11. The River
CD 2
The River – Disc Two
1. Point Blank
2. Cadillac Ranch
3. I'm A Rocker
4. Fade Away
5. Stolen Car
6. Ramrod
7. The Price You Pay
8. Drive All Night
9. Wreck On The Highway
CD 3
The River: Single Album
1. The Ties That Bind
2. Cindy
3. Hungry Heart
4. Stolen Car (Vs.1)
5. Be True
6. The River
7. You Can Look (But You Better Not Touch) (Vs.1)
8. The Price You Pay
9. I Wanna Marry You
10. Loose End
CD 4
The River: Outtakes
Record One
2. Meet Me In The City
3. The Man Who Got Away
4. Little White Lies
5. The Time That Never Was
6. Night Fire
7. Whitetown
8. Chain Lightning
9. Party Lights
10. Paradise By The "C"
11. Stray Bullet
12. Mr. Outside
Record Two
1. Roulette
2. Restless Nights
3. Where The Bands Are
4. Dollhouse
5. Living On The Edge Of The World
6. Take 'em As They Come
7. Ricky Wants A Man Of Her Own
8. I Wanna Be With You
9. Mary Lou
10. Held Up Without A Gun
11. From Small Things (Big Things One Day Come)
DVD 1
The Ties That Bind (Documentary)
DVD 2
The River Tour, Tempe 1980 – Concert Part 1
DVD 3
The River Tour, Tempe 1980 – Concert Part 2
Bonus: The River Tour Rehearsals
1. Ramrod
2. Cadillac Ranch
3. Fire
4. Crush On You
5. Sherry Darling

Latest posts by Best Classic Bands Staff
(see all)