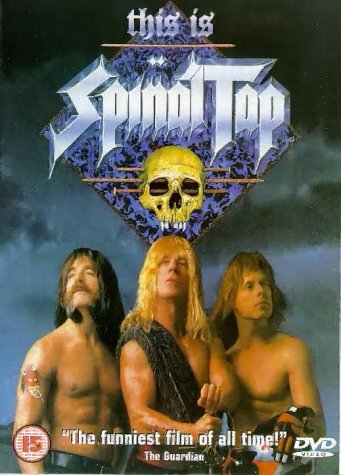 To celebrate the 35th anniversary of the release of the comedy/music film This is Spinal Tap, three original members of the faux heavy metal band reunited on April 27, 2019, for one night only as part of that year's Tribeca Film Festival. Christopher Guest, Michael McKean and Harry Shearer under their own names performed a nine-song acoustic set at New York City's Beacon Theater in a tribute to the band known for turning up the volume to 11.
The trio's characters of Nigel Tufnel, David St. Hubbins and Derek Smalls played such Tap favorites as "(Listen to the) Flower People," "Big Bottom" and "Hell Hole," before they were joined by Elvis Costello for one song, Spinal Tap's "Gimme Some Money." (Watch the performance below.)
The 2019 Tribeca Film Festival lineup included many titles with classic rock subjects including documentaries on late INXS frontman Michael Hutchence, Linda Ronstadt, former Rolling Stones bass guitarist Bill Wyman, and the 1969 Woodstock festival.
The three actors were joined by the film's director and co-writer Rob Reiner, for a conversation following a screening of the film. Reiner admitted he hadn't seen the movie in two decades. "Spinal Tap proves there is definitely a fine line between stupid and clever," Reiner said.
Watch the Spinal Tap actors and Elvis Costello perform at the 2019 reunion
Related: A huge lawsuit over the film's proceeds was filed
Released in March of 1984, This is Spinal Tap follows the fictional heavy metal rock band Spinal Tap on tour. As the film festival announcement explains, "The loudest band in England, attempts to make a comeback with a North American tour promoting their new album Smell the Glove. Marty DiBergi (Rob Reiner) sets out to make a documentary of the legendary rock band's exploits on the road, featuring front men Nigel Tufnel (Christopher Guest) and David St. Hubbins (Michael McKean) and bassist Derek Smalls (Harry Shearer), bearing witness to the highs and lows of what makes a musician into a rock star."
Much of the original film's dialogue was improvised, and at first the public response to the fake band's exploits was tepid, with some viewers believing that it was the story of an unknown but real band. Over the years, particularly as musicians began citing it for its similarities to their own real-life experiences, the film's profile grew. It is now considered a classic of the rock film genre.
Watch the classic Stonehenge scene from the original film
Related: The 1984 film is getting a 40th anniversary sequel

Latest posts by Best Classic Bands Staff
(see all)