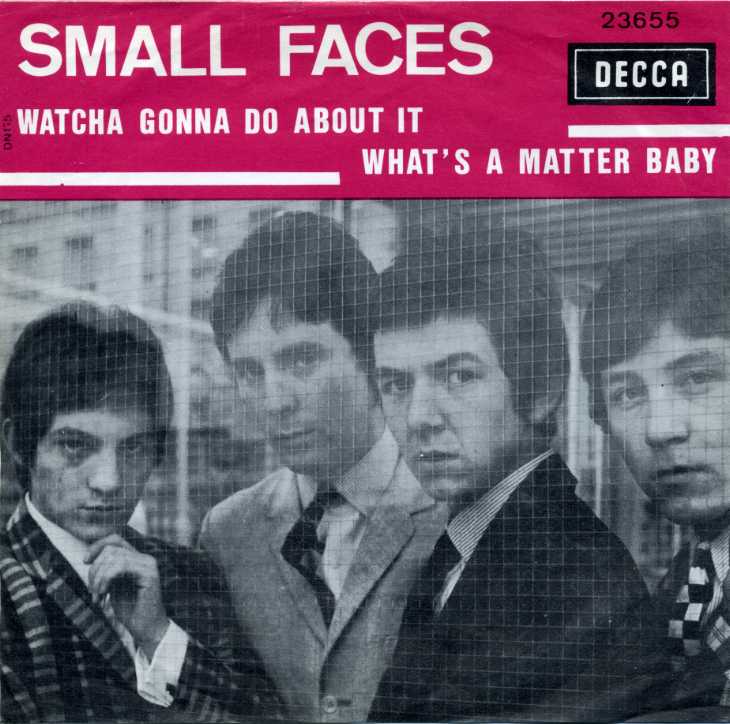 Drop the name Faces and any true classic rock fan will bow down in reverence: the British group, which formed in 1969 and included Rod Stewart and future Rolling Stones guitarist Ronnie Wood in its initial lineup—along with Ian McLagan (keyboards), Ronnie Lane (bass) and Kenney Jones (drums and percussion)—is by any measure one of the most bellowed and influential classic rock bands of all time.
But Faces (no "the" preceding their name) did not arrive out of nowhere. Before they were Faces, McLagan, Lane and Jones were core members of Small Faces (again, no the), and today marks the anniversary of the release of their debut single, "Whatcha Gonna Do About It."
Small Faces were born in 1965—they chose the name because the members were all on the diminutive side—with Lane and Jones joined by vocalist Steve Marriott and keyboardist Jimmy Winston. The latter dropped out quickly, his place taken by McLagan, and the East London quartet, specializing in high-energy R&B covers and a handful of originals, soon found a devoted audience among the segment of British youth called the Mods, who also favored another new R&B-leaning band called The Who.
Signed to a management contract with Don Arden (father of Ozzy Osbourne's future wife Sharon), Small Faces landed a deal with Decca Records in the U.K. The Marriott-Lane composition "Whatcha Gonna Do About It" peaked at #14 in Britain and was followed by nearly a dozen other hits in the band's home country, notably the #1 "All of Nothing."
Four Small Faces albums also fared well in the U.K., with their self-titled debut reaching #3 and 1968's conceptual Ogden's Nut Gone Flake, now often considered one of the masterworks of the era, vaulting to #1.
In the United States, where they were signed to the Immediate label, Small Faces enjoyed a modicum of attention but nothing approaching the adulation they received at home. Their psychedelic 1967 single "Itchycoo Park," peaking at #16, was, for most American record buyers, the beginning and end of the Small Faces story, although there was one more chart entry, "Tin Soldier," the following year. Two albums, There Are But Four Small Faces and Ogden's (both 1968), did scrape into the bottom of the Billboard LPs chart during the group's lifetime, but few noticed or cared much when the group disappeared a year later.
The arrival of Faces didn't exactly set the rock world on fire at first, either. During their first year they were a moderately popular touring act in both Europe and the United States, with fans curious about this odd merger of former Small Faces members with Stewart and Wood, both of whom came out of the Jeff Beck Group. But it wasn't until 1971 that the new group began to show any sales activity with their recordings. Faces placed only one album in the American top 10, 1971's A Nod Is As Good As a Wink, but Rod Stewart, who had been releasing recordings under his own name while still a member of Faces, was faring better on his own—his '71 album Every Picture Tells a Story, catapulted to the top of the American charts and its followup, 1972's Never a Dull Moment, was right behind it at #2.
Related: Review of Faces 2015 reunion concert
With Stewart's own success eclipsing that of Faces, it was no great surprise when they called it quits in 1975, Rod taking the solo route to mega-success and Wood accepting an offer to join the Stones as lead guitarist, a position he still holds 41 years later. Jones joined the Who for a spell after the death of Keith Moon, and both Ian McLagan and Ronnie Lane kept busy with a variety of projects (Lane died in 1997, McLagan in 2014).
Related: Our tribute to Ian McLagan
As for the other Small Faces mainstay, singer Steve Marriott did just fine. The band he started after leaving Small Faces—Humble Pie, a considerably harder-rocking outfit that also featured Peter Frampton in its maiden lineup—became hugely popular in its own right, hanging on till 1975 when Marriott began concentrating on his solo career. But he too is now gone, having departed in 1991.
Related: Steve Marriott – A previously unpublished interview

Latest posts by Best Classic Bands Staff
(see all)