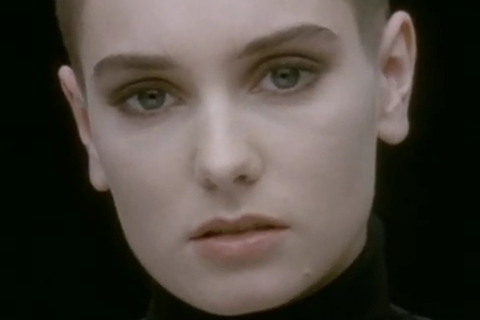 On Monday (May 16), a press release was issued stating Sinead O'Connor had been located and was safe although it did not mention her whereabouts for the last 24 hours nor where the singer had been found.
For those of you who didn't even know she was missing, O'Connor had left the Chicago, IL suburb of Wilmette for a bicycle ride at around 6 am on Sunday and had not been seen as of Monday morning. An unnamed caller had phoned the police in concern for O'Connor's well being, according to a statement at 9:30 am Monday.
Police have not offered any futher details about the singer's mysterious disappearance.
This is just the latest in a string of bizarre behavior we have seen from the Grammy Award-nominated singer over the last year, using her official Facebook page as a public forum to vent to her more than 600,000 followers.
Last Sunday (May 15), O'Connor posted a message to her son, Jake, about a family matter.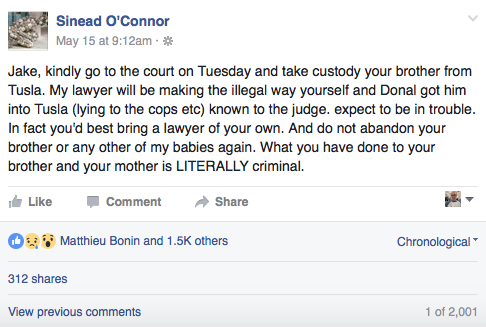 Earlier this month, O'Connor became the target of a $5 million lawsuit filed by comedian Arsenio Hall for statements she made via a Facebook post in which she accused him of supplying the late musician Prince with drugs and for drugging her.
In November, she posted a message on Facebook saying she had taken an overdose at a hotel somewhere in Ireland. After a long search, Irish police later said she had been found safe. O'Connor then posted on Facebook the following month that she had been detained in a hospital for mental health evaluation.
O'Connor is best known for her #1 worldwide smash cover of Prince's "Nothing Compares 2 U." Rolling Stone named her Artist of the Year in 1991.
O'Conner has spoken of her battle with mental illness as she was diagnosed with Bipolar disorder over 10 years ago. She openly spoke to Oprah Winfrey in 2007 about her struggle with thoughts of suicide before she received her diagnosis. She had said that she was finding balance with the medication but "it's a work in progress."

Latest posts by Best Classic Bands Staff
(see all)