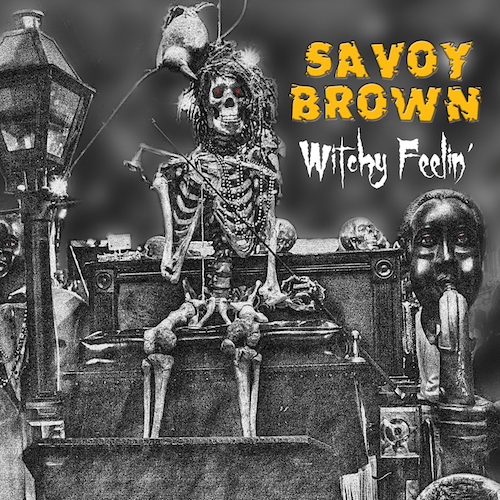 The veteran British blues band Savoy Brown released its new album, Witchy Feelin', Aug. 25, on Ruf Records. The band, in addition to founder Kim Simmonds (guitar/vocals), who is recognized as one of the reigning masters of the blues, consists of Pat DeSalvo (bass) and Garnet Grimm (drums).
Witchy Feelin' is available to order here.
Best Classic Bands is pleased to offer our readers an exclusive stream of the entire album, via Soundcloud. Go here to listen to all 11 tracks in their entirety.
We spoke with Simmonds about the new release.
Best Classic Bands: First, how would you say Witchy Feelin' differs from previous Savoy Brown records? 
Kim Simmonds: Witchy Feelin' has a fresh modern song approach and it puts Savoy Brown music into a contemporary setting that separates the album from previous releases.
After all these decades you're still loyal to the blues, which is where you began. What keeps you rooted in that genre and how do you keep finding new ways of expressing yourself in the blues?
KS: I've always liked the honesty within blues music. It doesn't have pretensions. Honesty and unpretentiousness is what I want out of life, music and people. I found out that blues is a form of music that has no limits. At its best it is poetry. And there is no end to poetry. But it's still a very hard challenge to find something new to say and I like a hard challenge.
What are some of your own favorite tracks on the album?
KS: "Why Did You Hoodoo Me" has a lyric that has an old blues tradition to it…the hoodoo blues, etc. I was happy to be able to bring that to a song in a different and new way. "Thunder, Lightning and Rain" is a down and dirty boogie that gives me a chance to go crazy on a wah-wah guitar sound. And "Standing in a Doorway" is a ballad that gives me chance to play slide guitar and also to sing an offbeat song that at first one wouldn't think belongs on this kind of album.
When you were first starting out—and this is true of all the young players who were doing blues-rock in the '60s and '70s—you looked to idols like B.B. King, Buddy Guy, Howlin' Wolf, etc. Now you've been doing it longer than those guys were at the time! How does it feel to be a "blues elder," someone that young players can look to for inspiration?
KS: It's a very nice feeling, I must admit. I've lived out my boyhood dream of being an influential guitarist—I never wanted to be a star. I know people look at me and think, "How the heck has he been able to do this for so long!"
Anything else you want to tell your fans?
KS: It's always an exciting time, having a new album release. You're excited and nervous at the same time, wondering as to how the public will react to the new music and so forth. That little bit of fear has helped give me the "drive" to get through 50-plus years of the music biz!
Listen to Savoy Brown's Witchy Feelin' in its entirety here!
Tour Dates
8/26 2 Left Feet Blues Festival, Simsbury, CT
9/15 Arcada Theatre, St Charles, IL
9/16 The Magic Bag, Ferndale, MI
10/6 The Tangier, Akron, OH
10/7 C2G Music Hall, Fort Wayne, IN
11/17 Rams Head On Stage, Annapolis, MD
11/18 Sellersville Theater, Sellersville, PA
11/26 Sportsmen's Tavern, Buffalo, NY
Watch a recent half-hour live set from Savoy Brown

Latest posts by Best Classic Bands Staff
(see all)