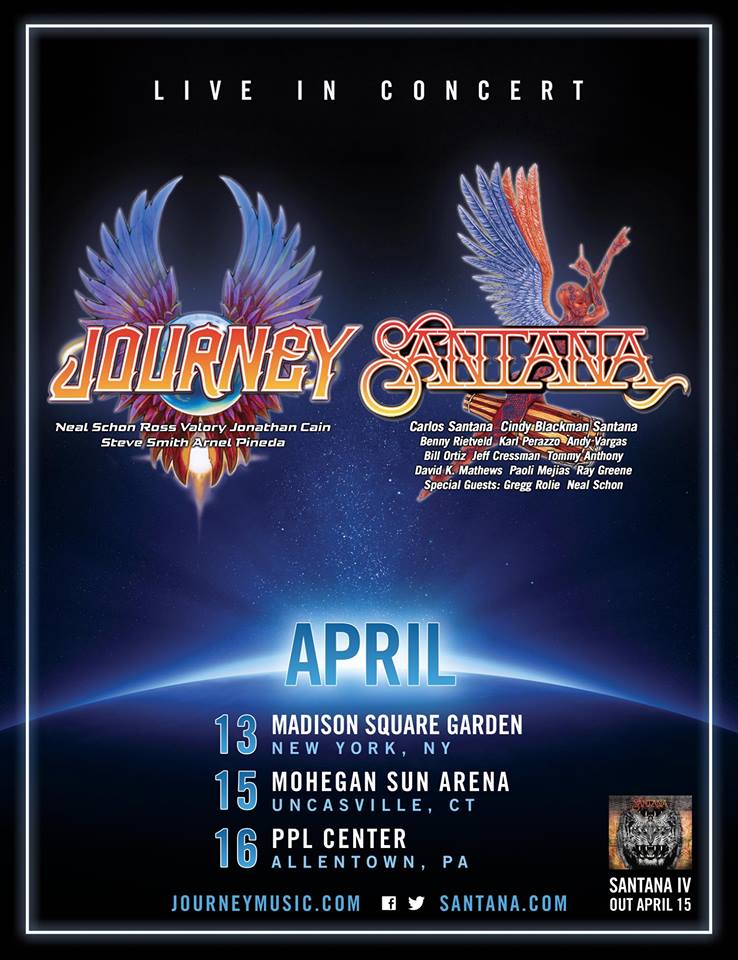 Update (March 30): We've already told you about day On The Green in San Francisco on September 4 with Santana, Journey, the Doobie Brothers and Steve Miller Band. And you already know about the three northeast dates that Journey and Santana are doing together in April.
Now comes word that the two classic rock bands have added at least one more date: an August 28th performance at the Forum in Los Angeles. Tickets go on sale April 2 here.
The big question: will there be more? Stay tuned…
Huge news for classic rock fans – there's yet another all-star tour coming your way in 2016. Santana and Journey will be embarking on a trio of concerts together this spring, set to kick off April 13th at Madison Square Garden in New York City, with subsequent dates in Connecticut and Pennsylvania.
It'll be quite the musical workout for Neal Schon, who is not only the co-founder of Journey, but also an integral part of the newly reunited early '70s lineup of Santana, who are set to release their highly anticipated studio album, Santana IV, on April 15th. The new offering marks the first time in 45 years that Carlos Santana (guitar, vocals), Gregg Rolie (keyboards, lead vocals), Schon (guitar, vocals), Michael Carabello (percussion) and Michael Shrieve (drums) have recorded together since 1971's multi-platinum classic Santana III. Read Best Classic Bands recent story here.
Joining the classic rock quintet in the studio are current Santana members Karl Perazzo (percussion) and Benny Rietveld (bass), with original Isley Brothers vocalist Ronald Isley guesting on two cuts.
The origins for the reunion go back several years, when Schon suggested that he and Santana record together. Santana liked the idea but went one better, proposing that they recruit Rolie, Shrieve and Carabello for what would be called Santana IV. After initial writing sessions and rehearsals took place in 2013, the group recorded throughout 2014 and 2015, putting together 16 tracks that combined all of their signature elements – Afro-Latin rhythms, soaring vocals, electrifying blues-psychedelic guitar solos and jubilant percussion. "Carlos and I feel more connected than ever," says Schon of the new release. "We get super-aggressive when we play, but also melodic and poetic. We have an incredible dialog with each other on our guitars."
Santana has residencies scheduled for the House of Blues in Las Vegas from January 27th through February 6th and May 18th through 29th. Meanwhile, the ever-busy Journey is teaming up with the Doobie Brothers and Dave Mason for a very special tour this summer to celebrate the famed "San Francisco Sound" they helped cultivate. The aptly titled San Francisco Fest 2016 kicks off May 12th in Irvine, California, and circles the country before finishing up back in California at the end of August. 
Tickets for all Journey 2016 concerts are available here.
(If you're a new Best Classic Bands reader, we'd be grateful if you would Like our Facebook page and/or bookmark our Home page.)
Santana & Journey 2016 Tour Dates:
April 13 – New York, NY @ Madison Square Garden
April 15 – Uncasville, CT @ Mohegan Sun
April 16 – Allentown, PA @ PPL Center
August 28 – Inglewood, CA @ The Forum

Latest posts by Best Classic Bands Staff
(see all)