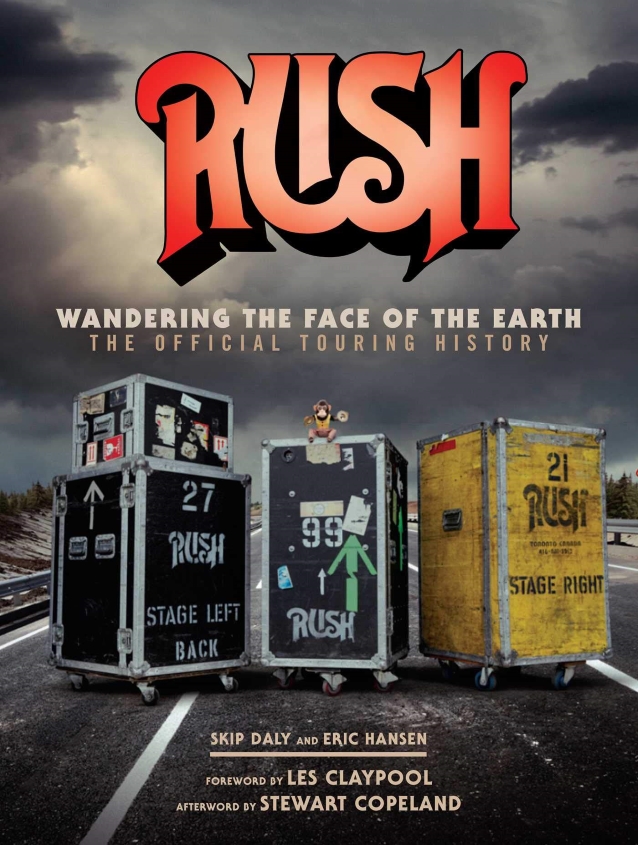 Rush fans will likely embrace a recent hardcover book, Rush: Wandering the Face of the Earth: The Official Touring History, which was published by Insight Editions on Oct. 15, 2019. The comprehensive book is by Skip Daly and Eric Hansen, with a foreword by Les Claypool and an afterword by Stewart Copeland. Check out some of the rare photos of Alex Lifeson, Neil Peart, Geddy Lee, and original drummer, John Rutsey, from the book below.
From the book's announcement:
"Alex Lifeson, Geddy Lee, and Neil Peart performed together for the first time to an audience of 11,000 people in 1974. Forty years later, their last tour sold over 442,000 tickets. This is the story of everything in between. This is the story of Rush."
The 416-page Wandering the Face of the Earth is said to be the most comprehensive collection of information on Rush's tours ever assembled, plus loads of previously unpublished photos, and more.
More from the announcement: "Fondly known as the Holy Triumvirate, Rush is one of the top bands to shine through rock-and-roll history. Wandering the Face of the Earth covers Rush's storied touring career, from their humble beginnings as a Toronto-area bar band playing middle school gymnasiums to their rise as one of the world's most sought-after live acts, selling out massive arenas around the globe. This book includes every setlist, every opening act, and every noteworthy moment meticulously researched and vetted by the band themselves. Along with spectacular, never-before-seen imagery, this is THE must-have tour compendium for Rush fans."
Co-author Skip Daly has been an expert on Rush for over 30 years. He became a Rush fan in high school, and his first Rush concert was on May 5, 1990 (the Presto tour) at the Capital Centre in Largo, MD.
He has since attended 25 additional Rush shows—at least one gig per subsequent tour.
The other co-author, Eric Hansen, was first introduced to Rush after receiving a cassette tape of the albums Permanent Waves and Moving Pictures, and eventually became a true fanatic following the release of Rush's Hold Your Fire. In 1998, he started the popular Power Windows Rush fansite at 2112.net. He is also known for his contributions to the documentary Rush: Beyond The Lighted Stage.
Rush: Wandering the Face of the Earth follows 2018s Geddy Lee's Big Beautiful Book of Bass, subtitled "A Compendium of the Rare, Iconic and Weird."
Rush has been releasing 40th anniversary expanded editions of their albums, including a deluxe version of Hemispheres in 2018.
Related: Rush has never had a top 10 single in the U.S. Here are 9 other bands that haven't
Watch Rush perform "Tom Sawyer"
Related: Peart passed in 2020

Latest posts by Best Classic Bands Staff
(see all)