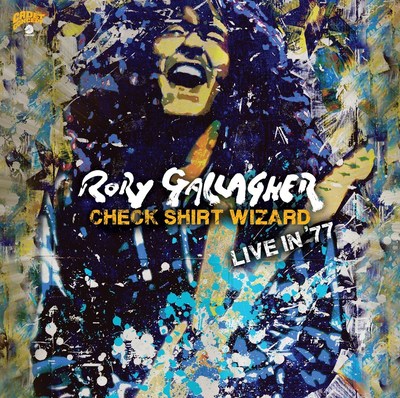 Following 2019's Blues album, Chess/UMe will release Check Shirt Wizard Live In '77, in multiple formats, including 3-LP 180g black vinyl, 2-CD and digital. This 20-song, previously unreleased set is culled from four Rory Gallagher shows (London, Brighton, Sheffield and Newcastle) during an early 1977 tour across the U.K. in support of his then latest album, Calling Card. Featuring live versions of tracks from that album as well as songs from the 1975 Against the Grain album and other live favorites, Check Shirt Wizard has been mixed from the original multitrack tapes from the Gallagher archive, which were recorded by the Rolling Stones and Jethro Tull's mobile studios and mastered at Abbey Road. The set was produced by Gallagher's nephew, Daniel.
Check Shirt Wizard Live in '77 is available for preorder at the link below.
Says a press release, "Rory Gallagher's most popular albums have always been his live ones, such as Live! In Europe, Irish Tour '74 and Stage Struck. He was an artist who came alive when onstage, and this album covers a previously undocumented live period.
Related: Read about last year's Blues collection
Check Shirt Wizard's cover painting is by a young Irish graffiti artist Vincent Zara, who has stenciled Gallagher's image across his home country.
Rory Gallagher Check Shirt Wizard Live '77 2-CD/Digital Track Listings
Disc 1
1. Do You Read Me (Live From The Brighton Dome, 21st January 1977)
2. Moonchild (Live From The Brighton Dome, 21st January 1977)
3. Bought And Sold (Live From Sheffield City Hall, 17th February 1977)
4. Calling Card (Live At The Hammersmith Odeon, 18th January 1977)
5. Secret Agent (Live From Sheffield City Hall, 17th February 1977)
6. Tattoo'd Lady (Live From The Brighton Dome, 21st January 1977)
7. A Million Miles Away (Live At The Hammersmith Odeon, 18th January 1977)
8. I Take What I Want (Live From Sheffield City Hall, 17th February 1977)
9. Walk On Hot Coals (Live At The Hammersmith Odeon, 18th January 1977)
Disc 2
1. Out On The Western Plain (Live From Sheffield City Hall, 17th February 1977)
2. Barley & Grape Rag (Live From Sheffield City Hall, 17th February 1977)
3. Pistol Slapper Blues (Live From Sheffield City Hall, 17th February 1977)
4. Too Much Alcohol (Live At The Hammersmith Odeon, 18th January 1977)
5. Going To My Hometown (Live At The Hammersmith Odeon, 18th January 1977)
6. Edged In Blue (Live At Newcastle City Hall, 18th February 1977)
7. Jack-Knife Beat (Live At The Hammersmith Odeon, 18th January 1977)
8. Souped-Up Ford (Live From The Brighton Dome, 21st January 1977)
9. Bullfrog Blues (Live From The Brighton Dome, 21st January 1977)
10. Used To Be (Live At Newcastle City Hall, 18th February 1977)
11. Country Mile (Live At Newcastle City Hall, 18th February 1977)
Listen to "Do You Read Me" (Live From The Brighton Dome, 21st January 1977)

Latest posts by Best Classic Bands Staff (see all)