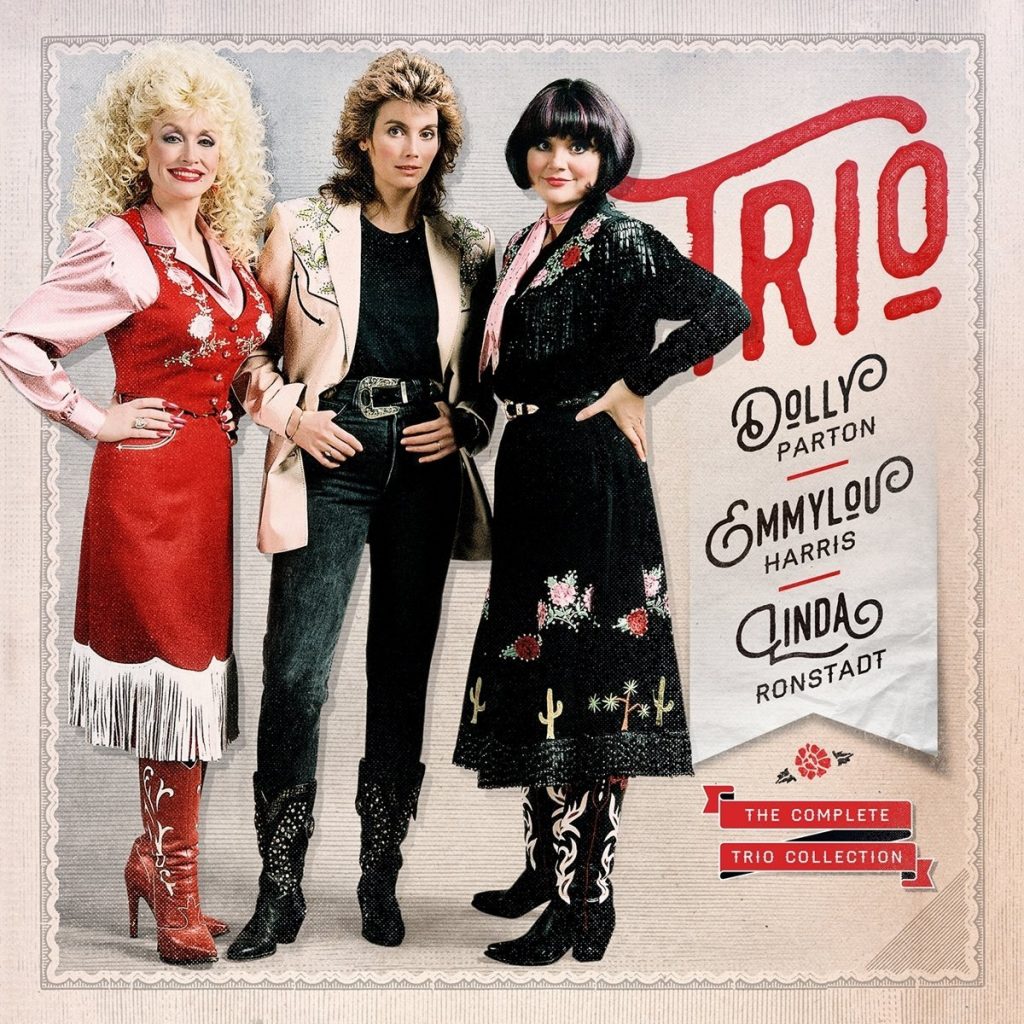 On September 9, Rhino Records will release a three-CD set, The Complete Trio Collection, including all of the music recorded together by Dolly Parton, Linda Ronstadt and Emmylou Harris in the '80s and '90s. The three mega-popular singers first convened in the '70s but did not begin working on a full album together until the mid-'80s. Trio, the results of their first sessions, was released in 1987, followed 12 years later with Trio II. The first volume was a top 10 hit but the second stalled at #62 in 1999, and they did not collaborate further.
The three discs included in the new package feature both original albums remastered, plus a third disc of previously unreleased music. (See complete track listing and pre-order links below.) It will retail for a list price of $29.98.
On the same date, a single-disc set will also be made available. Titled My Dear Companion: Selections From the Trio Collection, it features a mix of songs taken from the three-disc set. Additionally, Rhino will release Farther Along, a double-LP set of all the bonus material from The Complete Trio Collection. Trio II will also be released on vinyl for the first time.
In advance of the reissue release, Rhino has premiered a new lyric video for an unreleased alternate version of "Wildflowers." The Parton-penned track was originally released on the first Trio album.
Never miss a post! Sign up for Best Classic Bands' Newsletter; form is on every page.
The bonus disc features 20 songs, including alternate takes of album tracks like "I've Had Enough," "Making Plans" and "My Dear Companion." Also featured are 11 completely unreleased recordings from the trio spanning both album sessions, including "Waltz Across Texas Tonight," "Pleasant As May," "Are You Tired of Me" and the gospel standard "Softly And Tenderly." Among the unreleased material is also an alternate version of "Do I Ever Cross Your Mind?" featuring Parton on lead vocals, and an a cappella version of "Calling All My Children Home."
The Complete Trio Collection Track Listing:
Disc One—Trio
1. "The Pain of Loving You"
2. "Making Plans"
3. "To Know Him Is To Love Him"
4. "Hobo's Meditation"
5. "Wildflowers"
6. "Telling Me Lies"
7. "My Dear Companion"
8. "Those Memories of You"
9. "I've Had Enough"
10. "Rosewood Casket"
11. "Farther Along"
Disc Two—Trio II
1. "Lover's Return"
2. "High Sierra"
3. "Do I Ever Cross Your Mind"
4. "After the Gold Rush"
5. "The Blue Train"
6. "I Feel the Blues Movin' In"
7. "You'll Never Be The Sun"
8. "He Rode All The Way To Texas"
9. "Feels Like Home"
1. "When We're Gone, Long Gone"
Disc Three—Bonus Material
1. "Wildflowers" (Alternate Take Unreleased 1986)
2. "Waltz Across Texas Tonight" (Unreleased 1994)
3. "Lover's Return" (Alternate Mix – Unreleased)
4. "Softly and Tenderly" (Unreleased 1994)
5. "Pleasant As May" (Unreleased 1986)
6. "My Dear Companion" (Alternate Take 1986)
7. "My Blue Tears" (Unreleased 1998)
8. "Making Plans" (Alternate Take 1986)
9. "I've Had Enough" (Alternate Mix 1986)
10. "Grey Funnel Line" (Unreleased 1986)
11. "You Don't Knock" (Unreleased 1986)
12. "Where Will The Words Come From" (Unreleased 1985)
13. "Do I Ever Cross Your Mind" (Dolly Lead – Alternate Take 1994)
14. "Are You Tired of Me" (Unreleased 1986)
15. "Even Cowgirls Get The Blues"
16. "Mr. Sandman"
17. "Handful Of Dust" (Unreleased 1993)
18. "Calling My Children Home" (Unreleased Acapella Version 1986)
19. "White Snow" (Unreleased 1986)
20. "Farther Along" (Alternate Mix 1986)
My Dear Companion: Selections From the Trio Collection Track Listing
1. "The Pain Of Loving You"
2. "My Dear Companion"
3. "To Know Him Is To Love Him"
4. "Telling Me Lies"
5. "Farther Along"
6. "Lover's Return"
7. "After The Gold Rush"
8. "The Blue Train"
9. "You'll Never Be The Sun"
10. "When We're Gone, Long Gone"
11. "Waltz Across Texas Tonight" (Unreleased 1994)
12. "Do I Ever Cross Your Mind" (Dolly Lead – Alternate Take 1994)
13. "Wildflowers" (Alternate Take 1986)
14. "Calling My Children Home" (Unreleased Acapella Version 1986)

Latest posts by Best Classic Bands Staff
(see all)