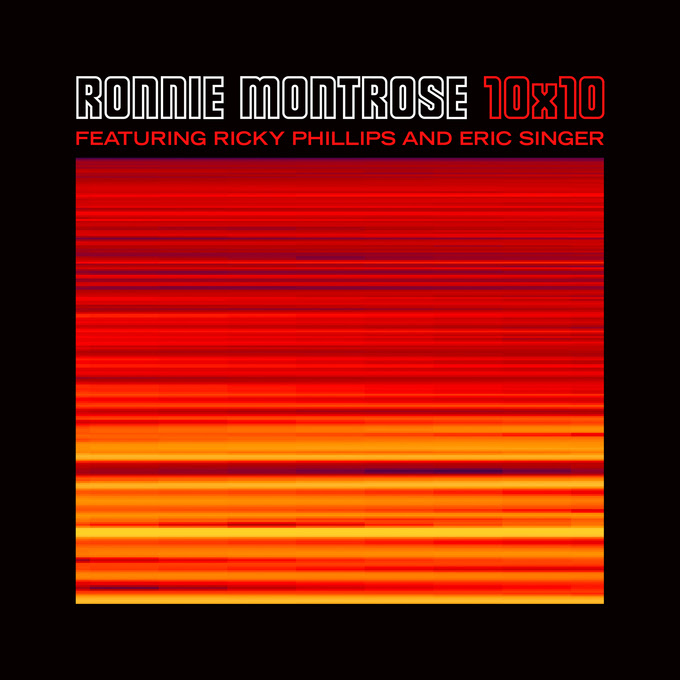 The last album worked on by American guitarist Ronnie Montrose, 10X10, will be released by Rhino Records on Sept. 29. Montrose began recording the project with bassist Ricky Phillips and drummer Eric Singer, planning to record 10 songs with 10 different singers. Following Montrose's death in 2012, Phillips enlisted friends of the musician to record the vocals and the guitar solos for each song, completing the album in recent years.
Phillips, in a press release, says the songs represent some of Montrose's best work. "His songs still have the fire and angst of a young rebel, but with some added wisdom and foresight voiced in his own unique language of 'guitar-speak.' On 10X10, we hear Ronnie at the top of his game, from the opening crunch guitar of 'Heavy Traffic,' all the way to the closing song, 'I'm Not Lying,' which was Ronnie's tip of the hat to his friend Robin Trower."
The album features pairings such as Deep Purple singer Glenn Hughes with Def Leppard guitarist Phil Collen ("Still Singin' With The Band"), and singer Sammy Hagar—who got his start singing with Montrose—with Toto guitarist Steve Lukather ("Color Blind"). Blues guitarist Joe Bonamassa is featured on "The Kingdom's Come Undone" with Ricky Phillips on vocals. A few artists both sing and play, like Edgar Winter ("Love Is An Art") and Tommy Shaw ("Strong Enough"). Pre-order is available here.
Listen to "Color Blind" from 10X10, featuring Sammy Hagar and Steve Lukather
Related: 10 seminal hard rock albums
Several artists who appear on 10X10 had recorded with Montrose during his career, including Edgar Winter, who recruited the guitarist for his 1972 album, They Only Come Out at Night.
10X10 will be released on 180-gram vinyl, CD and digitally. A few weeks after its release, Rhino will introduce deluxe editions of Montrose (1973) and Paper Money (1974). Each double-disc set includes a newly remastered version of the original album, plus a bonus disc of unreleased demos, studio recordings, and live performances. Each collection will be available on October 13. On the same day, vinyl and digital versions will be released. These double LPs include the remastered version of the original album along with a selection of bonus recordings.
Montrose Deluxe Edition Track Listing
Disc One: Original Album Remastered
"Rock The Nation"
"Bad Motor Scooter"
"Space Station #5"
"I Don't Want It"
"Good Rockin' Tonight"
"Rock Candy"
"One Thing On My Mind"
"Make It Last"
Disc Two: Bonus Tracks
"One Thing On My Mind" – Demo *
"Shoot Us Down" – Demo *
"Rock Candy" – Demo *
"Good Rockin' Tonight" – Demo *
"I Don't Want It" – Demo *
"Make It Last" – Demo *
"Intro: Tom Donahue" – Live KSAN Radio Session, 1973 *
"Good Rockin' Tonight" – Live KSAN Radio Session, 1973 *
"Rock Candy" –Live KSAN Radio Session, 1973 *
"Bad Motor Scooter" –Live KSAN Radio Session, 1973 *
"Shoot Us Down" – Live KSAN Radio Session, 1973 *
"One Thing On My Mind" – Live KSAN Radio Session, 1973 *
"Rock The Nation" – Live KSAN Radio Session, 1973 *
"Make It Last" – Live KSAN Radio Session, 1973 *
"You're Out Of Time" – Live KSAN Radio Session, 1973 *
"Roll Over Beethoven" – Live KSAN Radio Session, 1973 *
"I Don't Want It" – Live KSAN Radio Session, 1973 *
Paper Money Deluxe Edition Track Listing
Disc One: Original Album Remastered
"Underground"
"Connection"
"The Dreamer"
"Starliner"
"I Got The Fire"
"Spaceage Sacrifice"
"We're Going Home"
"Paper Money"
Disc Two: Bonus Tracks
"Intro: Phil Buchanan" – Live KSAN Radio Session, 1974 *
"I Got The Fire" – Live KSAN Radio Session, 1974 *
"Rock Candy" – Live KSAN Radio Session, 1974 *
"Bad Motor Scooter" – Live KSAN Radio Session, 1974 *
"Spaceage Sacrifice" – Live KSAN Radio Session, 1974 *
"One And A Half" – Live KSAN Radio Session, 1974 *
"Roll Over Beethoven" – Live KSAN Radio Session, 1974 *
"Trouble" – Live KSAN Radio Session, 1974 *
"Space Station #5" – Live KSAN Radio Session, 1974 *
* previously unreleased

Latest posts by Best Classic Bands Staff
(see all)