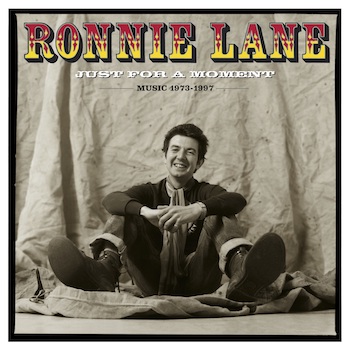 The first-ever comprehensive anthology of the work of former Faces and Small Faces songwriter-bassist Ronnie Lane, Just For A Moment 1973-1997, was released as a 6-CD boxed set by UMC on May 17.
The collection is described as "a much-deserved tribute to the post-Faces career of the co-writer of such classic British songs as 'Itchycoo Park,' 'All Or Nothing,' 'Ooh La La' and his own hits with his later band Slim Chance, 'How Come' and 'The Poacher.' Lane passed away at the age of 51 on June 4, 1997, after suffering from multiple sclerosis for more than 20 years."
Says the release announcement, "Affectionately and widely known as 'Plonk,' Ronnie became one-half of the songwriting force behind the Small Faces' definitive and soulful 1960s British rock sound with Steve Marriott. He then became a founding member of the highly successful powerhouse that grew out of them, the Faces. Then, increasingly at odds with the demands of the music business, he retreated to a ramshackle country farm, Fishpool, in Wales and formed Slim Chance.
Related: Our interview with Ronnie Wood
"The group toured in a carnival-type extravaganza called the Passing Show, and Lane also built his own recording facility, the Lane Mobile Studio. He collaborated with any friends in his musical circle, including Ronnie Wood, Gallagher & Lyle, Pete Townshend and Eric Clapton, who wrote 'Wonderful Tonight' around the fire at Fishpool."
Townshend, with whom Lane created the 1977 joint album Rough Mix, says of the new retrospective, "For me the music here brings a joyful tear. How wonderful to get a sense of the entire arc of Ronnie's work, rough and smooth, lost and found."
Just For A Moment 1973-1997 includes Lane's four solo albums (Anymore For Anymore plus its non-LP singles, Ronnie Lane's Slim Chance, One For The Road and See Me). It also features tracks from the Mahoney's Last Stand soundtrack album with Ron Wood and from Rough Mix.
Lane was born on April 1, 1946. Among the songs on the collection is "April Fool" from Rough Mix.
The final disc of the set focuses on Lane's later years in the U.S., when he lived in Austin, Tex., with live highlights and previously unreleased studio tracks.
Related: Read our tribute to Lane's late bandmate Ian McLagan
Many other rare and unreleased recordings are included, such as covers of "The Wanderer" and "The Joint Is Jumpin'," alongside unheard Lane compositions plus live recordings, tracks for the BBC and highlights from a concert at Rockpalast. Just For A Moment is curated by Lane's longtime musical confidant Charlie Hart of Slim Chance.
The boxed set is available as a 6-CD edition with a hardback book and outer slipcase, a book of Lane's lyrics and an A2 fold out poster. The collection contains comprehensive sleeve notes split into three distinct parts, written by Paolo Hewitt, Kris Needs and Kent Benjamin. Townshend contributes the foreword.
Watch Ronnie Lane and Slim Chance perform "Ooh La La" in 1974

Latest posts by Best Classic Bands Staff
(see all)