Rolling Stones' 'Beggars Banquet' Reissue: Review
by Jeff Burger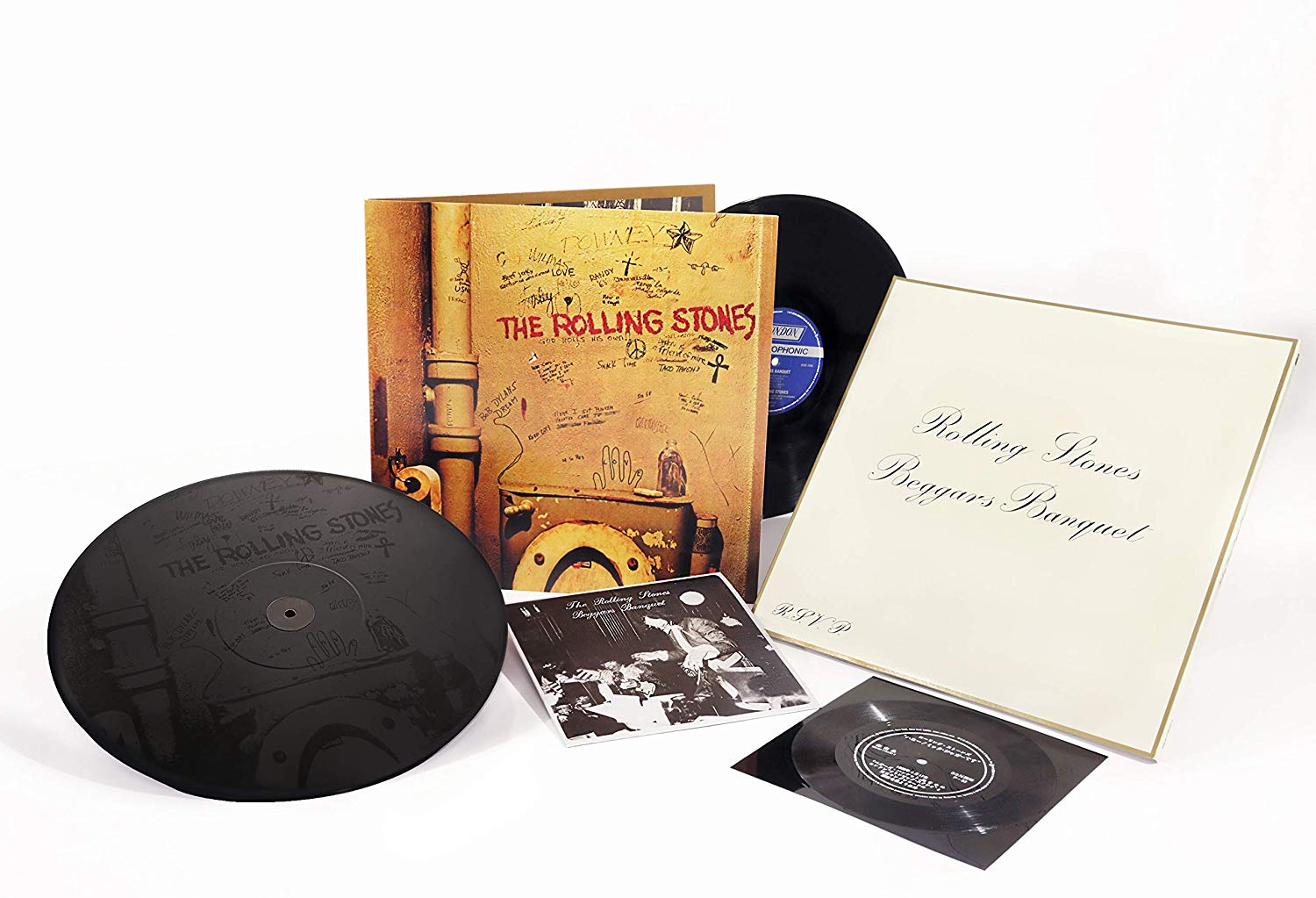 In 1967, Their Satanic Majesties Request found The Rolling Stones reacting to albums like the Beatles' Sgt. Pepper with studio-enhanced psychedelia. A year later, they followed up with Beggars Banquet, which saw them moving in an opposite direction: like such artists as Bob Dylan, who had recently delivered the stripped-down John Wesley Harding, they went back to basics for an album that relied largely on acoustic blues. No longer "In Another Land" and "2000 Light Years from Home," they had come down from space and were now drinking to the "Salt of the Earth" and waiting for a "Factory Girl." This was their initial collaboration with American producer Jimmy Miller, who had recently overseen the first two Traffic albums, and you can hear his influence.
The LP—which incorporates Nicky Hopkins' piano on seven tracks as well as some of Brian Jones' last major contributions to the band—still sounds terrific. The conga-driven "Sympathy for the Devil" opens the proceedings on a high note.
The set also includes "Street Fighting Man," a fine rocker that addresses political violence with as much ambivalence as the Beatles' contemporaneous "Revolution."
Watch the official lyric video for "Street Fighting Man"
Also memorable are the folky "Factory Girl," which sounds a bit like a companion to the earlier "Back Street Girl"; slide-guitar-and-vocal gems like the country-flavored "No Expectations" and "Jigsaw Puzzle"; the raunchy "Stray Cat Blues"; and a terrific reading of Rev. Robert Wilkins' "Prodigal Son," the only non-original. A few songs are arguably better than others but there's not a rotten apple in the bunch.
Related: We look back at the Stones' Get Your Ya-Ya's Out
Two 2018 editions of the 1968 album mark its 50th anniversary. Both feature an excellent remaster of the original recording; a mono version of "Sympathy for the Devil"; a flexi-disc containing a 1968 phone interview with Mick Jagger; and the image of a graffiti-filled toilet seat that the record company rejected for the LP's cover 50 years ago. The difference is that one edition presents the album and mono single on vinyl and includes a promo code for download of a digital copy, albeit one that consists of lossy MP3s, not CD-quality WAV files. The other delivers the album and single on Super Audio CDs (SACDs), which are backward compatible with standard CD players.
The bad news is that perhaps because of contractual restrictions, neither package offers any demo versions, outtakes, surround-sound mixes or video bonuses. Also, neither contains any liner notes. Those are notable shortcomings in a 50th anniversary reissue of an album as significant as Beggars Banquet. Still, anyone who doesn't already own this music—or who has worn out a copy or two—would be well advised to pick up one of these editions.
Latest posts by Jeff Burger
(see all)