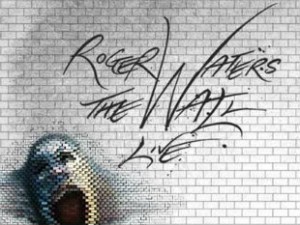 Pink Floyd's classic The Wall has lived many lives since it first came out in 1979 – most recently in the form of a sensational 2010-2013 tour and feature film chronicling the experience, Roger Waters The Wall, released in September. Now fans who saw it (or wish they had) can get their hands on the ultimate concert souvenir: the 29-song companion soundtrack, to be released November 20th.
Available as a double disc, three-LP vinyl or digital download, the soundtrack captures Waters' most recent tour in all its glory, the first complete staging of The Wall since 1990 and the most successful worldwide tour by a solo artist in history, drawing over 4.5 million people total.
All of your favorites are here, as well as two songs removed from the original release – "Last Few Bricks" and "What Shall We Do Now?" – and a number Waters added to his live shows in recent years, "The Ballad of Jean Charles de Menezes." LA-based session vocalist Robbie Wyckoff handles the parts that David Gilmour sang on the original record, while prog-rocker Dave Kilminster, former Saturday Night Live band leader/Dylam sideman G.E. Smith and Snowy White sling guitars. Waters' son Harry performs Hammond organ and piano.
Directed by Sean Evans and Roger Waters, Roger Waters The Wall is equal parts epic and personal – an immersive concert experience as well as a road movie chronicling Waters' anti-war musings and reckonings with the past. The film comes out on DVD and Blu-ray on December 1st.
Roger Waters The Wall Track List:
Disc One
1. "In the Flesh?"
2. "The Thin Ice"
3. "Another Brick in the Wall, Pt. "1"
4. "The Happiest Days of Our Lives"
5. "Another Brick in the Wall, Pt. "2"
6. "The Ballad of Jean Charles de Menezes"
7. "Mother"
8. "Goodbye Blue Sky"
9. "Empty Spaces"
10. "What Shall We Do Now?"
11. "Young Lust"
12. "One of My Turns"
13. "Don't Leave Me Now"
14. "Another Brick in the Wall, Pt. "3"
15. "Last Few Bricks"
16. "Goodbye Cruel World"
Disc Two
1. "Hey You"
2. "Is There Anybody Out There?"
3. "Nobody Home"
4. "Vera"
5. "Bring the Boys Back Home"
6. "Comfortably Numb"
7. "The Show Must Go On"
8. "In the Flesh"
9. "Run Like Hell"
10. "Waiting for the Worms"
11. "Stop"
12. "The Trial"
13. "Outside the Wall"

Latest posts by Best Classic Bands Staff
(see all)