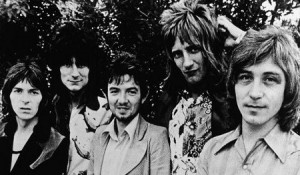 On September 5, three surviving members of The Faces – singer Rod Stewart, guitarist Ronnie Wood and drummer Kenney Jones – will play together again for the first time in the four decades since the group disbanded at the end of 1974. They will perform together at the third annual Rock 'n' Horsepower charity event at the Huntwood Park Polo Club in Surrey, England to benefit Prostate Cancer UK. Tickets are available here.
Though billed as a Faces reunion, it's a bit of a misnomer, as keyboard player Ian McLagan died last September of a stroke and bassist Ronnie Lane passed away in 1997 after a long struggle with multiple sclerosis. The show takes place eight days after Rhino Records issues 1970-1975: You Can Make Me Dance, Sing Or Anything…, a five disc vinyl/CD box set (also available digitally) which includes expanded versions of the group's four studio albums with live tracks, studio outtakes and other rarities and a fifth disc with nine songs issued during their 1969-'74 run.
Stewart waxed enthusiastically about the upcoming concert. "This year is the 40th anniversary since The Faces parted ways so it's about time we got together for a jam! Being in The Faces back in the day was a whirlwind of madness but my God, it was beyond brilliant."
Wood is also looking forward to the show. "Getting back on stage with the lads playing 'Stay with Me' and other favorites will be a blast and will make this a very special night."
Faces Wood, McLagan and Jones had reunited a number of times between 2009 and 2012 with ex-Sex Pistol Glen Matlock and, for one show, former Rolling Stone Bill Wyman on bass, with Simply Red's Mick Hucknall on vocals, most notably when The Small Faces/Faces were inducted into the Rock and Roll Hall of Fame in 2012, which Stewart bowed out of due to a bout of flu. A Faces tour for this year was in the planning until McLagan passed away.
Rock 'n' Horsepower is Prostate Cancer UK's flagship music event, put on by Kenney Jones and his wife Jayne to raise much needed funds and awareness for the disease. Jones was diagnosed with prostate cancer in 2013, and last year reunited with former Who bandmates Pete Townshend and Roger Daltrey for the event's debut concert.

Latest posts by Best Classic Bands Staff
(see all)