(Update: Mar. 11): Roughly four weeks before the Rock Hall Class of 2017's induction ceremony, Pearl Jam posted a photo of a handwritten note on their Facebook page with comments that address the previous sleight of its former members and specifically that of ex-drummer Dave Abbruzzese who had publicly complained about being excluded from the list of band members being inducted. Upon the original December 20 announcement, Abbruzzese had angrily addressed the snub writing, in part: "Someone need only to pull their head out of their ass and add my name." (His full comments are below.)
Today, the band invited all four of its former drummers "in the pre-Matt Cameron years" to the induction: "While awards and accolades are understandably subjective and a countless number of our peers have yet to be honored, we do feel fortunate to be recognized and provided the opportunity to reunite with everyone who has been part of the group."
Read the full note…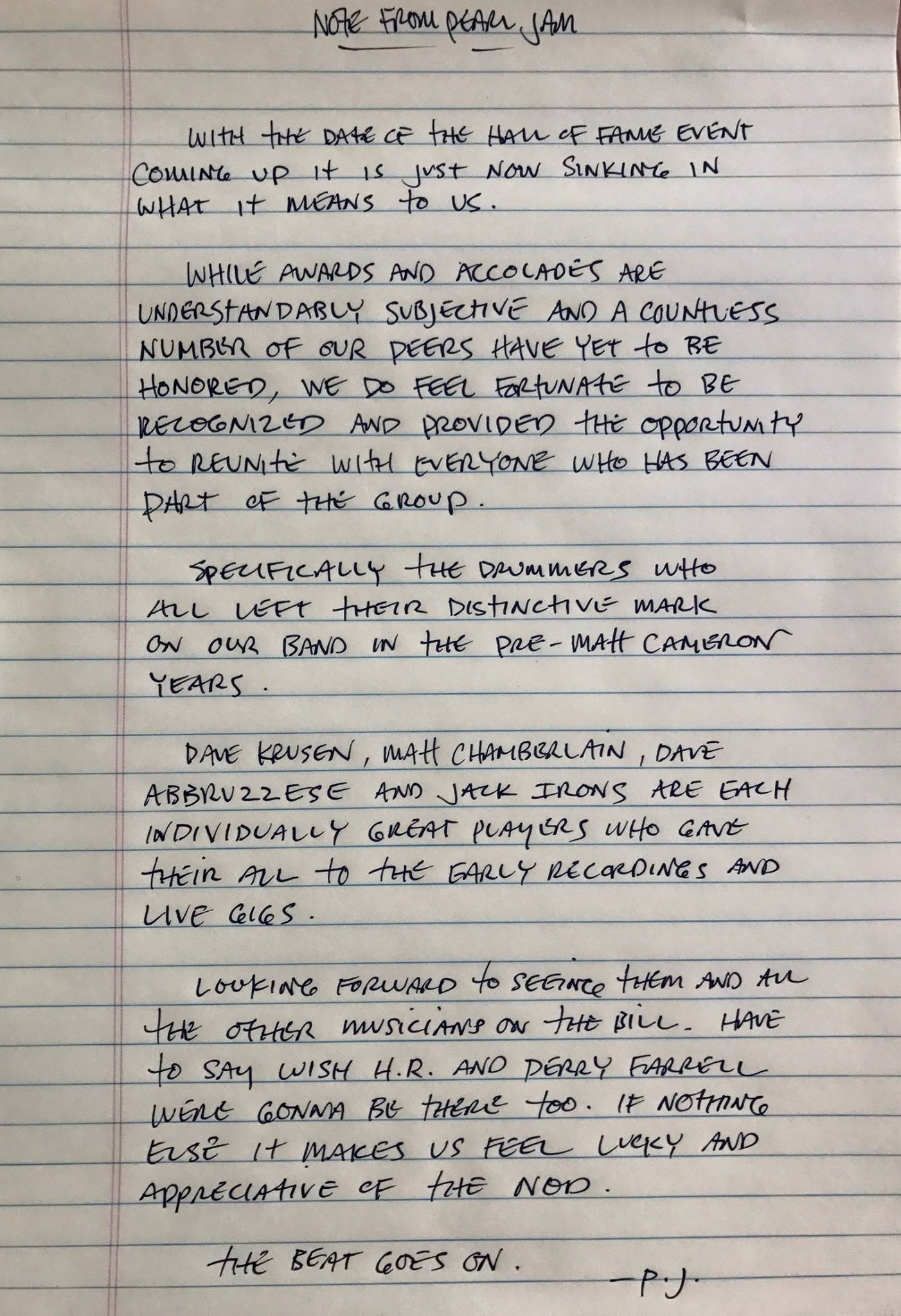 Our original post from December 20, 2016, of comments from all of the newly minted inductees…
The inductees and fellow performers are commenting about the Rock and Roll Hall of Fame's Class of 2017 via social media.
On their Facebook page, Journey wrote: "We are humbled to be included in such impressive company and grateful to the Rock and Roll Hall of Fame for this extraordinary honor." The band's co-founder Neal Schon hopes that their former prominent lead singer, Steve Perry, will perform at the April 7, 2017 induction ceremony. If he does, it will be the first time Perry has joined his former bandmates since 1991.
Related: Will Journey and Steve Perry reunite for Rock Hall performance?
Since being formed in 1968 by Chris Squire and Jon Anderson, Yes has had 19 members. Eight of them are being inducted: current members Alan White (drums) and guitarist Steve Howe, the band's late bassist and founding member Chris Squire, and former members Jon Anderson (vocals), Bill Bruford (drums), Tony Kaye (keyboards), Rick Wakeman (keyboards) and Trevor Rabin (guitar).
"What an honor this is for us and all involved with the history of this band," says Howe, who originally joined the band in 1970. "We thank all the Yes fans who have been so passionate over the decades, and helped us to keep the flag flying. It is the fans who have constantly demanded our inclusion. They have been heard.
White has had three separate tours of duty with the prog rock outfit, beginning in 1972. "We look forward to accepting this esteemed award next spring in honor of our fallen brother, Chris Squire, who would have been delighted to see his musical vision finally receive such recognition," he says. "We thank everyone who voted for Yes. We'll see you soon, Cleveland!"
"Yes was like my first girlfriend, to whom I was hopelessly committed," says Bruford. "Despite a couple of wrinkles, I'm glad to hear the old girl is in fine shape."
Kaye adds: "I am honored to be included in Yes' induction. I am delighted for my friends in the band, and I salute Chris, without whom it would never have happened. Chris would have been so very proud."
Related: Our profile of Yes featuring a great live performance of "Yours is no Disgrace"
Joan Baez offered a frank assessment of her rock and roll bona fides on her Facebook page: "I never considered myself to be a rock and roll artist. But as part of the folk music boom which contributed to and influenced the rock revolution of the Sixties, I am proud that some of the songs I sang made their way into the rock lexicon. I very much appreciate this honor and acknowledgement by the Hall of Fame."
Pearl Jam kept it brief: "We are excited to announce Pearl Jam will be inducted into the Rock & Roll Hall of Fame! Thank you so much to our fans for making this possible."
One former member of Pearl Jam, drummer, Dave Abbruzzese, wasn't very pleased about the group's decision not to include him when it is honored in the spring. He posted this note:
"The qualifications required for me to have been inducted with my former band mates certainly have been met. I challenge anyone to justify why I am not worthy of a place in the history of Pearl Jam. The official reason given from the RRHOF makes it bullshit. It make my years of hard work appear to be worthless towards the success born of the formative years of Pearl Jam. This is simply not the case. The milestones and the success obtained during my period in the band…
The Grammy, AMA's, Mtv awards, over 20 plus million albums sold.
Mtv Unplugged performance.
SNL twice, etc. Over 275 shows
For anyone to take a stand for denying my right to be recognized, I deserve to hear how you are possibly justifying such an absolute travesty.
Statistics and the opinions of the Pearl jam fans voiced on social media for the last 20 plus years will attest to that.
Someone need only to pull their head out of their ass and add my name.
'Nuff said?
Thank you, everyone!!"
Don't miss a post! Sign up for Best Classic Bands' Newsletter; form is on every page.
In a reserved statement on his Facebook page, ELO's Jeff Lynne wrote: "I am deeply honored to be inducted into the Rock and Roll Hall of Fame, and would like to thank all the great fans who have supported us over the years," said ELO lead singer Jeff Lynne of the honor."
The Traveling Wilburys gave a shout-out to "Otis Wilbury" aka Jeff Lynne on Twitter…
Congrats to Otis Wilbury! His other band @JeffLynnesELO to be inducted into #RockHall2017 @rockhall. pic.twitter.com/LswNMopugR

— Traveling Wilburys (@OfficialWilbury) December 20, 2016
From the Tupac Estate (via Facebook): "We are incredibly honored to announce that Tupac has been selected as one of the 2017 inductees for the Rock and Roll Hall of Fame. Thank you to the nominating committee and to his fans who supported his nomination by voting. This award recognizes how Tupac's message of change and mission to give a voice to those who didn't have one continues to resonate with millions of people to this day. You are the reason Tupac's legacy lives on. #RockHall2017"
The original @CHICorg. You're all in my Hall of Fame. ~@nilerodgers https://t.co/aF1tLzwAr2

— Nile Rodgers (@nilerodgers) December 20, 2016
Everybody's a comedian…
Can't believe The Rock & Roll Hall of Fame snubbed Pete Rose again. #RockHall2017

— Comedy Central (@ComedyCentral) December 20, 2016

Latest posts by Best Classic Bands Staff
(see all)