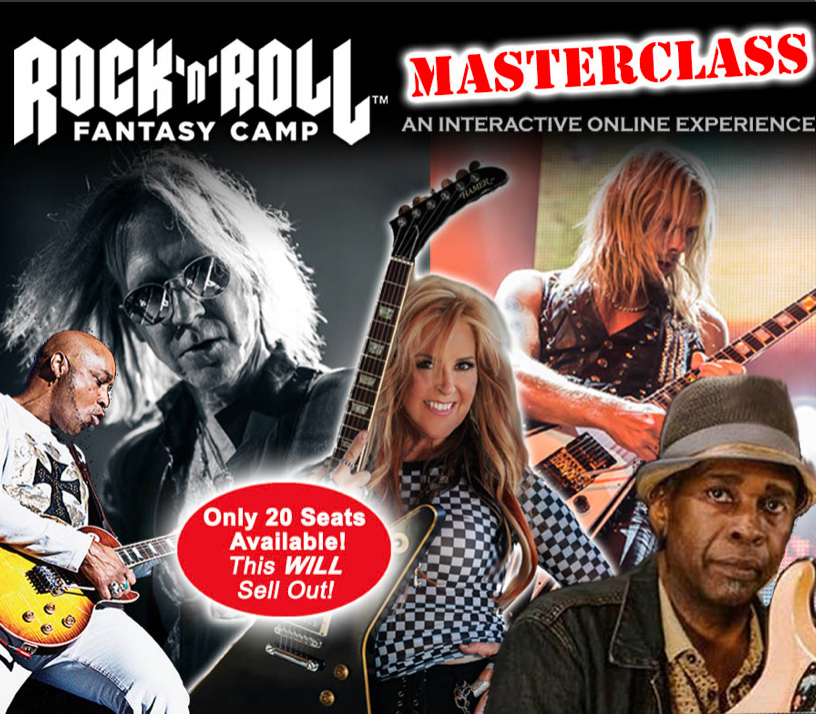 Many of rock's biggest names have joined the growing roster of stars participating in Rock 'n' Roll Fantasy Camp's newly launched online, live and interactive Masterclass events.
The classes allow the public to interact with the artist with an exclusive group limited to just 20-25 people, who will learn musical techniques, hear stories, be privy to live performances and get advice. Learn riffs right from the artists that wrote, recorded and played them in stadiums and arenas around the world. Participants can ask their musical heroes a question they've always wanted to know in this very personalized experience. Classes start at just $50.
Upcoming Masterclass talent includes Leslie West (Mountain), Ian Paice (Deep Purple), Steve Howe, Geoff Downes and Alan White (Yes), Sebastian Bach (Skid Row), and many more.
For the past 25 years, the Rock 'n' Roll Fantasy Camp has delivered the ultimate musical experience for participants to learn directly from the masters themselves. In the unique Masterclass series, rock stars will cover technical tips, career advice, stories from the road, techniques on their specialties, and more.
Find a list of all available classes here. Your participation will help raise money for several charities who need our help due to the COVID-19 crisis.
"Over the past 25 years we have been able to offer top touring musicians with whom you have been able to learn from, jam with, interact and share personal experiences," says the company's CEO David Fishof. "We will come out blazing with Rock Camps in 2021 when it will be safe to do so again. In the meantime, you can stay safe and rock on with our Masterclass series."
Upcoming Rock 'N' Roll Fantasy Camp Masterclass Events
Jul 25 – Reb Beach (Whitesnake, Winger)
Jul 26 – Shep Gordon (Artist Manager: Alice Cooper; 3 classes)
Jul 27 – Marti Frederiksen – Songwriting Class (Aerosmith, Buckcherry, Ozzy Osbourne)
Aug 01 – Bumblefoot (Sons of Apollo, Guns N' Roses)
Aug 04 – Tony Franklin (The Firm, Blue Murder)
Aug 05 – Bibi McGill (Musical Director: Beyoncé)
Aug 07 – Mike Kroeger (Nickelback)
Aug 08 – Vernon Reid (Living Colour)
Aug 09 – Mike Clink (Producer: Guns N' Roses, Motley Crue, Megadeth)
Aug 11 – John 5 (Marilyn Manson, Rob Zombie)
Aug 12 – Rusty Wright (Guitarist)
Aug 13 – Jack Blades (Night Ranger)
Aug 17-18 – Joel Hoekstra – Beginner & Intermediate Guitar Classes (Whitesnake, Trans Siberian Orchestra)
Aug 18 – Marty Friedman (Guitarist)
Aug 21 – David (5-1) Norman (Tour Director/Prod. Mgr.: Prince, Green Day)
Aug 22 – Ian Paice (Deep Purple), Matt Sorum (Guns N' Roses), Gregg Potter (Buddy Rich Band) Celebrating the Legacy of Neil Peart & Buddy Rich
Aug 22 – Stu Hamm (Joe Satriani, Steve Vai)
Aug 22 – David Spero/Charlie Brusco/Danny Zelisko (Artist Mgrs., Promoters)
Aug 23 – Mike Mangini (Dream Theater)
Aug 28 – Leslie West (Mountain)
Aug 29 – Jordan Rudess (Dream Theater)
Aug 29 – Richie Faulkner (Judas Priest)
Sep 05 – Holly Knight (Songwriting) (Aerosmith, Pat Benatar, Heart, Tina Turner)
Sep 10 – Sebastian Bach (Skid Row)
Sep 13 – Steve Howe (Yes)
Sep 13 – Geoff Downes (Yes, Asia)
Sep 13 – Alan White (Yes)
Related: Our feature story on Rock 'n' Roll Fantasy Camp

Latest posts by Best Classic Bands Staff
(see all)