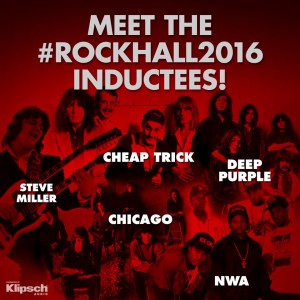 The Rock and Roll Hall of Fame has announced the inductees for its Class of 2016. Classic rockers Cheap Trick, Chicago, Deep Purple and Steve Miller are its newest members, joined by hip hop act N.W.A.
The 2016 induction ceremony will take place on April 8, 2016 at Barclays Center in Brooklyn, New York for the second time. Tickets will go on sale to the public in February. HBO will broadcast the ceremony later in the spring.
The acts that were nominated but will need to wait for at least another year? The Cars, Chic, Janet Jackson, The J.B.'s, Chaka Khan, Los Lobos, Nine Inch Nails, The Smiths, The Spiners and Yes.
About the 2016 Rock and Roll Hall of Fame Inductees:
Cheap Trick
Inductees: Bun E. Carlos, Rick Nielsen, Tom Petersson, Robin Zander
An American rock'n'roll group with a sense of humor, and popular and potent enough to sell-out arenas in their prime, Trick deserve props for all the years they spent as the heartland's greatest club band. Initially breaking through in Japan, their live Cheap Trick At Budokan album subsequently paved the way for worldwide success. Singles "Surrender" and "I Want You To Want Me" remain classic rock anthems. Cheap Trick's hits still sound fresh and always will.
"We can't thank the Rock and Roll Hall of Fame enough for honoring Cheap Trick. Thanks to all the fans who have supported us for all these years and to the Hall of Fame members who cast their votes. We are excited and honored," said Cheap Trick bass guitarist Tom Petersson.
Chicago
Inductees: Peter Cetera, Terry Kath, Robert Lamm, Lee Loughnane, James Pankow, Walter Parazaider, Danny Seraphine
The band's original run, which started in 1969, ended in the early '70s, as this cool progressive act with that big jazzy rock sound so prominent on their debut (when they were known as Chicago Transit Authority) and its two-LP follow-up Chicago. Both were filled with some smart horn arrangements and great singles like "Beginnings," "Make Me Smile" and "25 or 6 to 4." But then Chicago had the "nerve" to morph into a a very efficient hitmaking machine whose work could be a bit soapy and cheesy.
Deep Purple
Inductees: Ritchie Blackmore, David Coverdale, Rod Evans, Ian Gillan, Roger Glover, Glenn Hughes, Jon Lord, Ian Paice
Their third nomination was the charm for one of the founding acts of hard rock, hugely influential (Lord knows how many bands Purple's ex-members alone  have started), so famed for "Smoke on the Water"… then there's all those important – yes, important – albums.
N.W.A
Inductees: DJ Yella, Dr. Dre, Eazy-E, Ice Cube, MC Ren
Steve Miller
Inductee: Steve Miller
This was his first nomination though he's been eligible since 1993. There are a lot of Miller tracks that justifiably get plenty of classic rock airplay: "The Joker," "Fly Like An Eagle," Jet Airliner" and "Rock 'N Me," to name a few. And the man's a terrific guitarist and is still touring, so there's that.
When notified of his selection, Miller stated: "From the Space Cowboy, the Joker, Maurice and the Gangster of Luv and everybody who has played with us through the years, thank you to the Rock and Roll Hall of Fame and to all the fans  who voted for us."
Artists are eligible for inclusion in the Rock and Roll Hall of Fame 25 years after the release of their first recording. The 2016 Rock and Roll Hall of Fame Performer Inductees were chosen by more than 800 voters of the Rock and Roll Hall of Fame Foundation, as well as the aggregate results of the Rock and Roll Hall of Fame's online fan vote. The top five artists, as selected by the public, comprised a "fans' ballot" that was tallied along with the other ballots to determine the 2016 Inductees. Three of the top five artists from the fans ballot will be inducted in 2016.

Latest posts by Best Classic Bands Staff
(see all)