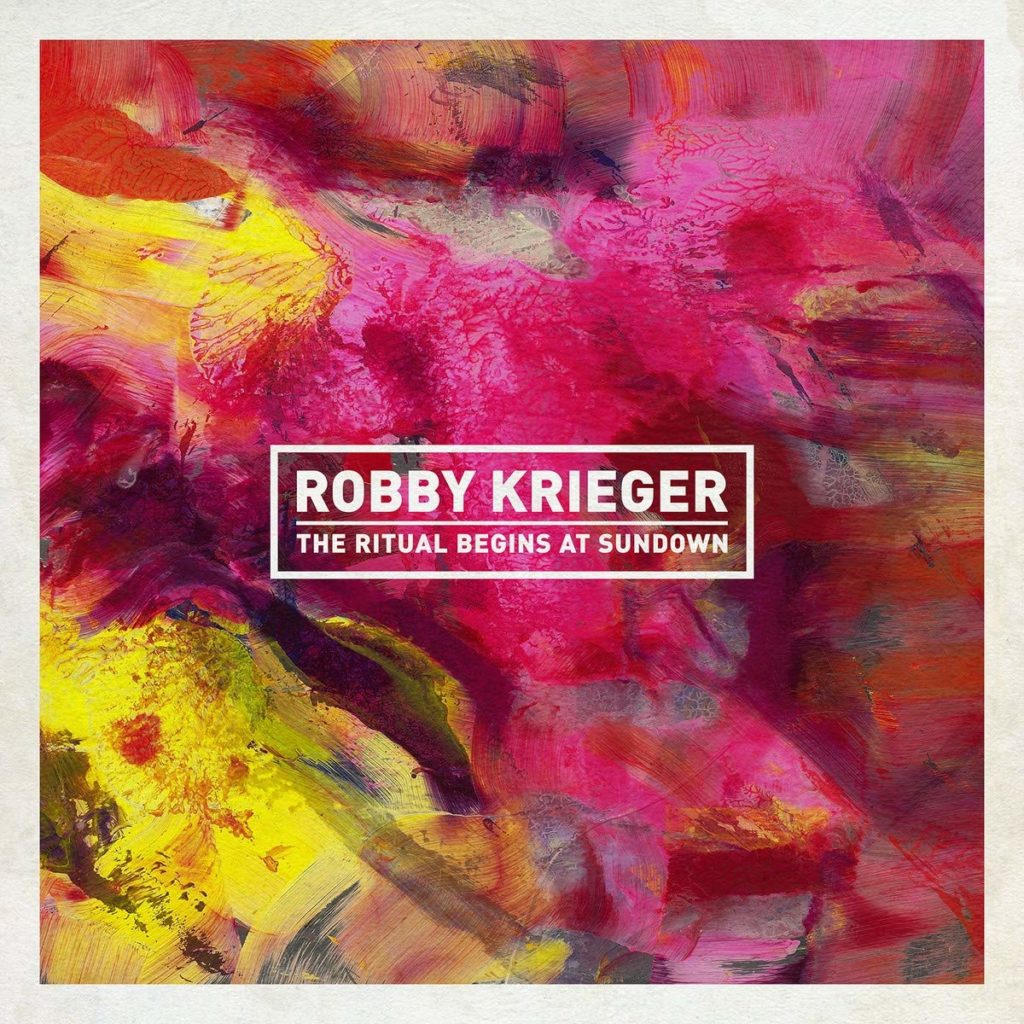 The former guitarist and songwriter of The Doors, Robby Krieger, will release his first solo album in a decade on April 24. The Ritual Begins at Sundown will be released by The Players Club.
Says a press release, "Krieger returns for his ninth solo album, and his first since 2010's Grammy-nominated Singularity, once again with his longtime writing partner and co-producer Arthur Barrow. Barrow worked with Frank Zappa through the 1970s-80s as well as Giorgio Moroder, Joe Cocker, Diana Ross and Janet Jackson, and worked on soundtracks for Top Gun and Scarface. The album also features other Zappa alumni: Jock Ellis (trombone), Sal Marquez (trumpet) and Tommy Mars (keys), as well as AeB Bryne (flute), Vince Denim (sax), Chuck Manning (sax), Joel Wackerman (drums) and Joel Taylor (drums). Krieger says, 'I was hanging out with my buddy Arthur Barrow and we had some songs we had been fooling around with then we got some other friends involved."
The Ritual Begins at Sundown is described as a 10-song instrumental record that was recorded at Krieger's own Horse Latitudes Studio in Los Angeles and features nine originals and one cover, the Frank Zappa song "Chunga's Revenge."
Says the release, "To understand where he is for the album now, you need to go right back to the beginning when he was on the exploding jazz scene. Krieger explains, 'When I wrote songs for the Doors, it was always the music first. I think you have to have some musical ability to really understand jazz. When I was young, I didn't really understand it. It took me a while. I was going to the clubs with John Densmore, before the Doors, to really get an appreciation of jazz. We used to go see Wes Montgomery, Roland Kirk, Miles Davis, stuff like that. At first, I didn't really get it, but after a while it sank in and I always loved it after that.
Related: Our Album Rewind review of the Doors' The Soft Parade
"The album really is a return to friends with his relationship with Barrow and Sal Marquez dating all the way back to his first solo album," continues the announcement. "'After The Doors I started becoming interested in jazz and started hanging out with a guy called Sal Marquez,' he says. 'So, we put this band together and that was the first Robby Krieger band and we played at the Whisky A-Go-Go with Don Preston, Zappa's keyboard player. Arthur Barrow, who was a huge Zappa fan—this was before he worked with Frank—decided that, after graduating from North Texas State music school, that he was gonna come out to L.A. and try to get into Frank's band, which was pretty brash of him, He started hanging out with Don and with Zappa. Don was in my band so we decided to put Arthur in charge of the mixing at the Whisky for our shows, that's when I first met him in the '70s.'"
Listen to "The Drift" from The Ritual Begins at Sundown

Latest posts by Best Classic Bands Staff
(see all)