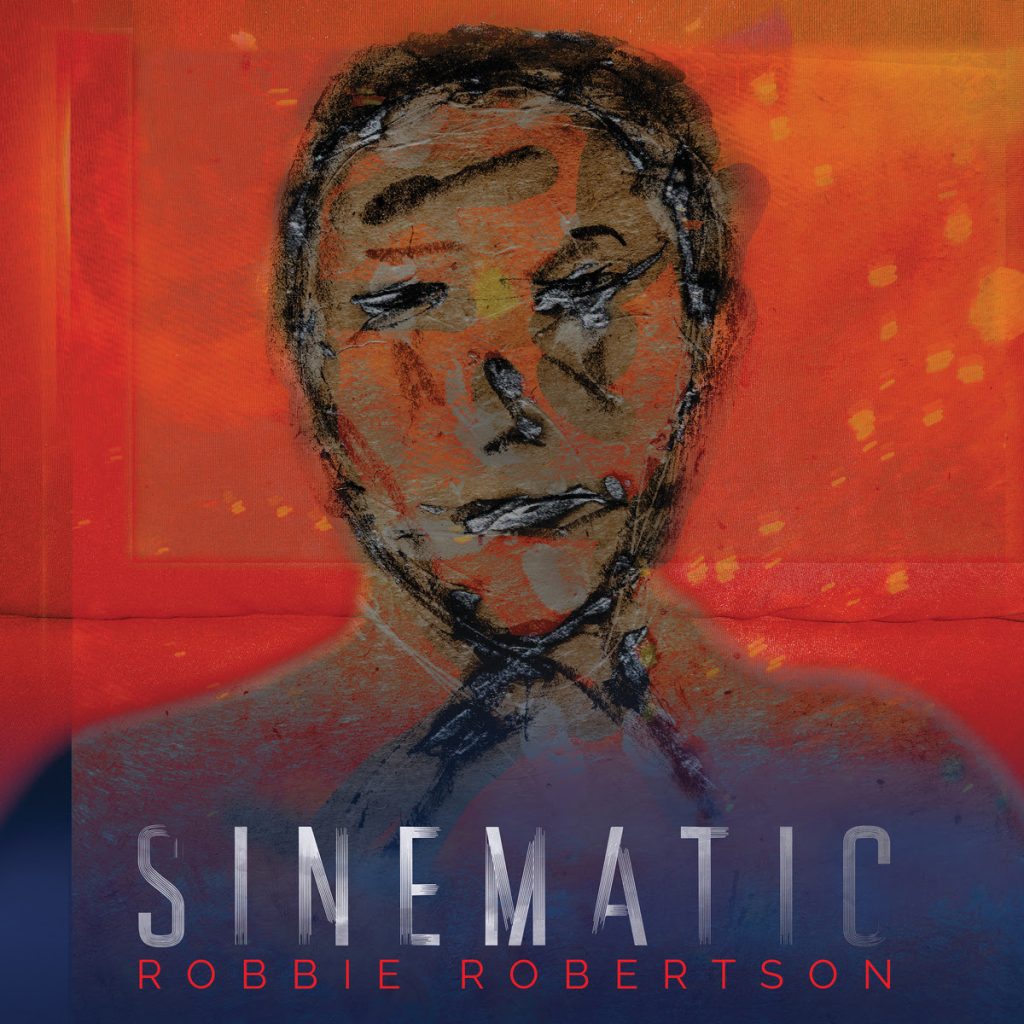 A new solo album by Robbie Robertson, Sinematic, has been release on Sept. 20 via UMe. A Deluxe Edition presents the album on CD and 180-gram 2-LP vinyl with a 36-page hardcover book featuring custom artwork Robertson, the former lead guitarist and chief songwriter of The Band, has created for each track. The 13-song self-produced collection is Robertson's first new studio album since 2011's How To Become Clairvoyant.
Listen to several tracks below.
For his new album, says a press release, "Robertson drew inspiration from his recent film score writing and recording for director Martin Scorsese's eagerly anticipated organized crime epic The Irishman, as well as the forthcoming feature documentary film, Once Were Brothers: Robbie Robertson and The Band, based on his memoir Testimony."
The documentary had its world premiere on Sept. 5 as the Opening Night Gala Presentation for the 44th Toronto International Film Festival.
The album's opener, "I Hear You Paint Houses," is drawn from Scorsese's film and the book it's based on, Charles Brandt's I Heard You Paint Houses, about confessed hit man Frank "The Irishman" Sheeran, the song is a duet with Van Morrison.
Listen to "I Hear You Paint Houses" from Sinematic
"I was working on music for The Irishman and working on the documentary, and these things were bleeding into each other," says Robertson in the press release of the impetus for Sinematic. "I could see a path. Ideas for songs about haunting and violent and beautiful things were swirling together like a movie. You follow that sound and it all starts to take shape right in front of your ears. At some point, I started referring to it as 'Peckinpah Rock,'" a nod, Robertson says, to Sam Peckinpah, the late director of such violent Westerns as The Wild Bunch.
Listen to "Once Were Brothers"
Related: Read more about the Robertson/Band documentary
Continues the release: "Narrated in Robertson's cool parched croon, the yarns unspool over his vibrant guitar stylings and a bedrock of moody, midtempo rock, anchored on most tracks by bassist Pino Palladino (John Mayer Trio, The Who), drummer Chris Dave (D'Angelo, Adele), and keyboardist Martin Pradler, who also mixed the record. The band is rounded out with Afie Jurvanen, who provides guitar and backing vocals, along with vocalist Felicity Williams, a regular collaborator with Jurvanen in his band Bahamas. Robertson is joined on the album by special guest vocalists Van Morrison, Glen Hansard, Citizen Cope, J.S. Ondara, and Laura Satterfield; musicians Jim Keltner, Derek Trucks, Frédéric Yonnet, and Doyle Bramhall II; and producer Howie B who provides throbbing electronic textures to several tracks."
Listen to the instrumental, "Remembrance"
For fans who would like to own a piece of the album's artwork, four images—the Sinematic album cover, "Beautiful Madness," "Shanghai Blues" and "Walk In Beauty Way"—are being made available for purchase as archival-quality, framed canvas prints in a limited run of 100 for each. Ten canvas prints of the album's cover art will be signed by Robertson with proceeds benefiting the American Indian College Fund. To view and order the images, visit: https://RobbieRobertson.lnk.to/Sinematic
As Robertson releases his sixth solo album, The Band's self-titled sophomore LP turns 50 on Sept. 22. (Plans to celebrate the anniversary will be announced soon.) Read our Album Rewind review of that classic here.

Latest posts by Best Classic Bands Staff
(see all)