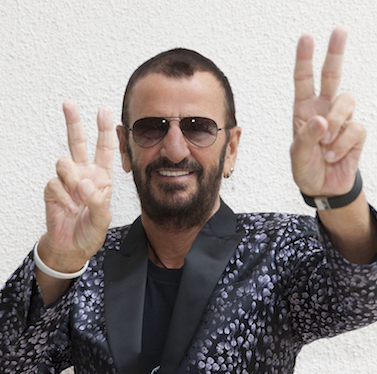 Oh my my! With the entry into the world of Stone Zakamo Low on August 14, Ringo Starr has become the first Beatle great-grandfather! Stone is the daughter of Tatia Starkey and her partner, Adam Low. Tatia's own dad is Zak Starkey, Ringo's son. The news was first reported by Noise11.com.
If baby boy Stone chooses to become a musician when he grows up, he will certainly find no shortage of classic rock relatives ready to give him tips. Ringo, at 76, is still active as the leader of his All-Starr Band—and of course, he's got a bit of history he can draw on at story time. Grandpa Zak, now 51, has for many years been the drummer for The Who, and has played with Oasis and others. And Stone's mom, Tatia, is a singer and bassist for the British band Belakiss, formed around 2011.
Don't miss a post! Sign up for Best Classic Bands' Newsletter; form is on every page.
And here's young Stone's grandfather playing drums with The Who in February 2016 on a Who's Next gem…
With many rockers now in their 70s, it's not unusual to find grandparents taking to the stage to churn out their old hits. Paul McCartney has several grandkids, as do Keith Richards, Bob Dylan, Ozzy Osbourne and many others. Even former Sex Pistol Johnny "Rotten" Lydon has a couple of them.
But rock great-grandparents are few. The late blues master B.B. King reportedly left about 10 of them behind and Mick Jagger became a great-granddad two years ago when granddaughter Assisi Jackson gave birth to a baby girl. But the rest aren't quite there yet.
Ringo, we are sure, is overjoyed at the good news. Last year he spoke about his experiences as a father and grandfather in AARP magazine: "I could have been a better father, but there was a lot going on in my life besides music, like substance abuse, though I've been clean for a number of years," Starr said. "When I became a grandfather, it was an out-of-body experience. Jumping in the pool with them and listening to the same joke over and over again. I have a great time with my daughter Lee's children. They're the young ones, triplets at 6 now. When they were 2 1/2, I said, 'Who wants pie? Who wants cake?' Now every afternoon, if I'm at their house or they're at ours, we have pie-cake.'"
If you're a new Best Classic Bands reader, we'd be grateful if you would Like our Facebook page and/or bookmark our Home page.

Latest posts by Best Classic Bands Staff
(see all)