The Ramones' 'Road to Ruin' Deluxe Edition: Review
by Jeff Burger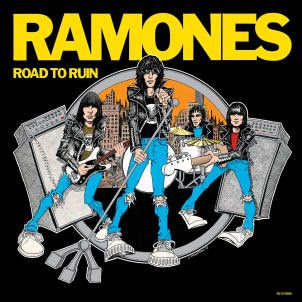 By the time the Ramones got around to crafting their fourth album, they must have been feeling a little nervous. Several of their contemporaries on the punk/new wave scene—including Blondie, Elvis Costello and Talking Heads—had begun to break through commercially. They had not. Their first two albums had flopped, and while their third, Rocket to Russia, had done a bit better, it had stalled at #49 on the charts—not what you'd call a hit.
Another band might have taken the opportunity to reassess and perhaps to redefine themselves. But the Ramones hunkered down. True, they got a new drummer around this time and added a few minor country touches. They also recorded a couple of songs that (barely) exceeded the three-minute mark and occasionally strummed more than three chords, both things they'd previously avoided. But at their core, they remained the same band you already adored or detested—or, more likely, didn't even know. Their stripped-down rock 'n' roll formula remained unchanged, and they sounded as contrarian—and sardonic—as ever. While they clearly wanted to be on a road to riches, they called the new album Road to Ruin, which was pretty much on target: the record peaked on the charts at #103—a worse showing than that of the LP's predecessor.
Related: That time the Ramones got their own street
Today, all four of the group's original members are dead; the only major player on Road to Ruin who's still with us is "new" drummer Marc Steven Bell (aka Marky Ramone). But the music lives on, and it's a good deal better than many listeners realized in 1978. No, this isn't the Ramones' best record: overall, it's a bit less hook-laden and fresh than the first three. But there are gems here, such as the infectious "I Wanna Be Sedated" and a cover of "Needles and Pins" that manages to echo the Searchers' hit version while also sounding a lot like the Ramones originals that surround it here.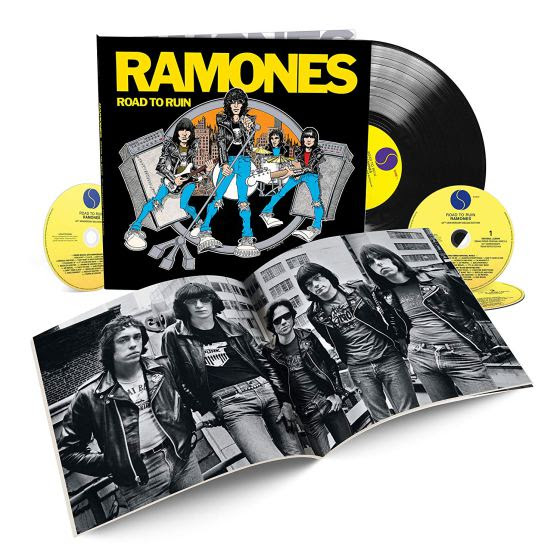 The lyrics, meanwhile, are loaded with examples of the group's wry humor. Who else would open an album with a couplet like "Hanging out on Second Avenue/Eating chicken vindaloo"? And then there's "Go Mental," where they sing, "Out of the hospital/Out against my will/Life is so beautiful/I've gone mental…I don't like politics, I don't like communists/I don't like games and fun/I don't like anyone." OK, so it's not Bob Dylan, but the group's crankiness has a certain charm.
This box—the fourth in a series of 40th anniversary expanded reissues from the Ramones—delivers the goods. One CD offers a remaster of the original album as well as a substantially different, equally likable new mix while a second CD serves up an assortment of extras, including rough mixes, single versions and surprisingly lovable acoustic renditions of "Needles and Pins" and two other tracks. There's also an LP of the original album for vinyl junkies and a booklet that includes liner notes and all the lyrics.
Watch the previously unseen live video of "She's the One"
Perhaps the biggest carrot for anyone who already owns the 1978 release is the box's third and final CD: a New Year's Eve 1979 concert from New York's Palladium that includes songs from Rocket to Russia as well as such earlier high points as "Rockaway Beach," "Blitzkrieg Bop" and "Sheena Is a Punk Rocker." The group also pays tribute to some of their influences in this concert, performing the aforementioned "Needles and Pins," plus the Rivieras' "California Sun," Bobby Freeman's "Do You Wanna Dance" and Chris Montez's "Let's Dance." Altogether, the concert includes 32 songs packed into a mere 64 minutes—these guys were not exactly known for dragging out their performances.
All of this music sounded revolutionary in the late 1970s, when the airwaves were populated by songs like Gloria Gaynor's "I Will Survive," the Doobie Brothers' "What a Fool Believes" and Rod Stewart's "Da Ya Think I'm Sexy." It was a wakeup call to cut back on the self-indulgent guitar solos and other assorted pretensions, and get back to basics—the beat, the hooks, and the rebellion that fueled early rock 'n' roll. A lot of people ultimately did wake up, but if you're still feeling a little groggy 40 years later, Road to Ruin should be enough to get you out of bed.
Listen to "I Just Want to Have Something to Do" from Road to Ruin
Latest posts by Jeff Burger
(see all)