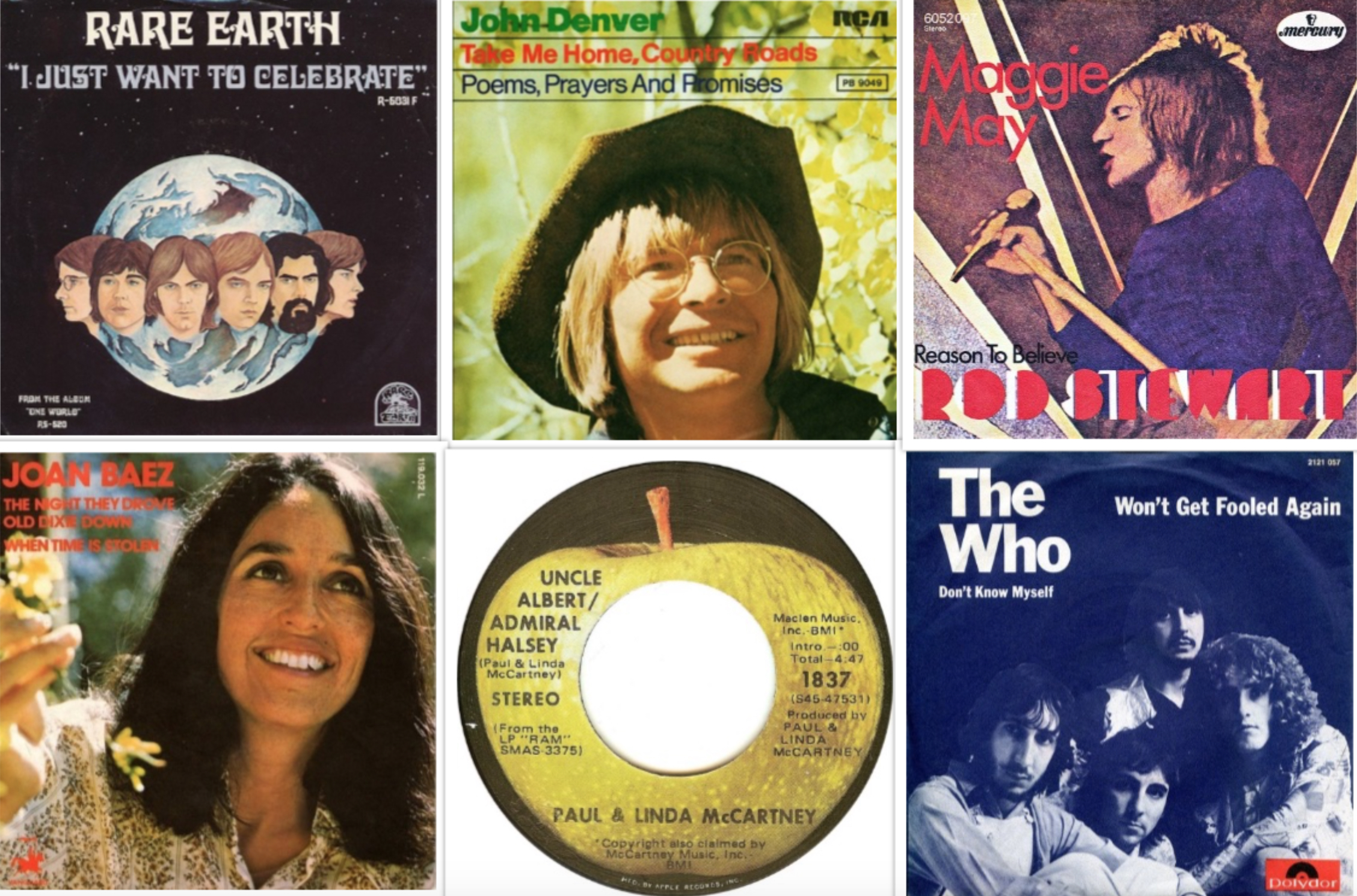 Looking back at September 1971… a riot breaks out at the Attica Correctional Facility in western New York State. Roughly half of the prison's inmates took control, taking 42 staff members hostage. The uprising ultimately left dozens of employees and prisoners dead.
Among those born this month: actors Amy Poehler and Luke Wilson, and singer Dolores O'Riordan of the Cranberries.
Finishing touches were being put on Walt Disney World in Orlando, Florida, prior to its October 1 opening.
And the singles chart on music industry trade magazine, Record World, featured some classic rock favorites climbing to the top.
Bubbling under and taking a huge leap from #55 to #41 was "So Far Away" from Carole King's landmark Tapestry album. The song would ultimately reach #14.
Jumping from #51 to #39 was Stevie Wonder's "If You Really Love Me." The song would go on to become the artist's 12th Top 10 hit.
Also taking a huge jump: Rod Stewart's "Maggie May." The song was originally the B-side of "Reason to Believe," but DJs gravitated to this one. Smart move! "Maggie May," with its seasonally appropriate "it's late September and I really should be back at school lyric," moved this week from #40 to #29. It eventually reached #1, becoming Rod the Mod's first solo hit.
Moving from #30 to #24 was the Moody Blues' "The Story in Your Eyes," written and sung by the band's Justin Hayward.
Taking a monster 20-spot leap from #37 to #17: Joan Baez's cover of the Robbie Robertson-penned "The Night They Drove Old Dixie Down." The song eventually reached #3, making it far and away the 2017 Rock Hall inductee's biggest pop hit.
Rare Earth's third Top 10 single in a little over a year was "I Just Want to Celebrate." The song was at #16 this week, on the way to #7.
Most classic rock fans aren't aware that The Who's biggest U.S. single was 1967's "I Can See For Miles," which reached #9. This week, one of their signature tunes, "Won't Get Fooled Again," moved from #16 to #13 on Record World (though it would peak at "just" #15 in Billboard).
Bill Withers' first hit – and his first of three within one year – was "Ain't No Sunshine." The song jumped from #23 to #11, on its way to #3.
Related: Where did these songs rank for the full year of 1971?
And in the Top 10 this week… Paul & Linda McCartney's wildly playful "Uncle Albert / Admiral Halsey" jumped from #15 to #10. The song would ultimately rise to #1 on Sept. 4, his first solo smash.
The Canadian rock group, Five Man Electrical Band, were thisclose to being one hit wonders with their great single, "Signs," at #5. (A follow-up reached #26.) "Signs" was originally released in 1970 as a B-side by their Canadian label. More on the band and this classic here.
At #4, "Sweet Hitch-Hiker" was the last of nine Top 10 hits from Creedence Clearwater Revival. (All came within a remarkable two-and-a-half years.)
Moving from #4 to #3 was Aretha Franklin's "Spanish Harlem," written by Jerry Leiber and Phil Spector. The song would reach #2, becoming her biggest single since 1967's "Chain of Fools."
At #2 this week was the second of three huge hits from Marvin Gaye's remarkable What's Going On album. "Mercy Mercy Me (The Ecology)" became one of the soul legend's signature songs.
And at #1? It's time to heap praise on John Denver. "Take Me Home, Country Roads" was the breakthrough hit for the singer-songwriter-humanitarian, who would later score four #1 pop singles.
Related: An author makes a convincing case that 1971 was the best year in rock
41. "So Far Away" – Carole King (A&M)
39. "If You Really Love Me" – Stevie Wonder (Tamla)
29. "Maggie May" – Rod Stewart (Mercury)
24. "The Story in Your Eyes" – The Moody Blues (Threshold)
17. "The Night They Drove Old Dixie Down" – Joan Baez (Vanguard)
16. "I Just Want to Celebrate" – Rare Earth (Rare Earth Records)
13. "Won't Get Fooled Again" – The Who (Decca)
11. "Ain't No Sunshine" – Bill Withers (Sussex)
10. "Uncle Albert / Admiral Halsey" – Paul & Linda McCartney (Apple)
9. "Go Away, Little Girl" – Donny Osmond (MGM)
8. "How Can You Mend a Broken Heart" – The Bee Gees (Atco)
7. "Smiling Faces Sometimes" – Undisputed Truth (Gordy)
6. "Liar" – Three Dog Night (ABC/Dunhill)
5. "Signs" – Five Man Electrical Band (Lionel)
4. "Sweet Hitch-Hiker" – Creedence Clearwater Revival (Fantasy)
3. "Spanish Harlem" – Aretha Franklin (Atlantic)
2. "Mercy Mercy Me (The Ecology) – Marvin Gaye (Tamla)
1. "Take Me Home, Country Roads" – John Denver (RCA)

Latest posts by Best Classic Bands Staff
(see all)