If you remember the "new math" then this should be easy. Because in 1974, Billy Preston, Stevie Wonder and BTO had it all figured out.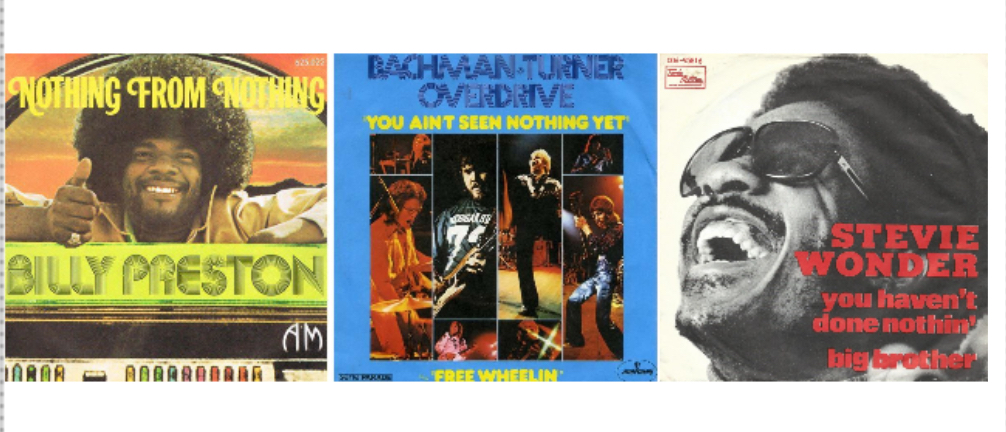 Nothin' from nothin' leaves nothin'. Pretty easy, right? Well, before we examine the top of the chart, let's first work our way up…
Detroit/Windsor, Ontario Top 40 powerhouse CKLW had plenty of classic rock on their playlist this week in 1974. Bubbling under the 10: jumping from #20 to #16 was Elton John's "The Bitch is Back," which would ultimately peak nationally at #4 (part of his mini-streak of eight Top 5 singles).
Climbing from #13 to #11 – on its way to #1 – was Bachman-Turner Overdrive's "You Ain't Seen Nothing Yet." Here it is, complete with the stuttering vocal…
Related: We talked to Randy Bachman about BTO's big hit
At #10 was Bad Company's "Can't Get Enough," the British blues rock supergroup's first single and their biggest hit. (It peaked at #5 nationally a few weeks later.)
Skipping to #5: Eric Clapton's hugely successful cover of Bob Marley's "I Shot The Sheriff." The song signaled yet another comeback for Slowhand, who hadn't enjoyed a Top 10 hit since Derek and The Dominos' "Layla" three years earlier. "Sheriff" would continue to climb the chart, becoming Clapton's sole #1 hit as a solo artist or as a member of any group.
At #3 was Stevie Wonder's "You Haven't Done Nothin'." The great artist was in the midst of one of the all-time great chart runs with 27 Top 10 singles from 1965-1985 and five #1's (including this one) from '72-'77. This funky song from his Fulfullingness' First Finale album featured Wonder's Motown labelmates the Jackson 5 on backup vocals ("Doo da wop"). The performance kicks in at around the :28 mark of the clip…
Related: When Stevie Wonder opened for the Stones' 1972 tour
Barry White weighed-in (oof!) at #2 with his classic "Can't Get Enough Of Your Love, Babe," the, er, biggest hit of the baritone's career.
Finally, #1 this week was Billy Preston's playful "Nothing From Nothing." It was the second chart-topper for the "Fifth Beatle," following 1973's "Will It Go Round In Circles."
Go figure… three songs in the Top 11 had the word "Nothing" in the title. (What can we say? We're chart nerds…)
10. "Can't Get Enough" – Bad Company (Swan Song)
9. "Let's Straighten It Out" – Latimore (Glades)
8. "Skin Tight" – Ohio Players (Mercury)
7. "Hang On In There Baby" – Johnny Bristol (MGM)
6. "Do It Baby" – The Miracles (Tamla)
5. "I Shot The Sheriff" – Eric Clapton (RSO)
4. "I Honestly Love You" – Olivia Newton-John (MCA)
3. "You Haven't Done Nothin'" – Stevie Wonder (Tamla)
2. "Can't Get Enough Of Your Love, Babe" – Barry White (20th Century Fox)
1. "Nothing From Nothing" – Billy Preston (A&M)

The BCB team brings you the latest Breaking News, Contests, On This Day rock history stories, Classic Videos, retro-Charts and more.

Latest posts by Best Classic Bands Staff (see all)