Longtime music industry writer, editor and executive Adam White authored the 2016 book, Motown: The Sound of Young America (via Thames and Hudson), with Barney Ales, for years the influential label's #2 to its founder Berry Gordy.
White has since started a blog and he has allowed Best Classic Bands to publish this exclusive excerpt, "Stevie Reaches Higher Ground," about Stevie Wonder's opening slot on the Rolling Stones' 1972 U.S. tour:
In music, careers can turn on a dime. In 1972, Stevie Wonder's career turned on a tour.
The Rolling Stones' fifth American tour, to be precise, and their first such excursion in three years: a summertime itinerary of rock 'n' roll, exhibitionism and excess, with a top ticket price of $6.50 and a new album by the band, Exile On Main Street, in tow.
That the Stones were interested in having Stevie join their caravan was no surprise. In their early years, they were under the thumb of American blues and R&B. Like the Beatles, they tackled Motown songs, "Can I Get A Witness" and "Hitch Hike" among them.
On June 3, 1972, Stevie Wonder joined the Rolling Stones' roadshow, opening at the Pacific Coliseum in Vancouver. On July 26, he played his final date with the Britons at New York's Madison Square Garden. In between, the 22-year-old from Saginaw, Michigan, was seen and heard across North America by more than half a million people. Nothing for him would ever be the same again.
At the New York Times, Don Heckman reported, "Spectacular as the Stones were…my most vivid memories are of the charged-up playing and singing of the blind soul singer/musician Stevie Wonder and his crisp little band, Wonderlove." [MSG] was host to the tour for three dates, July 24-26, with a total of 60,000 tickets sold.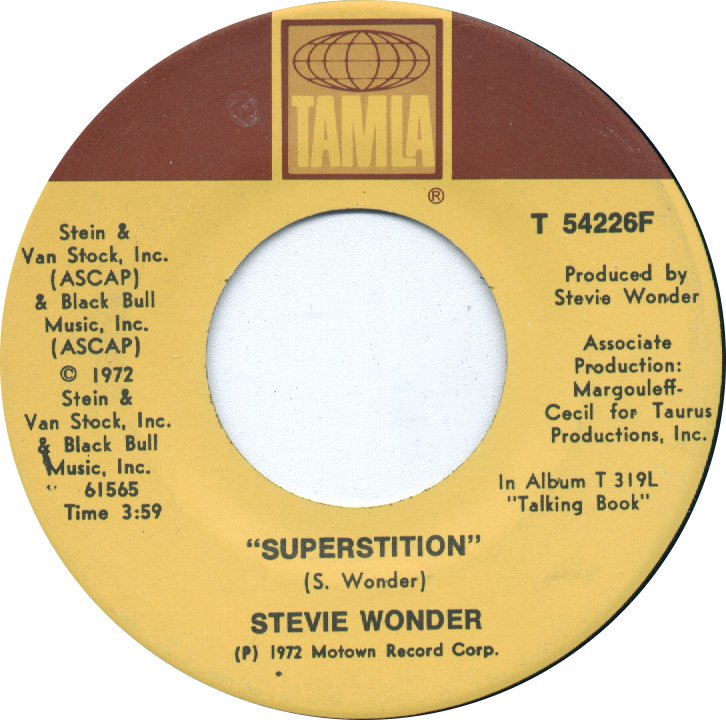 Stevie's 55-minute set featured early hits such as "For Once In My Life," "I Was Made to Love Her" and "If You Really Love Me," some oldies associated with others ("Rockin' Robin," "I Need Your Loving") and material from Music Of My Mind. His finale gave audiences the opportunity to hear a show-stopping "Superstition" in concert–three months before it was released by Motown on record. Wonder had already been in the studio with the song: the week before the tour's first show in Vancouver, he was adding parts to it with saxophone player Trevor Lawrence and trumpeter Steve Madaio at New York's Electric Lady Studios.
"Superstition" exploded in October and [on January 27, 1973] became Wonder's first #1 single on the Billboard Hot 100 since 1963, and the accompanying Talking Book graduated into his first-ever Top 3 pop album, spending more than two years on the charts.
Stevie and Mick Jagger made music on the road, sharing the microphone for renditions of "Uptight (Everything's Alright)" and "(I Can't Get No) Satisfaction." In fact, these were to be a highlight of the "live" album of the tour, according to trade press reports of the time. Many of the performances were recorded; the Stones' own label was due to release a double LP in November. It never materialized.
[Tickets to see the Stones tour are available here and here.]
Watch Wonder and the Stones perform "Uptight (Everything's Alright)" and "(I Can't Get No) Satisfaction" during the tour
No matter. As far as Stevie was concerned, those 40 shows in 30 cities during the summer of '72 sealed a future of abundance and of a creative stature almost beyond measure. Talking Book sold 1.6 million copies in the U.S. on release – three times more than [its predecessor] Music Of My Mind – and its successors, Innervisions and Fulfillingness' First Finale, claimed domestic sales of 2.1 million and 1.5 million, respectively. In the 1970s, these were impressive numbers. Moreover, two of the albums netted a total of 10 Grammy awards.
Watch the concert here
Read White's complete account of the tour here.

Latest posts by Best Classic Bands Staff
(see all)