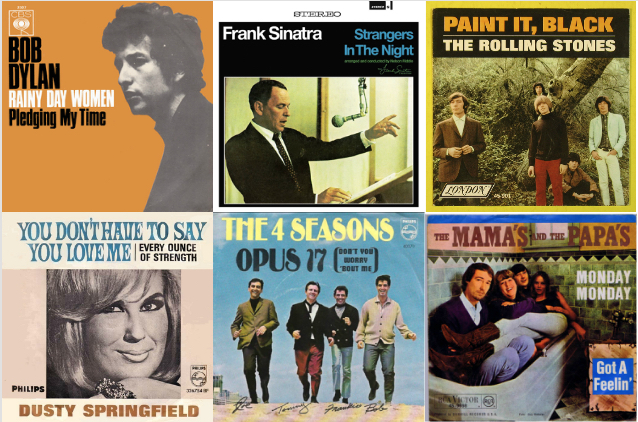 In late May in 1966, the "It's a Small World" attraction opened in Disneyland. Azteca Stadium officially opened in Mexico City, ahead of the Summer Olympics that were to be held there in 1968. And a few days later, the final new episode of TV's The Dick Van Dyke Show aired on CBS.
And the playlist this week on New York City's Top 40 powerhouse 77WABC featured a typically great combination of pop, rock and soul at the top of the chart.
Bubbling under the Top 10 and debuting at #19 was Dusty Springfield with "You Don't Have to Say You Love Me." The song would become the blue-eyed soul singer's biggest U.S. solo hit at #4 and the only #1 of her career in her native England.
At #17 was an unheralded song from the Four Seasons, "Opus 17 (Don't You Worry 'Bout Me)." As a solo artist and with the Four Seasons, Frankie Valli had seven #1 pop hits, spanning from 1962's "Sherry" to 1978's title song to the movie Grease. "Opus," however, peaked nationally at only #13.
Related: Our feature on the real-life Jersey Boys
At #10 this week was Bob Dylan's "Rainy Day Women #12 & 35" which, along with "Like a Rolling Stone," were the Bard's career-biggest Top 40 hits, reaching #2. The single was released from his monumental 1966 album Blonde on Blonde. For his career, Dylan earned six Top 20 singles, though just one after 1969.
You probably knew that "Red Rubber Ball" was The Cyrkle's biggest hit, reaching #2 (and #32 for all of 1966). Raise your hand if you knew it was co-written by Paul Simon (with Bruce Woodley of the Seekers). The single was produced by John Simon, who would go on to produce Blood, Sweat & Tears' acclaimed first album, Cheap Thrills for Big Brother and the Holding Company, and many of The Band's early albums. The song jumped this week from #18 to #8 on WABC.
Speaking of Simon, he and Art Garfunkel were at #6 with "I Am a Rock," one of the biggest hits of their years together.
Related: The biggest hits of 1966
This was an era when popular vocalists shared the Top 40 airwaves with rock 'n' roll and this week featured a gem. The Chairman of the Board… we're talking, of course, about Frank Sinatra, had many signature songs of his remarkable career, one of which was "Strangers in the Night." The song jumped from #9 to #5 this week on its way to #1 nationally.
The LA-based folk-rock group The Mamas and the Papas had seven Top 5 singles from 1965 – 1967, none bigger than "Monday, Monday," their sole #1 hit (and #4 this week). As usual, the music was provided by the great LA session musicians known collectively as The Wrecking Crew. Watch them perform it on The Ed Sullivan Show later that year.
Soul singer Percy Sledge was just 25 when he had the biggest hit of his career, "When a Man Loves a Woman." The #1 smash was his first release and though he never came close to equaling it… what a debut!
Manchester, England was a hotbed of pop music activity in the mid-Sixties. One such act were the Mindbenders, formed most prominently by Wayne Fontana and Eric Stewart (later of 10cc). Their "A Groovy Kind of Love" was #2 on WABC this week (peaking nationally at #2 as well). Wouldn't you agreee…
Related: Our feature story on the Mindbenders
At #1? The Rolling Stones' powerful "Paint it Black," their sixth U.K. #1 and third to reach the top spot in the U.S. I could not foresee this thing happening to you…
What a week!
19. "You Don't Have to Say You Love Me" – Dusty Springfield (Philips)
17. "Opus 17 (Don't You Worry 'Bout Me)" – The Four Seasons (Philips)
10. "Rainy Day Women #12 & 35" – Bob Dylan (Columbia)
9. "Cool Jerk" – The Capitols (Karen)
8. "Red Rubber Ball" – The Cyrkle (Columbia)
7. "Younger Girl" – The Critters (Kapp)
6. "I Am a Rock" – Simon and Garfunkel (Columbia)
5. "Strangers in the Night" – Frank Sinatra (Reprise)
4. "Monday, Monday" – The Mamas and the Papas (ABC/Dunhill)
3. "When a Man Loves a Woman" – Percy Sledge (Atlantic)
2. "A Groovy Kind of Love" – The Mindbenders (Fontana)
1. "Paint it Black" – The Rolling Stones (London)
Chart courtesy of musicradio77.com.

Latest posts by Best Classic Bands Staff
(see all)