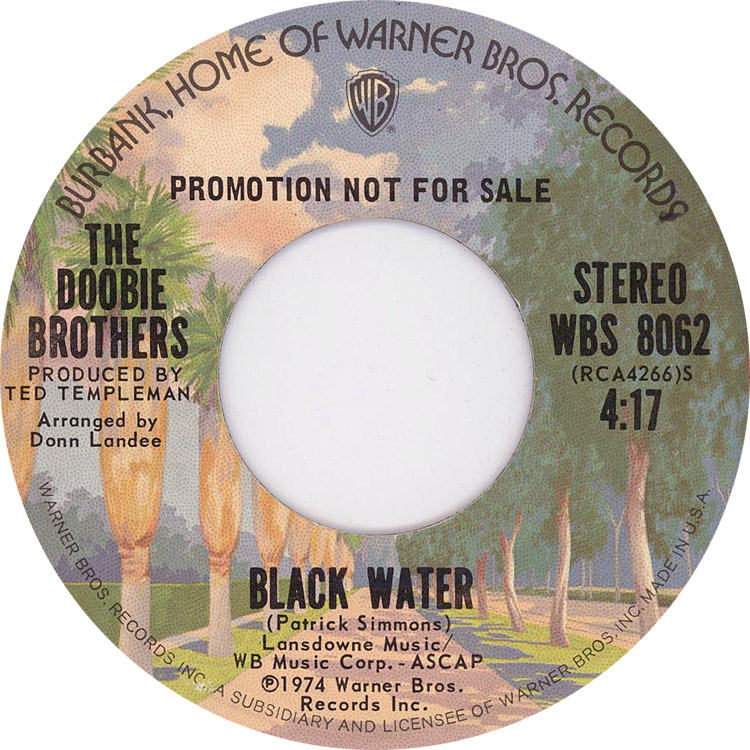 In March 1975, we were scooping up hit albums by Bob Dylan (Blood on the Tracks), Average White Band, Elton John (his Greatest Hits LP and his Empty Sky album), Linda Ronstadt (Heart Like a Wheel), Olivia Newton-John and the Doobie Brothers.
Not surprisingly, new releases by most of these acts were climbing the singles chart, as tabulated by the music trade publication, Record World.
By the mid-70s, Dylan was no longer a familiar sight on the upper reaches of Top 40 radio. And although the song would ultimately peak at just #31, his "Tangled Up in Blue" debuted this week at #81.
Paul Carrack would later sing lead on such classic rock favorites as "Tempted" for Squeeze and "The Living Years," a #1 for Mike & the Mechanics. The blue-eyed soul singer scored his first hit for Ace on "How Long," at #76 on its way to #3.
Although Earth, Wind & Fire would become regulars in the Top 10 of the pop charts, it wasn't until "Shining Star" that they made their first appearance there. The great single debuted this week at #75; it would become their first – and only – #1 pop hit.
Queen's first smash hit pronounced to the world that a new band was about to make its mark. "Killer Queen," released in Oct. 1974, would ultimately reach #12 in the U.S. Just one year later, their "Bohemian Rhapsody" was a game changer.
Related: Our Album Rewind of Queen's Sheer Heart Attack
The Ozark Mountain Daredevils hailed from Springfield, Mo., and earned five chart hits, none bigger than "Jackie Blue."
Elton John was in the midst of his great chart run of the mid-'70s. And though it wasn't on a studio album, "Philadelphia Freedom," which had the week's biggest debut at #57, would become yet another #1 for the star.
Leo Sayer scored four Top 10 U.S. singles, including a pair of #1 hits ("You Make Me Feel Like Dancing" and "When I Need You"). His first smash, "Long Tall Glasses," jumped from #62 to #50.
The second album from Dan Fogelberg, Souvenirs, put the singer-songwriter on the map, thanks in part to "Part of the Plan," which climbed to #26 (from #30) this week.
If you knew "You Are So Beautiful," at #16 this week, was Joe Cocker's first Top 5 U.S. single, raise your hand.
Singer-songwriter Phoebe Snow's only big pop hit was "Poetry Man," at #10 this week (on its way to #5).
Singer Minnie Riperton had several R&B hits in her brief career. Her biggest, "Lovin' You," which she co-wrote with her husband, Richard Rudolph, jumped from #13 to #8 this week. It would soon reach #1 on the pop charts. Four years later, she died from cancer, at just 31 years old. One of the couple's two children is actress Maya Rudolph.
Styx enjoyed no less than eight Top 10 singles, the first of which was "Lady," at #7 this week.
As "Lady Marmalade" was climbing the charts, one wonders if Top 40 programmers knew what its chorus, sung in French, "Voulez-vous coucher avec moi (ce soir)," meant. If they did, it was too late, as Labelle's great single, at #5 this week, was headed to #1.
Olivia Newton-John earned an astonishing 15 Top 10 U.S. singles. "Have You Never Been Mellow," at #2 this week, would follow its predecessor, "I Honestly Love You," to #1.
Related: Our ON-J concert review
And this week's #1? None other than the Doobie Brothers' unique "Black Water." The lead vocals were handled by its songwriter, Patrick Simmons.
81. "Tangled Up in Blue" – Bob Dylan (Columbia)
76. "How Long" – Ace (Anchor)
75. "Shining Star" – Earth, Wind & Fire (Columbia)
68. "Killer Queen" – Queen (Elektra)
67. "Jackie Blue" – Ozark Mountain Daredevils (A&M)
57. "Philadelphia Freedom" – Elton John (MCA)
50. "Long Tall Glasses" – Leo Sayer (Warner Bros.)
26. "Part of the Plan" – Dan Fogelberg (Epic)
16. "You Are So Beautiful" – Joe Cocker (A&M)
10. "Poetry Man" – Phoebe Snow (Shelter)
9. "You're No Good" – Linda Ronstadt (Capitol)
8. "Lovin' You" – Minnie Riperton (Epic)
7. "Lady" – Styx (Wooden Nickel)
6. "Best of My Love" – Eagles (Asylum)
5. "Lady Marmalade" – Labelle (Epic)
4. "Pick Up the Pieces – Average White Band (Atlantic)
3. "My Eyes Adored You" Frankie Valli (Private Stock)
2. "Have You Never Been Mellow" – Olivia Newton-John (MCA)
1. "Black Water" – The Doobie Brothers (Warner Bros.)
Related: Links to 100s of current classic rock tours

Latest posts by Best Classic Bands Staff
(see all)