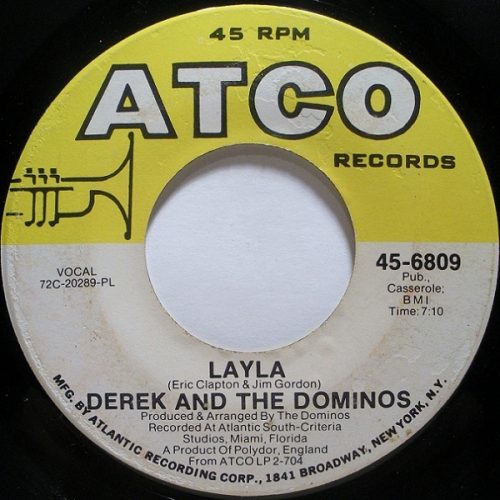 In the news during the summer of 1972… George Carlin was arrested in Milwaukee for reciting his now-famous "seven words you can never say on television."
The Democrats had held their national election nominating candidate George McGovern. In a few weeks, the Republicans would re-nominate the incumbent ticket of Richard Nixon and Spiro Agnew.
Bubbling under this week: Harry Nilsson debuted at #23 with "Coconut." The song would go on to become the singer-songwriter's third Top 10 single.
Jumping from #38 to #21 was Argent with "Hold Your Head Up," which became their only charting U.S. hit. The song features a great organ solo by its co-writer Rod Argent. Let John Denver tell you all about it…
Also climbing fast (#19 to #14) was the Hollies with what would be the biggest U.S. hit of their career, "Long Cool Woman (in a Black Dress)." The song became their sixth U.S. Top 10. The group from Manchester, England, had no less than 17 Top 10 hits in the U.K.
Related: Our feature story on the Hollies' hit
At #10 this week was Derek and the Dominos' "Layla," often cited as Eric Clapton's signature song. It's long been known that the song's lyrics were written by Clapton as a tribute to George Harrison's then-wife, Pattie Boyd, whom Clapton would later marry.
The song was the title track of the Dominos' only studio album, 1971's Layla And Other Assorted Love Songs. Though "Layla" the single, stiffed on its initial release, it was included the very next year on a Clapton compilation album and re-released as a single. This time, it struck a chord with radio and became a bonafide top 40 hit. (Its coda was memorably used years' later in a certain Martin Scorsese film.)
Related: 10 re-released songs that became hits
Bill Withers had three huge singles over the course of a year, none bigger than his sole #1, "Lean on Me," at #8 this week.
Alice Cooper, at #7, enjoyed the biggest hit of his career with "School's Out," which though it peaked at only #3, remains a defining classic rock anthem. The song became a hit in late summer as a new school year loomed.
This week's chart also includes some memorable soul tracks: the beautiful Roberta Flack and Donny Hathaway duet, "Where Is The Love," jumped from #17 to #6 and Luther Ingram's "(If Loving You Is Wrong) I Don't Want To Be Right" was #5.
Related: Another Flack favorite was featured prominently in a Clint Eastwood film
Many who came of age in this era forever link two of the tracks in this week's Top 10 together, as both hits have held up well and remain popular re-currents on Oldies stations. That would be Gilbert O'Sullivan's plaintive "Alone Again (Naturally)" and "Brandy (You're a Fine Girl)" from the Looking Glass.
This was the then-25-year-old O'Sullivan's first U.S. chart hit; its follow-up, "Clair," peaked at #2 and the Irishman never returned to the Top 10 after 1973's "Get Down." New Jersey's the Looking Glass were essentially one-hit wonders; "Brandy" would reach #1 later that summer.
Related: Which of these songs were among the top radio hits for the full year of 1972?
23 "Coconut" – Harry Nilsson (RCA)
21 "Hold Your Head Up" – Argent (Columbia)
14 "Long Cool Woman (in a Black Dress)" – The Hollies (Epic)
10 "Layla" – Derek and the Dominoes (Atco)
9 "How Do You Do" – Mouth & MacNeal (Philips)
8 "Lean On Me" – Bill Withers (Sussex)
7 "School's Out" – Alice Cooper (Warner Bros.)
6 "Where Is The Love" – Roberta Flack & Donny Hathaway (Atlantic)
5 "(If Loving You Is Wrong) I Don't Want To Be Right" – Luther Ingram (Koko)
4 "Too Late To Turn Back Now" – Cornelius Brothers & Sister Rose (United Artists)
3 "Brandy (You're A Fine Girl)" – The Looking Glass (Epic)
2 "Daddy Don't You Walk So Fast" – Wayne Newton (Chelsea)
1. "Alone Again (Naturally)" – Gilbert O'Sullivan (MAM)
(Chart courtesy of www.musicradio77.com)

Latest posts by Best Classic Bands Staff
(see all)