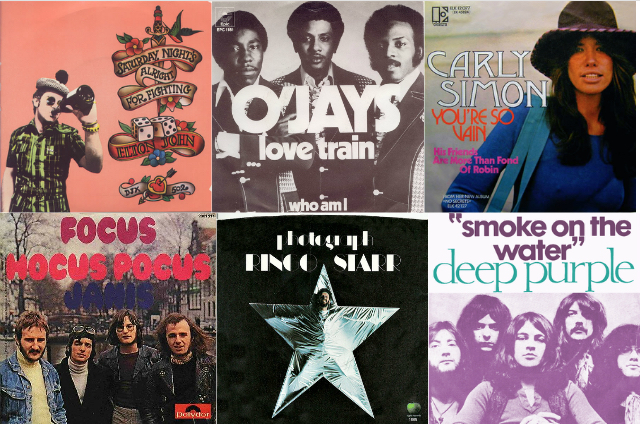 We continue our look at the biggest radio hits of the classic rock era with a review of 1973. Some of the big news stories that we were watching: George Foreman shocked the boxing world when he defeated Joe Frazier to win the world heavyweight championship; The Godfather won Best Picture at the 45th Academy Awards; and the World Trade Center officially opened in New York City.
The Top 40 radio hits of 1973 as featured on Chicago's WLS was a combination of pop, R&B and classic rock tunes.  Our look back…
At #40 was the Rolling Stones' "Angie," a #1 U.S. hit that year from their Goats Head Soup album. The Carpenters were at #39 with one of their three career #1 chart hits, "Top of the World."
Paul Simon's solo career was in full swing and his "Loves Me Like a Rock" (with background vocals from gospel group the Dixie Hummingbirds) weighed in at #38 for the year.
The Dutch rock band Focus enjoyed some success in the early '70s, particularly with their big hit "Hocus Pocus" at #36.
What would a year in the 1970s be without multiple Chicago hits? They scored with "Feelin' Stronger Every Day" (#41) and "Just You 'n' Me" (#34).
The Allman Brothers Band's biggest Top 40 hit… by far? That would be "Ramblin' Man" at #2 in Fall 1973 and #32 for the year. Billy Preston enjoyed two #1s including "Will It Go Round in Circles" at #31.
Stevie Wonder released two singles from his Talking Book album, both #1 chart hits: "You Are the Sunshine of My Life" (#70) and "Superstition" (#27).
"Smoke on the Water" was one of two career pop hits for Deep Purple; it was WLS' #26 song of the year.
In the midst of Grand Funk Railroad's great 1970s chart run was the #1 smash "We're an American Band," #24 for the year.
Todd Rundgren's re-recording of his Nazz song "Hello It's Me" was #23. We have the inside story of its surprising path to success.
At #20 was Bobby "Boris" Pickett's novelty hit, "Monster Mash." Best Classic Bands previously wrote about it here.
Steely Dan's "Do It Again" was at #18 for the year, their first of nine career hits to reach the chart's top 30.
Jim Croce's "Bad, Bad Leroy Brown" was the singer-songwriter's first of two 1973 #1 hits and WLS' #16 song of the year. (It was #2 for the year on Billboard.) Croce's "I Got A Name" was released just after he died that year and was #21 for the year.
The Edgar Winter Group enjoyed a, er, monster #1 instrumental hit with "Frankenstein," #14 for the year and their biggest career hit (ahead of "Free Ride").
Ringo Starr had a #1 single with "Photograph," the overall #13 for the year. Paul McCartney edged out his pal at #10 with the ballad "My Love," a #1 single earlier that year. Wings title song from Live and Let Die was #25 for the year on WLS.
Rock and Roll Hall of Famers the O'Jay's joyous "Love Train" was #8 for the year and the singing group's only career #1 pop hit.
What would a '70s top hits chart be without Elton John? He had four songs on WLS' biggest hits of the year: "Saturday Night's Alright For Fighting" (#65), "Daniel" (#50), "Goodbye Yellow Brick Road" (#42) and "Crocodile Rock," which was #7 for the year, and the first of his nine career #1's!
Related: The top-selling albums of 1973
"Brother Louie" by Stories was #6 and was the rock band's only true pop hit.
Marvin Gaye's amazing "Let's Get It On" was #4 for the year and one of the soul singer's three pop #1 hits. (Somehow, "Sexual Healing" only reached #3.) The giant earned 13 career #1 R&B hits.
At #1 for the year on WLS: Carly Simon's "You're So Vain," the singer-songwriter's only #1 of her career. (And now we know the song was about Warren Beatty.)
Related: The #1 singles of 1973
40. "Angie" – The Rolling Stones
39. "Top of the World" – The Carpenters
38. "Loves Me Like a Rock" – Paul Simon
37. "Delta Dawn" – Helen Reddy
36. "Hocus Pocus" – Focus
35. "Last Song" – Edward Bear
34. "Just You 'n' Me" – Chicago
33. "Tie a Yellow Ribbon Round the Old Oak Tree" – Dawn
32. "Ramblin' Man" – Allman Brothers Band
31. "Will It Go Round in Circles" – Billy Preston
30. "Dancing in the Moonlight" – King Harvest
29. "Neither One of Us" – Gladys Knight & the Pips
28. "Little Willy" – Sweet
27. "Superstition" – Stevie Wonder
26. "Smoke on the Water" – Deep Purple
25. "Live and Let Die" – Wings
24. "We're An American Band" – Grand Funk Railroad
23. "Hello It's Me" – Todd Rundgren
22. "I'm Gonna Love You Just a Little More Baby" – Barry White
21. "I Got a Name" – Jim Croce
20. "Monster Mash" – Bobby "Boris" Pickett
19. "The Morning After" – Maureen McGovern
18. "Do It Again" – Steely Dan
17. "Pillow Talk" – Sylvia
16. "Bad, Bad Leroy Brown" – Jim Croce
15. "Could It Be I'm Falling In Love" – Spinners
14. "Frankenstein" – Edgar Winter Group
13. "Photograph" – Ringo Starr
12. "Touch Me in the Morning" – Diana Ross
11. "Ain't No Woman" – Four Tops
10. "My Love" – Paul McCartney and Wings
9. "The Night the Lights Went Out in Georgia" – Vicki Lawrence
8. "Love Train" – The O'Jays
7. "Crocodile Rock" – Elton John
6. "Brother Louie" – Stories
5. "Half Breed" – Cher
4. "Let's Get It On" – Marvin Gaye
3. "Killing Me Softly With His Song" – Roberta Flack
2. "Heartbeat, It's a Lovebeat" – DeFranco Family
1. "You're So Vain" – Carly Simon

Latest posts by Best Classic Bands Staff
(see all)