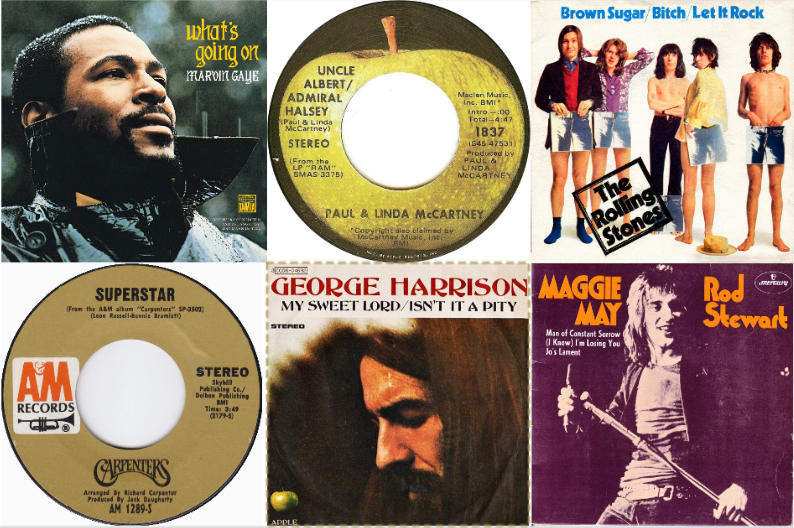 Just some of events that occurred in 1971: All in the Family introduced us to Archie Bunker as The Ed Sullivan Show signed off. Charles Manson and some of his female "family" members were found guilty of murder. Daredevil Evel Knievel successfully jumped over 19 cars while aboard his motorcycle. Jim Morrison was found dead in his Paris apartment. George Harrison organized The Concert(s) For Bangladesh. Walt Disney World opened in Orlando, FL.
And on the radio, New York's Top 40 powerhouse 77WABC had the clout to make or break the biggest songs in the U.S., as seen on 1971's top hits where rock, pop and R&B shared the airwaves. It was a year that included three big singles from former Beatles and two hits titled "Superstar."
The year's best songs were so good that all-time classics like Elton John's "Your Song" (#76), Cat Stevens' "Peace Train" (#70), Smokey Robinson & the Miracles' "Tears of a Clown" (#66), Janis Joplin's "Me and Bobby McGee" (#58), Bill Withers' "Ain't No Sunshine" (#50), Ringo Starr's "It Don't Come Easy" (#45) and Marvin Gaye's "Mercy Mercy Me (The Ecology)" (#41) couldn't crack 1971's Top 40 biggest hits.
Related: An author makes the case for 1971 as rock's best year
There was a time when Rock Hall inductee Joan Baez was a fixture on the album charts. Not so on the singles chart, though her cover of The Band's "The Night They Drove Old Dixie Down," was the exception, reaching #3 this year, and the year's #40 biggest hit.
"Imagine" is considered by most to be the signature song of John Lennon's solo career, though it surprisingly wasn't released as a single in the U.K. until year's later. It was WABC's #39 song of the year.
One of the Rolling Stones' biggest classic rock hits, "Brown Sugar," a #1 single earlier in the year, was at #38. "How come you taste so good…"
Let's dispel a myth: Ike and Tina Turner did not have much pop radio success in their long career as a duo. The outlier, by far, was their cover of the Creedence hit, "Proud Mary," which topped CCR's version on the weekly charts (#4 vs. #8) and #34 for the year.
During their heyday from 1967 to 1971, Sly & the Family Stone only had five Top 10 pop singles. But three of them went to #1 including "Family Affair," the year's #33 biggest hit.
In 1971, George Harrison's "My Sweet Lord," from his All Things Must Pass album, became the first #1 hit by an ex-Beatle. Thanks to its lyrics and prominent chanting, it's one of our surprising radio hits of the 1970s. It was WABC's #29 song for the year.
The Los Angeles trio Hamilton, Joe Frank & Reynolds had several hits in the '70s. Their first was "Don't Pull Your Love," which sounded to some ears as reminiscent of Elvis Presley's vocal style, and the year's #28 top hit.
The Bee Gees enjoyed a pair of 1971 hits: "Lonely Days" (#36) which we've written about here and "How Can You Mend a Broken Heart" (#25).
Aretha Franklin had her biggest hit since 1967 with "Spanish Harlem," written by Jerry Lieber and Phil Spector. The #2 single was #20 for the year.
The family soul group Cornelius Brothers & Sister Rose had two huge pop hits, one of which, "Treat Her Like a Lady" reached #3, good enough to make it the year's #19 biggest.
"Uncle Albert/Admiral Halsey," credited to Paul McCartney and Linda McCartney, was the former Beatle's first of many #1 solo singles.
Related: The #1 singles of 1971
The Carpenters were in the midst of their phenomenal run with three songs among the year's biggest: "For All We Know" (#37), "Rainy Days and Mondays" (#31) and "Superstar" (#16).
Related: The top-selling albums of 1971
The massive Jesus Christ Superstar was 1971's top-selling album and it's title track, sung by Murray Head had a remarkable path to the top. It was first released in 1969 well before the album and peaked at just #74 in early 1970. In March 1971, a re-release reached #60. It re-entered the chart one month later and ultimately climbed to #14 nationally. In New York, where buzz for the Broadway production was building, it was the year's #13 hit.
Marvin Gaye's "What's Going On" was one of three straight #1 R&B singles and the year's #9 biggest. Isaac Hayes had a huge hit with "(Theme From) Shaft" at #7. The #1 smash went on to win the Academy Award for Best Original Song. "Who's the cat that won't cop out when there's danger all about?
Paul Revere & the Raiders' earned their sole #1 single with "Indian Reservation (The Lament of the Cherokee Reservation Indian)," which features the phenomenal drummer of the Wrecking Crew's Hal Blaine. The song was WABC's #6 overall for the year.
Related: We talked to Mark Lindsay about how the song came about
1971 was the year that Carole King's Tapestry was released. It earned the singer-songwriter four Grammy Awards including Album of the Year and the double-A-sided single "I Feel the Earth Move" (#27) and "It's Too Late" (#4) were #1 hits, helping the album sell over 25 million copies worldwide.
Rod Stewart's magnificent "Maggie May" was WABC's #3 song of the year. "You made a first class fool out of me…"
The Osmonds made their presence felt on the radio in 1971. Younger brother Donny was just 14 when his "Go Away Little Girl" (#17) was released. The family had a huge smash with "One Bad Apple," the year's #2 single.
And at #1? Three Dog Night, in the midst of their 1969 – 1974 chart run when they had no less than 18 Top 20 singles. "Joy to the World" was one of their three career #1 hits.
Related: 1971 – The year in 50 classic rock albums
40. "The Night They Drove Old Dixie Down" – Joan Baez
39. "Imagine" – John Lennon
38. "Brown Sugar" – The Rolling Stones
37. "For All We Know" – The Carpenters
36. "Lonely Days" – The Bee Gees
35. "Stick Up" – Honey Cone
34. "Proud Mary" – Ike and Tina Turner
33. "Family Affair" – Sly & the Family Stone
32. "Stay Awhile" – Bells
31. "Rainy Days and Mondays" – The Carpenters
30. "Doesn't Somebody Want to Be Wanted" – Partridge Family
29. "My Sweet Lord" – George Harrison
28. "Don't Pull Your Love" – Hamilton, Joe Frank & Reynolds
27. "I Feel the Earth Move" – Carole King
26. "Put Your Hand in the Hand" – Ocean
25. "How Can You Mend a Broken Heart" – The Bee Gees
24. "One Less Bell to Answer" – The Fifth Dimension
23. "Yo Yo" – The Osmonds
22. "Have You Seen Her" – The Chi-Lites
21. "Mama's Pearl" – Jackson Five
20. "Spanish Harlem" – Aretha Franklin
19. "Treat Her Like a Lady" – Cornelius Brothers and Sister Rose
18. "Uncle Albert/Admiral Halsey" – Paul McCartney and Linda McCartney
17. "Go Away Little Girl" – Donny Osmond
16. "Superstar" – The Carpenters
15. "Mr. Big Stuff" – Jean Knight
14. "Gypsies, Tramps & Thieves" – Cher
13. "Superstar" – Murray Head
12. "Rose Garden" – Lynn Anderson
11. "Never Can Say Goodbye" – Jackson Five
10. "Just My Imagination" – The Temptations
9. "What's Going On" – Marvin Gaye
8. "Want Ads" – Honey Cone
7. "(Theme From) Shaft" – Isaac Hayes
6. "Indian Reservation" – Paul Revere and the Raiders
5. "Knock Three Times" – Tony Orlando and Dawn
4. "It's Too Late" – Carole King
3. "Maggie May" – Rod Stewart
2. "One Bad Apple" – The Osmonds
1. "Joy to the World" – Three Dog Night
Chart courtesy of musicradio77.com

Latest posts by Best Classic Bands Staff
(see all)