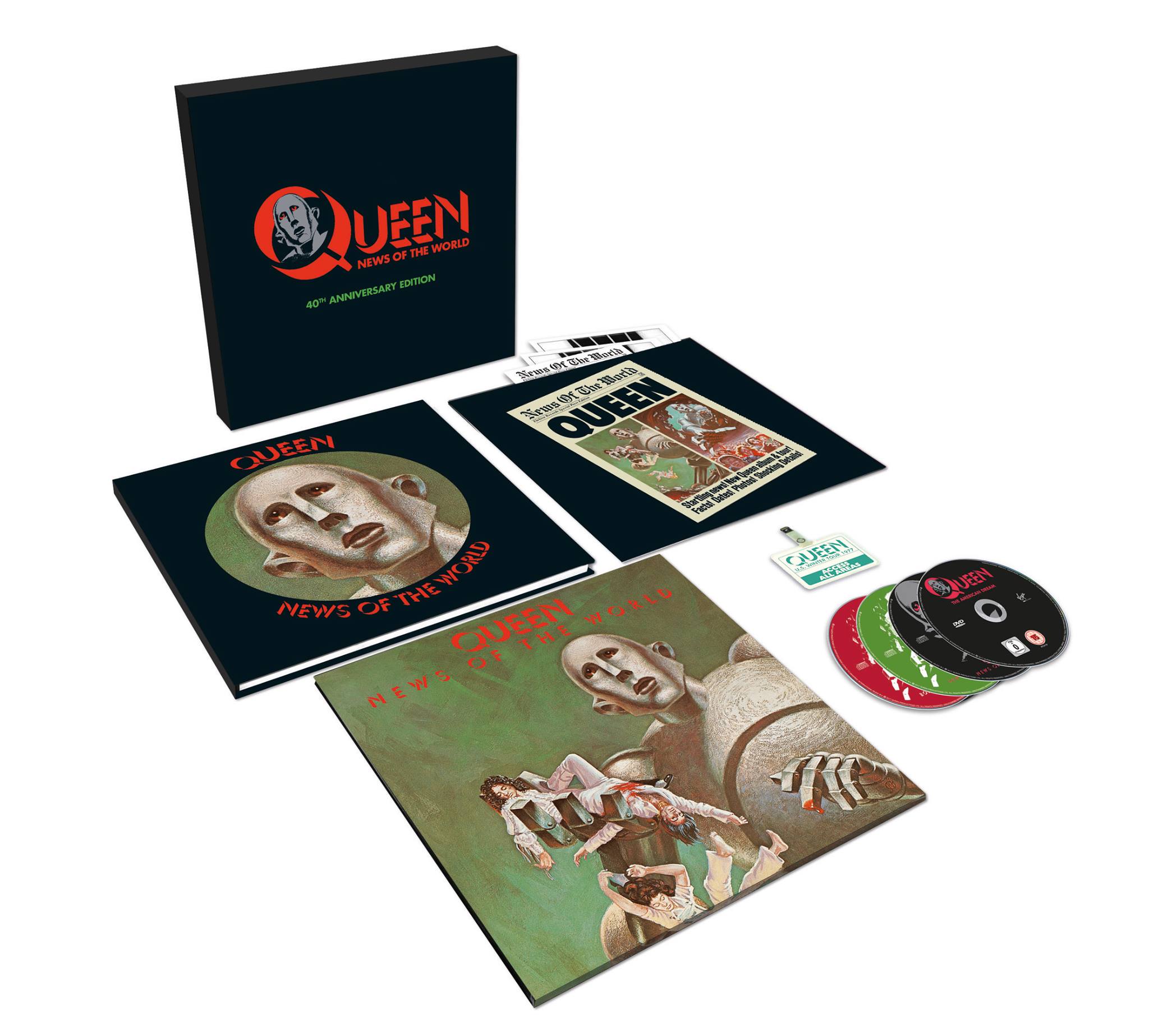 Queen announced on Sept. 4 a lavish 40th anniversary box set of their 1977 album News of the World. The package, featuring recently unearthed outtakes and rarities, has a worldwide release date of Nov. 17.
The box set, comprising 3 CDs, a vinyl LP and DVD, is available to pre-order here.
On Oct. 6, they released "Raw Sessions" versions of the album's huge hits. (Hear them below.) And on Oct. 27, previously unheard Freddie Mercury vocals on "All Dead, All Dead" was released via a new, animated video. (Watch it below.)
The 40th anniversary will also be marked with the release of a special limited edition vinyl picture disc. Newly cut from the Bob Ludwig 2011 master, it is being offered in a very limited run of 1977 individually numbered copies housed in a commemorative die-cut sleeve. This version will only be available through pre-order from the official Queen web store.
News of the World was originally released in October 1977 and is one of Queen's biggest selling albums, thanks to the huge classic rock hits, the Brian May-penned "We Will Rock You" and Freddie Mercury's "We Are the Champions."
On Oct. 6, Queen released the "Raw Sessions" versions of "We Are the Champions" and "We Will Rock You"
Listen to "We Will Rock You"
On Oct. 27, Queen shared an animated video from the "Raw Sessions" CD with previously unheard Freddie Mercury vocals on an alternative version of "All Dead, All Dead."
"We Are the Champions" remains a staple of major sporting events all around the world.
The new package includes the original album on CD, plus two further CDs of recently unearthed outtakes and rarities from the band's archives, one of which is a newly created "alternative" version of the whole album, Raw Sessions.
Mined deep from long-vaulted studio multi-track tapes, this parallel album brings to light never-before-heard alternative versions of each of the album's 11 tracks. Every lead vocal is different, as are most of the lead guitar parts and a great many other instrumental details.
Watch the 40th anniversary release trailer
"We Are The Champions," for instance, features many unfamiliar vocal and instrumental elements, and for the first time at its full-recorded length rather than the edited 1977 album cut. The set includes Freddie Mercury vocals on a track that nobody outside Queen's inner circle has heard him sing before – May's "All Dead, All Dead." (The original album version features May on vocals.) Roger Taylor's "Sheer Heart Attack" can be heard with its original long-lost guitar intro and uncut ending.
171 million Queen fans can't be wrong…
The third CD in the package, Bonus Tracks, features many previously released but hard-to-find versions of News of the World tracks recorded in concert, for radio shows, or in alternate mixes. Included is the band's entire five-song final live session recorded for BBC Radio in October 1977, seven live performances of News of the World songs, plus rare backing tracks and instrumentals of "We Will Rock You," "We Are The Champions," "Spread Your Wings," "Get Down, Make Love" and "Fight From the Inside." (See complete track listings for Discs 2 and 3 below.)
The box includes another first: a pure analogue re-cut of the original vinyl LP, direct from the unmastered analog master mix tapes, in a facsimile original sleeve. The collection also includes three posters and a 60-page book of images, mostly previously unseen.
The package is completed with a brand new one-hour DVD documentary, Queen : The American Dream, created from backstage material filmed during the band's 1977 News of the World U.S. tour. That November, Queen embarked on another headlining U.S. tour. British radio and TV host Bob Harris and a film crew followed their journey as part of a proposed documentary that has remained incomplete and unreleased until now. The crew had unlimited access to the band on and off stage, in the recording studio and during rehearsals.
CD2: News of the World : Raw Sessions
1. We Will Rock You (Alternative Version)
2. We Are the Champions (Alternative Version)
3. Sheer Heart Attack (Original Rough Mix)
4. All Dead, All Dead (Original Rough Mix)
5. Spread Your Wings (Alternative Take)
6. Fight From the Inside (Demo Vocal Version)
7. Get Down, Make Love (Early Take)
8. Sleeping On the Sidewalk (Live in the USA, 1977)
9. Who Needs You (Acoustic Take)
10. It's Late (Alternative Version)
11. My Melancholy Blues (Original Rough Mix)
CD3: News of the World : Bonus Tracks
1. Feelings Feelings (Take 10, July 1977)
2. We Will Rock You (BBC Session)
3. We Will Rock You (Fast) (BBC Session)
4. Spread Your Wings (BBC Session)
5. It's Late (BBC Session)
6. My Melancholy Blues (BBC Session)
7. We Will Rock You (Backing Track)
8. We Are the Champions (Backing Track)
9. Spread Your Wings (Instrumental)
10. Fight From The Inside (Instrumental)
11. Get Down, Make Love (Instrumental)
12. It's Late (USA Radio Edit 1978)
13. Sheer Heart Attack (Live in Paris 1979)
14. We Will Rock You (Live in Tokyo 1982)
15. My Melancholy Blues (Live in Houston 1977)
16. Get Down, Make Love (Live in Montreal 1981)
17. Spread Your Wings (Live in Europe 1979)
18. We Will Rock You (Live at the MK Bowl 1982)
19. We Are the Champions (Live at the MK Bowl 1982)
Related: Mercury's isolated vocals on "We Are the Champions"

Latest posts by Best Classic Bands Staff
(see all)