From 1973 to 1977, Queen recorded six radio sessions exclusively for the BBC. For the first time, the 24 recordings these landmark sessions produced are being released November 4 as Queen On Air on Hollywood Records in North America (and Virgin EMI elsewhere) as a 2-CD set, a 3-LP vinyl edition, and a 6-CD Deluxe Edition that includes three discs of radio interviews, unique takes of classic album tracks and a radically reworked reimagining of one of their best known anthems that has never previously appeared on any Queen studio release.
Listen to a fast version of "We Will Rock You" below.
The set was restored by Queen engineer Kris Fredriksson and mastered by Grammy Award winner Adam Ayan.
According to the announcement, Queen's first BBC session dates from February 1973, five months before the release of the band's debut album and single. The BBC's John Peel played "My Fairy King," the first Queen song ever broadcast. He followed with "Keep Yourself Alive" (which became their first single), "Doing All Right" and "Liar."
The band's second session, in July 1973, took place the same month their debut album was released. Among the many songs performed was the bluesy "See What A Fool I've Been," which has never appeared on any Queen studio album. (It would later be re-recorded and become the B-side of their breakthrough hit, "Seven Seas Of Rhye" in 1974.)
Queen's October 1974 BBC session was a month before the release of their breakthrough third album, Sheer Heart Attack. The session saw the debut of four songs from that record: "Now I'm Here," "Stone Cold Crazy," "Flick Of The Wrist" and "Tenement Funster."
The announcement notes "it would be another three years before Queen returned to the BBC for their sixth and final session, by which time the success of Bohemian Rhapsody had turned them into a global phenomenon."
On October 28, 1977, they recorded radically different versions of four songs from their News Of The World album, on the same day as its U.K. release: "Spread Your Wings," "It's Late," "My Melancholy Blues" and two "significantly contrasting" renditions of their worldwide classic rock hit "We Will Rock You" – the "regular" version and a faster version, a guitar-heavy take on the song. The latter is the only known studio recording of the song. "'We Will Rock You' – profundity or just another teenage anthem?", Peel says on playing the track.
The 6-CD Deluxe Edition includes Queen Live On Air – a single disc featuring highlights of three live Queen concert broadcasts: at the Golders Green Hippodrome, from September 1973, their first concert to be transmitted on radio anywhere in the world; a performance at Brazil's Morumbi stadium in Sao Paulo to a record-setting audience of 131,000 in March 1981; and the band's second-to-last live concert radio broadcast in June 1986 from Mannheim, Germany.
The Deluxe Edition includes Queen On Air: The Interviews (on three CDs) with three-and-a-half hours recorded for the BBC and Capital Radio in London between 1976-1992. These include Freddie Mercury talking candidly about the public perception of him, his image, private life, and working with Michael Jackson and David Bowie.
The discs also contains the last interview Brian May, John Deacon, Mercury and Roger Taylor would give together, in 1989.
The Deluxe Edition includes a booklet containing rare photographs and sleeve notes compiled by band archivist Greg Brooks, featuring memories from the band and BBC producers Jeff Griffin and Bernie Andrews, plus comments from legendary Radio 1 DJs John Peel and Bob Harris from the time of the original broadcasts.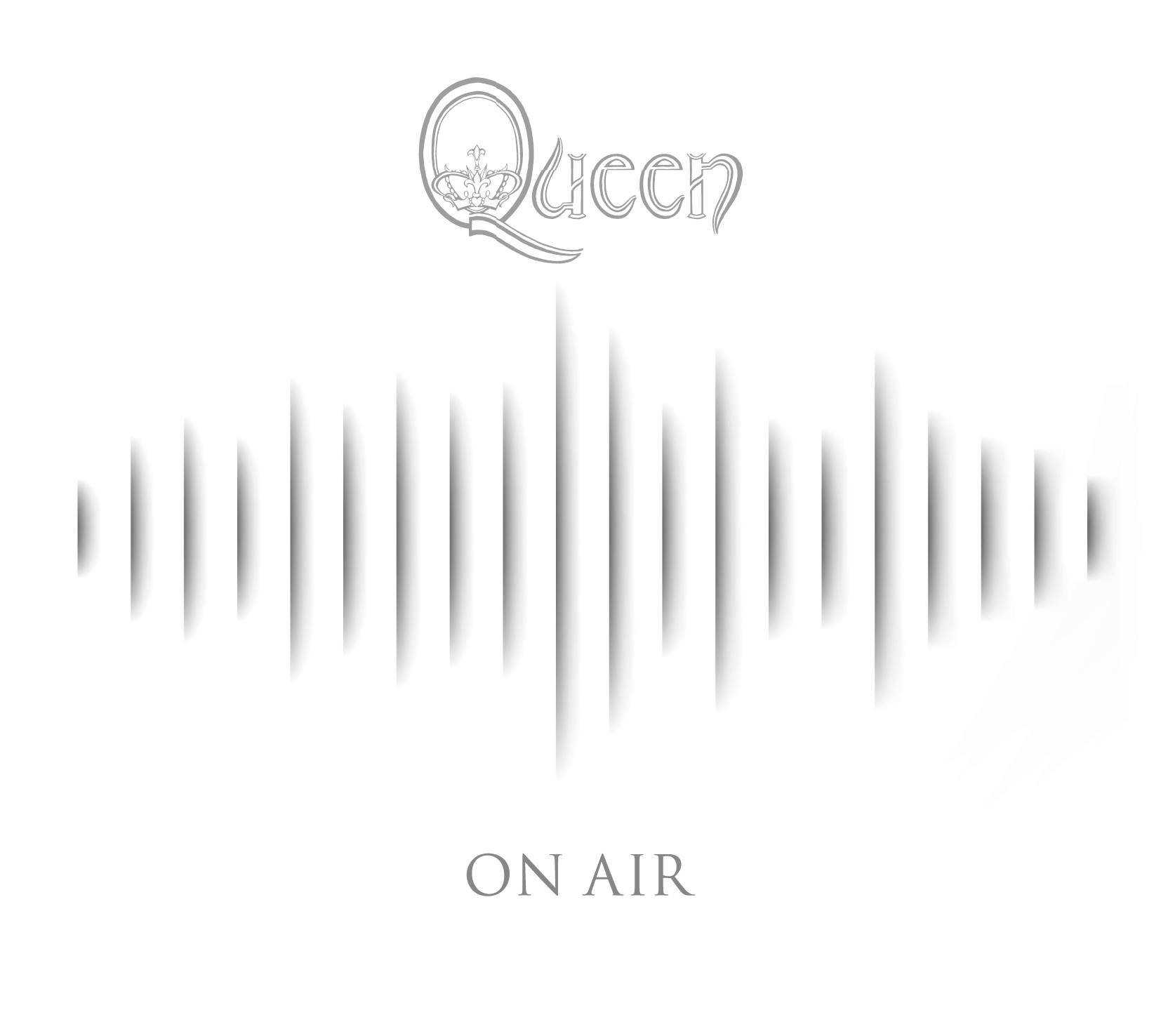 Queen On Air – Full Tracklisting
2-CD Edition: The Complete BBC Radio Sessions
CD1 – Session 1:
1. My Fairy King 2. Keep Yourself Alive 3. Doing All Right 4. Liar / Session 2: 5. See What A Fool I've Been 6. Keep Yourself Alive 7. Liar 8. Son And Daughter / Session 3: 9. Ogre Battle 10. Modern Times Rock'n'Roll 11. Great King Rat 12. Son And Daughter
CD2 – Session 4:
1. Modern Times Rock'n'Roll 2. Nevermore 3. White Queen (As It Began) / Session 5: 4. Now I'm Here 5. Stone Cold Crazy 6. Flick Of The Wrist 7. Tenement Funster / Session 6: 8. We Will Rock You 9. We Will Rock You (Fast) 10. Spread Your Wings 11. It's Late 12. My Melancholy Blues
3-LP Vinyl Edition: The Complete BBC Radio Sessions
Side 1 – Session 1: 1. My Fairy King 2. Keep Yourself Alive 3. Doing All Right 4. Liar
Side 2 – Session 2: 1. See What A Fool I've Been 2. Keep Yourself Alive 3. Liar 4. Son And Daughter
Side 3 – Session 3: 1. Ogre Battle 2. Modern Times Rock'n'Roll 3. Great King Rat 4. Son And Daughter
Side 4 – Session 4: 1. Modern Times Rock'n'Roll 2. Nevermore 3. White Queen (As It Began)
Side 5 – Session 5: 1. Now I'm Here 2. Stone Cold Crazy 3. Flick Of The Wrist 4. Tenement Funster
Side 6 – Session 6: 1. We Will Rock You 2. We Will Rock You (Fast) 3. Spread Your Wings 4. It's Late 5. My Melancholy Blues
 6-CD Deluxe Edition
CD1 – Session 1:
1. My Fairy King 2. Keep Yourself Alive 3. Doing All Right 4. Liar / Session 2: 5. See What A Fool I've Been 6. Keep Yourself Alive 7. Liar 8. Son And Daughter / Session 3: 9. Ogre Battle 10. Modern Times Rock'n'Roll 11. Great King Rat 12. Son And Daughter
CD2 – Session 4:
1. Modern Times Rock'n'Roll 2. Nevermore 3. White Queen (As It Began) / Session 5: 4. Now I'm Here 5. Stone Cold Crazy 6. Flick Of The Wrist 7. Tenement Funster / Session 6: 8. We Will Rock You 9. We Will Rock You (Fast) 10. Spread Your Wings 11. It's Late 12. My Melancholy Blues
CD3: Queen Live On Air
Golders Green Hippodrome, London, 13th September 1973: 1. Procession (Intro Tape) 2. Father To Son 3. Son And Daughter 4. Guitar Solo 5. Son And Daughter (Reprise) 6. Ogre Battle 7. Liar 8. Jailhouse Rock
Estádio Do Morumbi, São Paulo, Brazil, 20th March 1981:9. Intro 10. We Will Rock You (Fast) 11. Let Me Entertain You 12. I'm In Love With My Car 13. Alright Alright 14. Dragon Attack 15. Now I'm Here 16. Love Of My Life
Maimmarktgelände, Mannheim, Germany, 21st June 1986: 17. A Kind Of Magic 18. Vocal Improvisation 19. Under Pressure 20. Is This The World We Created 21. (You're So Square) Baby I Don't Care 22. Hello Mary Lou (Goodbye Heart) 23. Crazy Little Thing Called Love 24. God Save The Queen
CD4: Queen On Air: The Interviews (1976-1980)
Freddie Mercury With Kenny Everett (November 1976) / Queen with Tom Browne (Christmas 1977) / Roger Taylor with Richard Skinner (June 1979) / Roger Taylor with Tommy Vance (December 1980) / Roy Thomas Baker "The Record Producers"
CD5: Queen On Air: The Interviews: (1981-1986)
John Deacon, South American tour (March 1981) / Brian May 'Rock On' with John Tobler (June 1982) / Brian May 'Saturday Live' with Richard Skinner and Andy Foster (March 1984) / Freddie Mercury 'Newsbeat' (August 1984) / Brian May 'Newsbeat' (September 1984) / Freddie Mercury 'Saturday Live' (September 1984) / Freddie Mercury with Simon Bates (April 1985) / Brian May 'The Way It Is' with David 'Kid' Jensen (July 1986)
CD 6: Queen On Air: The Interviews (1986-1992)
Roger Taylor 'My Top Ten' with Andy Peebles (May 1986) / 'Queen For An Hour' with Mike Read (May 1989) / Brian May 'Freddie And Too Much Love Will Kill You' with Simon Bates (August 1982) / Brian May 'Freddie Mercury Tribute Concert' with Johnnie Walker (October 1992)

Latest posts by Best Classic Bands Staff
(see all)