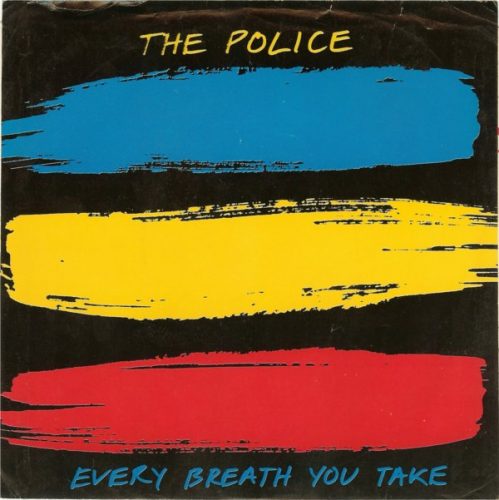 Talk about a hit song…. "Every Breath You Take" was the sole single by The Police to hit #1 of the U.S. Hot 100. And after it reached there the song held the slot for eight weeks and went on to sell an amazing 10 million copies. It won its writer Sting Song of the Year and the band Best Pop Performance by a Duo or Group with Vocals at the Grammy Awards, but not Record of the Year for which it was also nominated.
In the middle of one night Sting woke up with the hook line in his head and went to the piano. Half-an-hour later he had the finished song. Its haunting melody and lyrics convey his intended theme of romantic obsession, fueled by his recent split with British actress Frances Tomelty, as well as comment on power and control. He has also said that Gene Pitney's 1961 song "Every Breath I Take" (a #42 U.S. hit) influenced the composition.
Some people hear it as a song of love and devotion. When a couple told Sting it was the theme song of their wedding, his response was, "Well, good luck."
It also was the highest singles chart ascension of new wave music. The song certainly remains as timeless as ever today. The trio earned five #1s in the U.K. Chronologically, they were "Message in a Bottle" (1979), "Walking on the Moon" (1979), "Don't Stand So Close to Me" (1980), "Every Little Thing She Does is Magic" (1981) and "Every Breath You Take" (1983).
Related: MTV's disastrous Police contest
The music video for "Every Breath You Take" was directed by Kevin Godley & Lol Creme, who were founding members of the '70s classic rock band 10cc.
The Police – Sting on lead vocals and bass, Andy Summers on guitar and Stewart Copeland on drums and percussion – have sold over 75 million records worldwide.
If you're a new reader of ours, we'd be grateful if you would Like our Facebook page and/or bookmark our Homepage.

Latest posts by Best Classic Bands Staff
(see all)