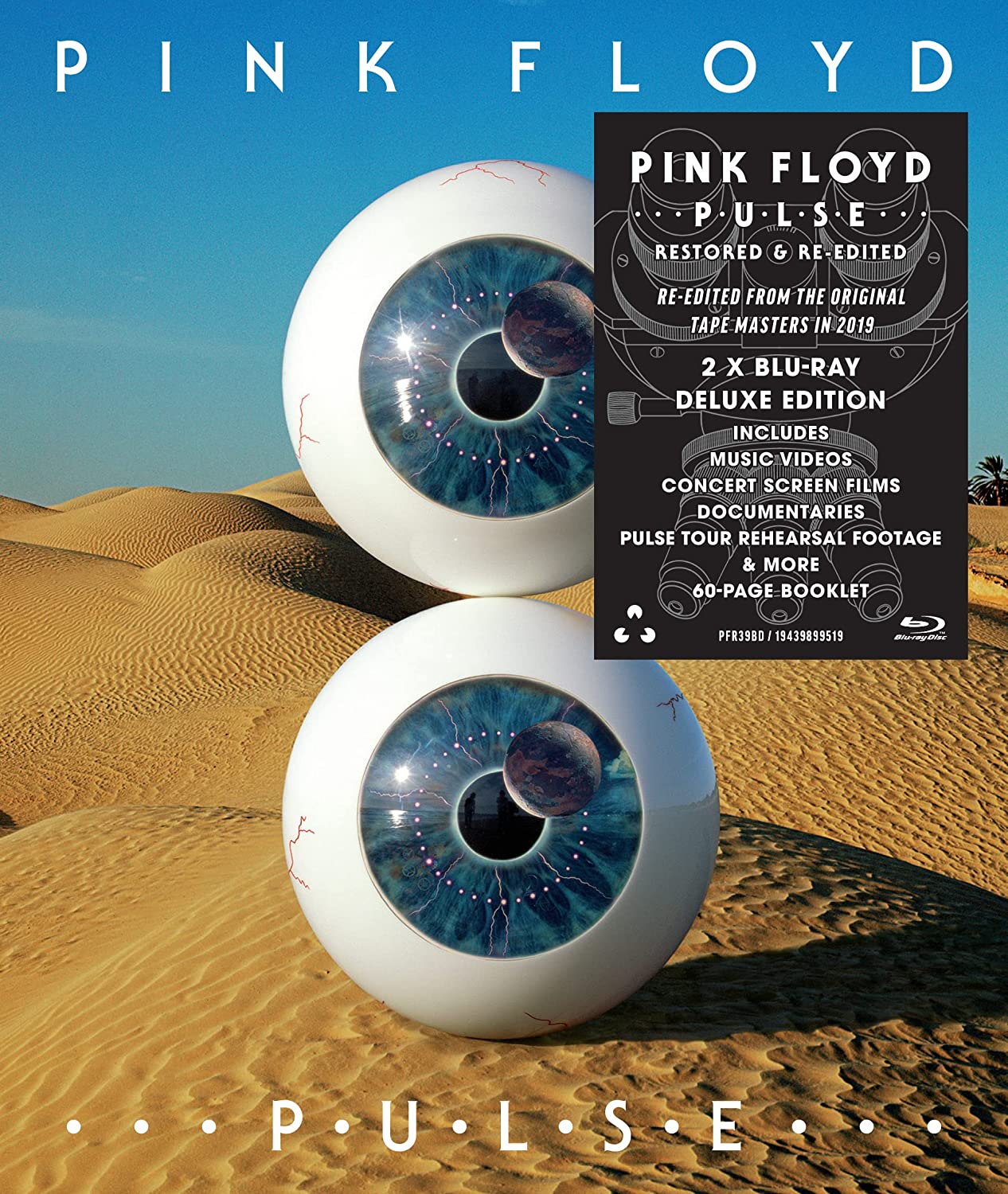 Pink Floyd have released a restored and re-edited version of their P.U.L.S.E. concert film (shot Oct. 20, 1994 at London's Earls Court). The new edition arrived on February 18, 2022 as a 2-Blu-ray or 2-DVD deluxe box set. It also marks the return of the flashing LED on the spine (as seen on the original 1995 CD release) powered by replaceable AA batteries. The deluxe packages include music videos, screen films, documentaries, rehearsal footage and more, along with a 60-page booklet. It continues the band's overhaul of its catalog. See the complete track listing below.
In the Dec. 16 announcement, the group shared a quote from a 1995 interview with drummer Nick Mason about the flashing LED. "Essentially, it's a device which we thought was entertaining. It's an idea of [designer] Storm Thorgerson's which related to Dark Side and the pulse, and it's a live album so the box is 'alive'. After that, in terms of seriously deep meanings, one might be struggling a bit."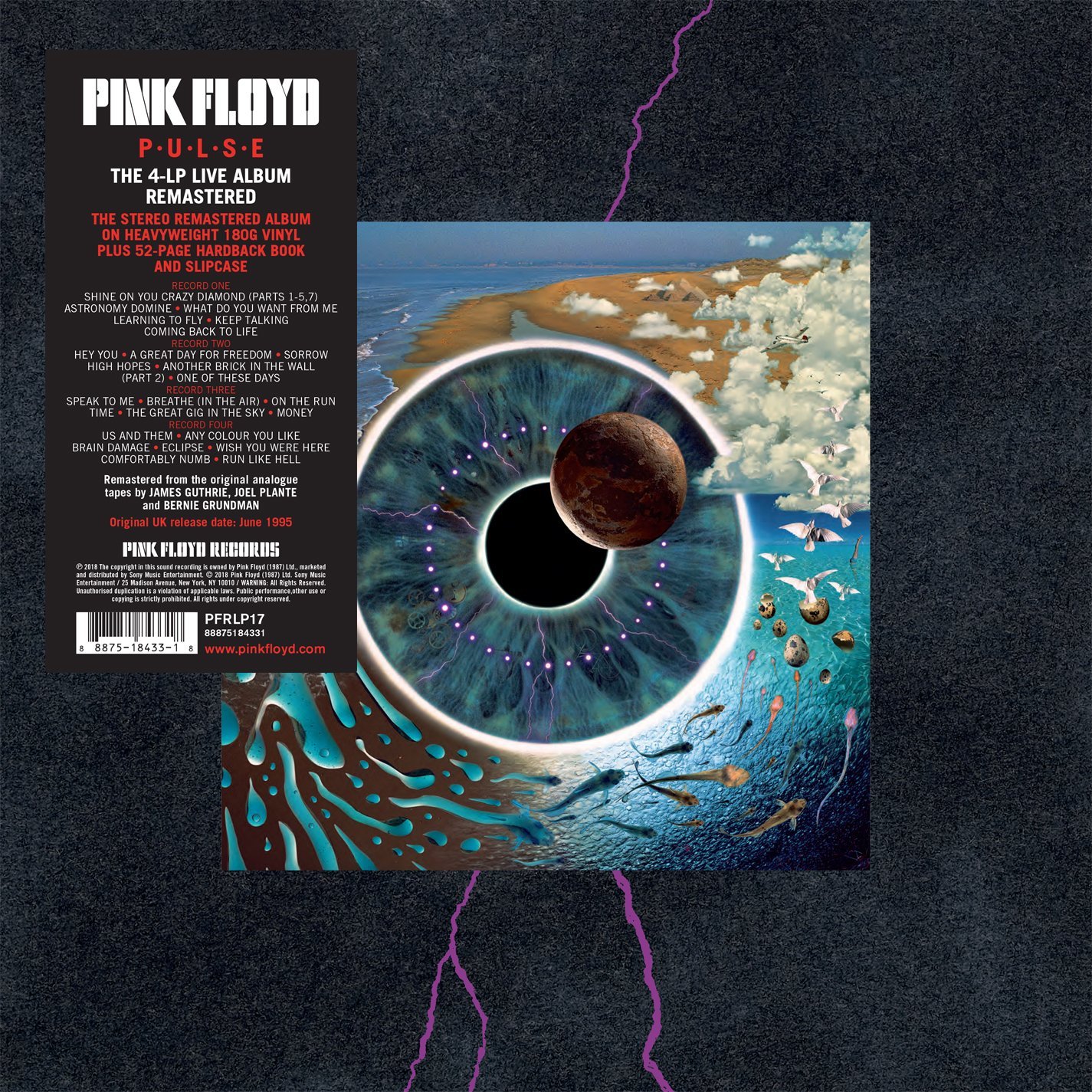 A vinyl edition of their 1995 live album, Pulse, was released in 2018 as a 4-LP set on 180-gram vinyl from Pink Floyd Records (via Sony's Legacy Recordings division). The collection had long been unavailable, and (like the original cassette) contains "One of These Days," which wasn't included on the CD version.
The original 1995 2-CD release topped the sales charts in the U.K., U.S. and many other countries around the world.
The 4-LP Pulse set includes four different inner sleeves, each inside individual outer sleeves, plus a 52-page hardback photo book, all encased in a thick card slipcase. The 2018 release was remastered from the original tapes by James Guthrie, Joel Plante and Bernie Grundman.
Watch the official unboxing video for the 2022 P.U.L.S.E. Blu-ray and DVD editions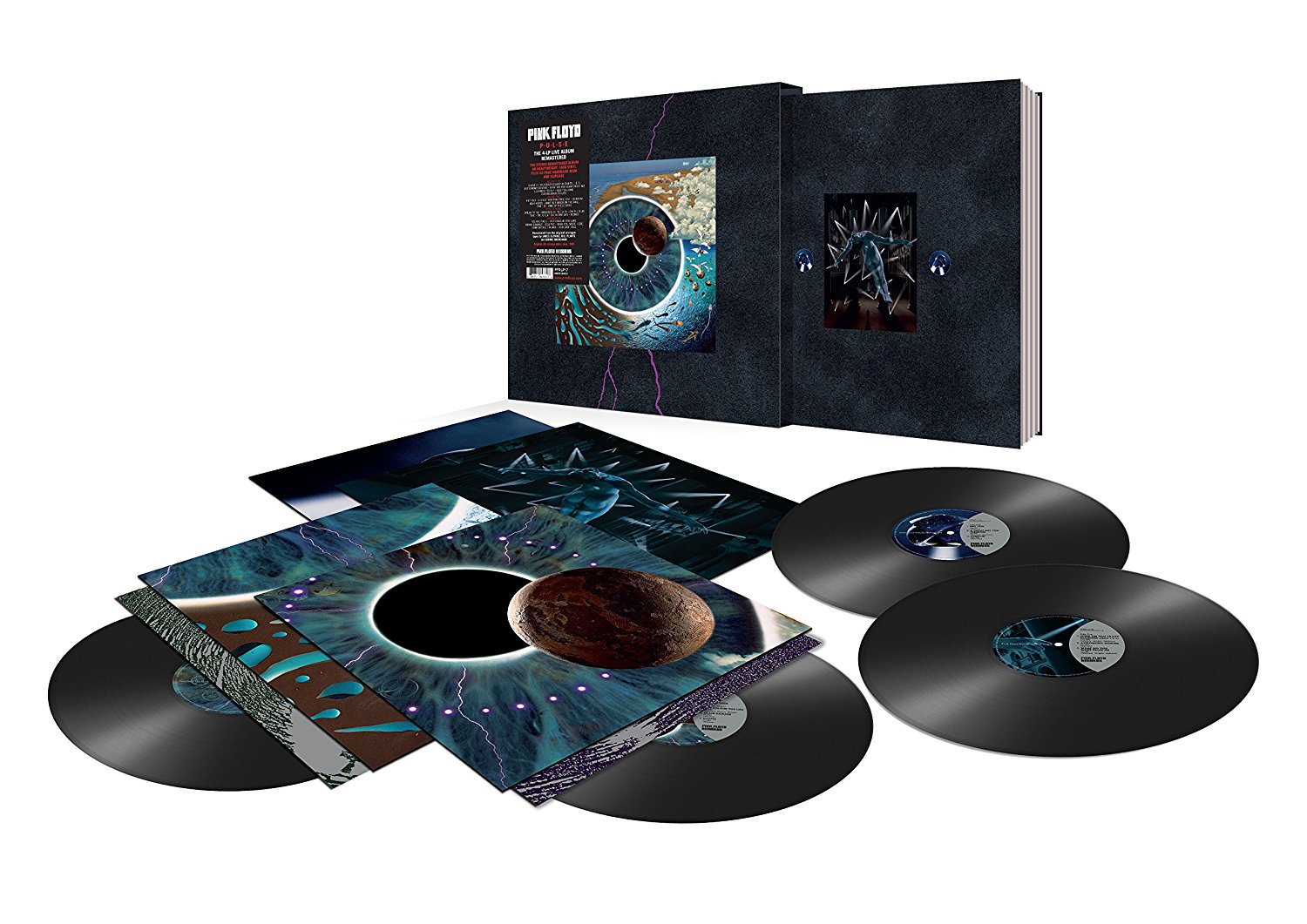 Pulse was compiled by Guthrie, using various performances from the band's 1994 Division Bell tour across the U.K. and Europe featuring David Gilmour, Nick Mason and Richard Wright. Gilmour performs all lead vocals except for "Astronomy Dominé," "Time" and "Comfortably Numb," which were sung by Wright.
The album includes The Dark Side of the Moon performed in full live, as well as a whole side dedicated to the show's encore. Aubrey Powell of Hipgnosis and Peter Curzon, who worked on the original art with the late Hipgnosis co-founder, Storm Thorgerson, recreated the art package.
Watch the restored and re-edited "Time"
Listen to "Brain Damage" from the recording
Watch the TV ad for the original 1995 release
See the complete track listing of the Blu-ray edition below the links.
Pink Floyd P.U.L.S.E. Blu-ray Deluxe Edition
DISC 1 THE CONCERT FILM
SHINE ON YOU CRAZY DIAMOND, PARTS 1-5,7
LEARNING TO FLY
HIGH HOPES
TAKE IT BACK
COMING BACK TO LIFE
SORROW
KEEP TALKING
ANOTHER BRICK IN THE WALL, PART 2
ONE OF THESE DAYS
THE DARK SIDE OF THE MOON
SPEAK TO ME
BREATHE (IN THE AIR)
ON THE RUN
TIME
THE GREAT GIG IN THE SKY
MONEY
US AND THEM
ANY COLOUR YOU LIKE
BRAIN DAMAGE
ECLIPSE
ENCORES
WISH YOU WERE HERE
COMFORTABLY NUMB
RUN LIKE HELL
DISC 2 MUSIC VIDEOS, TOUR SCREEN FILMS, DOCUMENTARIES & ADDITIONAL MATERIAL, all in STEREO ONLY
MUSIC VIDEOS (BD 48/24, DVD 48/16)
TAKE IT BACK 1994
HIGH HOPES 1994
MAROONED 2014
PULSE TOUR REHEARSAL 1994 (BD 96/24, DVD 48/16)
A GREAT DAY FOR FREEDOM VERSION 1
A GREAT DAY FOR FREEDOM VERSION 2
LOST FOR WORDS
CONCERT SCREEN FILMS 1994 (BD 96/24, DVD 48/16)
SHINE ON YOU CRAZY DIAMOND PARTS 1-4,7
SPEAK TO ME
TIME
THE GREAT GIG IN THE SKY
MONEY
US AND THEM (BLACK & WHITE)
US AND THEM (COLOUR)
BRAIN DAMAGE + ECLIPSE North American Dates
BRAIN DAMAGE + ECLIPSE European Dates
BRAIN DAMAGE Earls Court, London Dates
DOCUMENTARIES & ADDITIONAL MATERIAL (BD 48/24, DVD 48/16)
THE DIVISION BELL ALBUM COVER PHOTOGRAPHY (Ely, Cambridgeshire, UK) 1994
PULSE TV AD 1995
THE DIVISION BELL AIRSHIPS 1994
BEHIND THE SCENES Interviews with the Lead Technicians for the Division Bell Tour
ROCK & ROLL HALL OF FAME INDUCTION 1996 (BD 48/24, DVD 48/16)
WISH YOU WERE HERE with BILLY CORGAN
AUDIO-ONLY LIVE RECORDINGS (BD&DVD 96/24)
ONE OF THESE DAYS LIVE IN HANOVER 1994
ASTRONOMY DOMINE LIVE IN MIAMI 1994
Related: Our Album Rewind of Wish You Were Here

Latest posts by Best Classic Bands Staff
(see all)