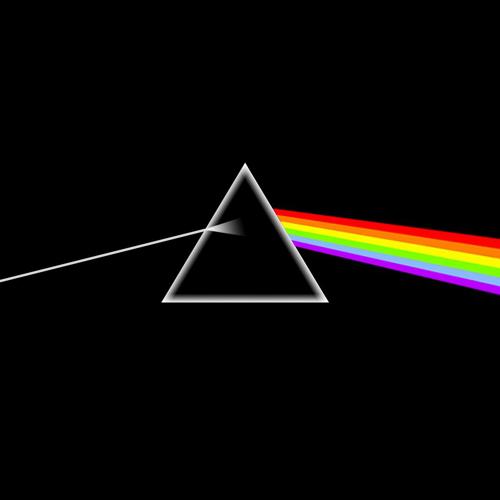 Some albums are landmarks. Some are masterpieces. Some are phenomena. Pink Floyd's eighth studio album is all that and more.
Hats off to David Gilmour, Nick Mason, Richard Wright and Roger Waters!
It may have only reached the #1 spot on the Billboard Top 200 for one week, but the heavily conceptual album stayed on the chart for 741 straight weeks from 1973 to 1988 – an as yet and never likely to be broken streak. It made the chart again in 2009 when the trade magazine changed its measurements for catalog releases.
Released on March 1, 1973, and with worldwide sales of some 45 million copies, it is one of the best-selling albums ever. (Estimates put it behind only Michael Jackson's Thriller, AC/DC's Back in Black and Meat Loaf's Bat Out of Hell in worldwide sales.)
Floyd toured the record's material extensively in the U.K. and even previewed it live for the press in February 1972 at London's Rainbow Theatre before recording sessions at EMI's famed Abbey Road Studios in the summer of that year and January 1973. The album utilized some of the most cutting-edge recording technology and instruments (like analog synthesizers) of the day. And it still sounds modern and not at all archaic in the digital age.
On March 1, 2023, on the occasion of its 50th anniversary, Alan Parsons wrote, "To this day, I feel honored to have been a part of such a groundbreaking album. Our goal at the time was to stretch the boundaries of the recording process, and in the process create something magical. And I think many will agree we achieved that goal. As engineer, I was grateful that the band was open to a number of my suggestions, which included the use of the clocks on the intro to "Time," as well as utilization of a very talented vocalist who I had previously worked with named Clare Torry for the vocals on "Great Gig in the Sky."
"The fact that we are still talking about this album 50 years later is something I never would have dreamed possible. And yet, here we are…."
Its themes were hardly the usual stuff of pop music. Madness and by inference the deteriorating mental state of Pink Floyd's founder Syd Barrett are one of its concerns. Serious notions like greed, mortality and human conflict are also among its lyrical concerns. It seemed to capture the social concerns of its era while, like its timeless sound, continuing to be relevant decades later.
"The Dark Side of the Moon was an expression of political, philosophical, humanitarian empathy that was desperate to get out," says Pink Floyd's Roger Waters. It raised the group from large cult progressive rock status to stardom and set up later monuments like The Wall. It also yielded the group their first U.S. hit song, "Money."
"Money" became their first American chart hit, reaching #10 on Record World (#13 on Billboard). "Us and Them," the follow-up released in February 1974, never reached the Hot 100.
Related: Our review of Roger Waters' "Us + Them" tour
At one point the album was slated to be titled Eclipse (A Piece for Assorted Lunatics). In the early-to-mid-1990s, somebody somewhere synched up The Dark Side of the Moon with the film The Wizard of Oz and noted numerous uncanny parallels, as if it were written as a soundtrack. Pink Floyd and those around them deny any intended connection between the two works.
Quite simply, a classic rock masterpiece.
It's receiving a 50th anniversary edition in 2023 that includes a CD and gatefold vinyl of the remastered studio album and Blu-Ray + DVD audio featuring the original 5.1 mix and remastered stereo versions. The set also has a new Blu-ray disc of Atmos mix plus CD and LP of a concert recording, The Dark Side Of The Moon – Live At Wembley Empire Pool, London, 1974.
Waters continues his "This is Not a Drill" tour in 2022. Tickets are available here and here.
Mason continues to tour with his band, Saucerful of Secrets. Tickets are available here and here.
If you're a new Best Classic Bands reader, we'd be grateful if you would Like our Facebook page and/or bookmark our Home page.

Latest posts by Best Classic Bands Staff
(see all)