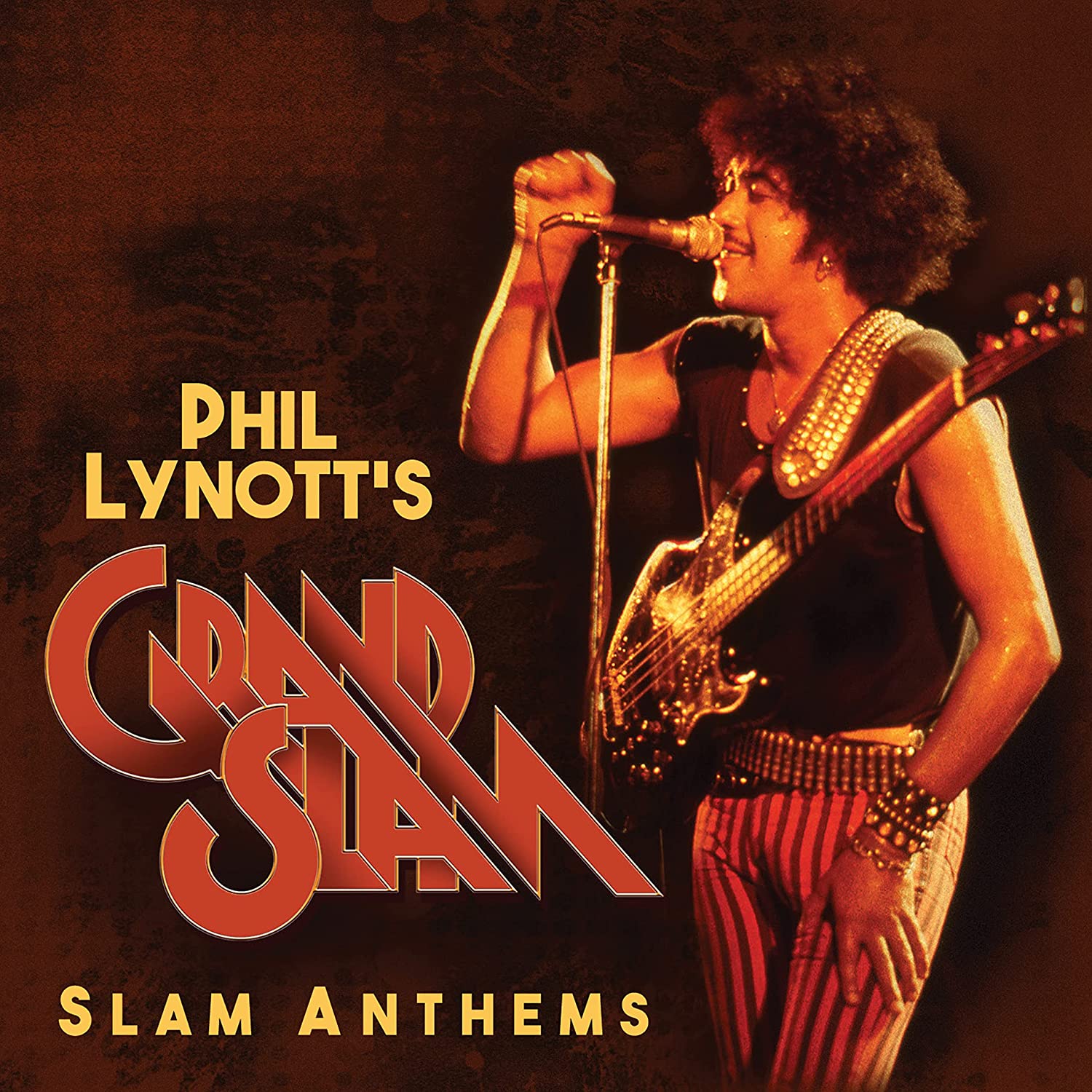 When Phil Lynott died in 1986, he was a mere 36 years of age. Lynott founded and fronted one of the most underrated rock bands of the '70s, Thin Lizzy, and was the most popular rock singer to emerge from Dublin (prior to the Bono era). When the band broke up in the early '80s amid struggles with substance abuse, Lynott started working with Magnum keyboardist Mark Stanway as part of Lynott's live solo band in 1983. By 1984 he would eventually solidify a line-up that included guitarist Laurence Archer, rhythm guitarist Doish Nagle, and drummer Robbie Brennan and change their name to Grand Slam. Although the group never issued an official studio album, they played numerous shows around Europe and cut a series of demos that proved Lynott still had incredible songs in him and a brilliant career ahead.
Now those songs and live performances have been remastered and packaged in a deluxe 6-CD box set to be released on June 9, 2023. Slam Anthems, via Cleopatra Records, is a treasure trove of new mixes of Grand Slam songs as well as concert recordings that feature songs from throughout Lynott's stellar career, including many Thin Lizzy favorites. Each disc comes packaged in its own wallet with rare band photos and the box features a 20-page full-color booklet filled with liner notes from music historian Dave Thompson.
Watch the video montage for the newly remixed version of "Nineteen"
Grand Slam lives on in the current incarnation of the band, led by Archer. They have a re-recorded and remixed version of their previous release, "Hit the Ground," coming soon, as well as a new studio album in the works.
Related: Our feature story on a perfect rock song, "The Boys Are Back in Town"
See the complete track listing of Slam Anthems below the Amazon link. When you buy something using a link on this page, we receive a commission. Thank you for supporting Best Classic Bands.
DISC 1: 2022 REMIXES
1. Breakdown
2. Crazy
3. I Still Think Of You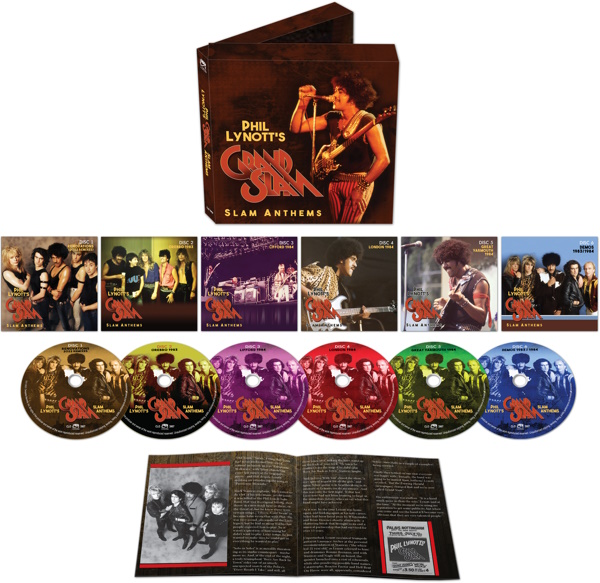 4. Crime Rate
5. Dedication
6. Military Man
7. Look In These Eyes
8. Harlem
9. I Don't Need This
10. Sisters Of Mercy
11. Nineteen
12. Hot N Spicy
13. Sarah
DISC 2: OREBRO 1983
1. Yellow Pearl
2. Old Town
3. Sarah
4. A Night In The Life Of A Blues Singer
5. Look In These Eyes
6. Parisienne Walkways
7. Solo In Soho
8. King's Call
9. Baby Drives Me Crazy
10. The Boys Are Back In Town
11. Still In Love With You
DISC 3: LIFFORD 1984
1. Nineteen
2. Yellow Pearl
3. Sarah
4. Parisienne Walkways
5. Crime Rate
6. Young Boy
7. Night In The Life Of A Blues Singer
8. Cold Sweat
9. Dear Miss Lonely Hearts
10. Whisky In The Jar
DISC 4: LONDON 1984
1. Nineteen
2. Sisters Of Mercy
3. Crime Rate
4. Military Man
5. Dedication
DISC 5: GREAT YARMOUTH 1984
1. Yellow Pearl
2. Nineteen
3. Harlem
4. Parisienne Walkways
5. Cold Sweat
6. Sisters Of Mercy
7. Crime Rate
8. Military Man
9. Dedication
DISC 6: DEMOS
1. Nineteen
2. Crime Rate
3. Crazy
4. Sisters Of Mercy
5. Whiter Shade Of Pale / Like A Rolling Stone
6. Military Man
7. Hot N Spicy
8. I Don't Need This
9. Harlem
10. I Still Think Of You
11. Gay Boys
12. Breakdown
13. Look In These Eyes
14. She Cries
15. Slam

Latest posts by Best Classic Bands Staff
(see all)