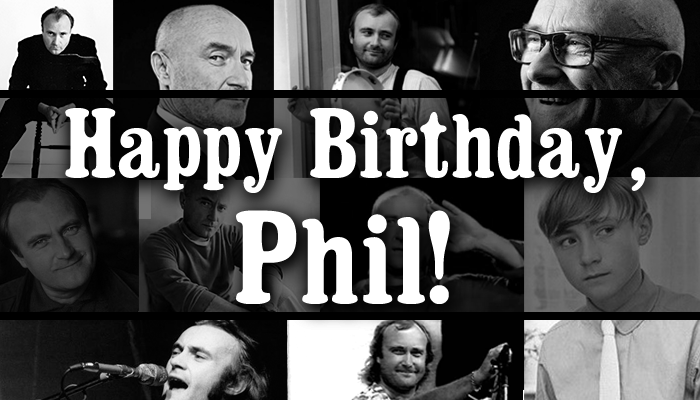 Longtime Genesis singer and drummer Phil Collins was forced to delay his comeback in 2015 due to emergency back surgery. As we wish him a Happy 65th Birthday today (January 30, 2016), here's hoping that 2016 will be his year to shine once again for his millions of loyal fans. Last October, the classic rock star officially unretired, confirming plans to tour and release a brand new album – what would be his first batch of new material since 2002's Testify. (See Best Classics Bands' story here.) The musician's solo catalog received a significant overhaul from Rhino this month, with more on the way in the coming months.
The "Take A Look At Me Now" retrospective reissue campaign boasts extended and remastered deluxe editions featuring live tracks, demos and B-sides, all curated by Collins. The series kicked off January 29th with the release of his 1981 solo debut Face Value and 1993's Both Sides, featuring a new artwork concept in which Collins has recreated his poses from the original album covers with new photography shot in the present day. The next stage in the retrospective arrives February 26th with brand new versions of Hello, I Must Be Going! and Dance Into The Light. His remaining four solo studio albums will be re-released later this year.
(If you're a new Best Classic Bands reader, we'd be grateful if you would Like our Facebook page and/or bookmark our Home page.)
On the more personal side, Collins has never tried to hide his past problems with alcohol, but he only just recently revealed the gritty details of his addiction, which worsened in the wake of his divorce from his third wife and a serious neck injury that prevented him from playing drums. "I had retired to be with my kids in Switzerland, but then they left to go to Miami with their mom [Orianne Cevey]. I'd wake up, turn the TV on and have a glass of wine," he told Billboard. "You look up at the end of the day and you've knocked off a couple of bottles…I spent way too much time horizontal."
He's now going into his third year sober, and things are looking up for singer personally. Collins surprised fans recently with news of a reconciliation with ex-wife Cevey, who he divorced in 2008. The pair have reportedly been living together in Miami for the past six months as she recovers from complications from a surgery in 2014 that left her partially paralyzed. "I haven't really talked about it," Collins acknowledged in the interview with Billboard. "We've been together for a while, and nobody's noticed."
Meanwhile, Collins continues to keep mum about specific tour plans, but he will be playing a charity event at the Fillmore Miami Beach at Jackie Gleason Theater on March 11th. The intimate acoustic show will benefit the Little Dreams Foundation, whose mission is to fulfill the dreams of young talents without financial means to achieve their goals. Tickets are available here.

Latest posts by Best Classic Bands Staff
(see all)