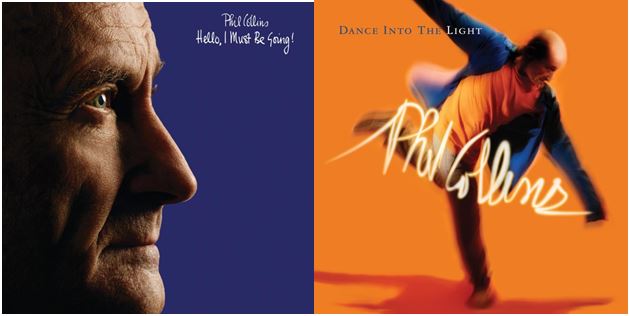 Phil Collins' solo reissues campaign kicks off with the January 29th releases of deluxe editions of his albums Face Value and Both Sides. The next stage in the "Take A Look At Me Now" retrospective (via Rhino/Atlantic) comes on February 26th with brand new versions of Hello, I Must Be Going! and Dance Into The Light.

The "Take A Look At Me Now" campaign finds the longtime Genesis lead vocalist, drummer and songwriter revisiting a solo career that boasts over 100 million sales and numerous worldwide #1 albums. His remaining four solo studio albums will be rereleased in the coming months.
Late last October, Best Classic Bands wrote about Collins' plans to record a new album and eventually return to touring ("I am no longer retired"). But the singer has been mum about that lately.
The campaign was originally scheduled to begin last November but was delayed due to the singer's emergency major back surgery, that left him unable to undertake the extensive promotion campaign planned internationally. Click here for our earlier coverage of the campaign.
Entirely curated and compiled by Collins himself, "Take A Look At Me Now" examines how his songs have evolved over time, with the majority of the additional content throughout the series focused on live versions of the tracks, as well as demos and B-sides.
Here's Collins explaining how he researched the material. Turns out he searches online just like you and us!
Initially released in 1982, Collins' second solo album Hello, I Must Be Going! focused on a more organically produced sound than Face Value, with lyrics on tracks such as "I Don't Care Anymore" and "Thru These Walls" providing a darker thematic core. By contrast, the album's biggest hit was Collins' upbeat interpretation of The Supremes' "You Can't Hurry Love," which became his first solo #1 single. Hello, I Must Be Going! peaked at #2, and earned Collins his first Grammy® and Brit Award nominations.
1996's Dance Into The Light presented a flavor of the unexpected as elements of world music came to the fore, most notably with flourishes of Afrobeat-styled percussion on several tracks. Both the album and its title track reached the Top 10 upon release. It concludes with a new take on Bob Dylan's "The Times They Are A-Changin'."
"I've always been quite proud of my demos and have often made them available as B-sides, but with a few exceptions, I have avoided including those on these collections," says Collins. "Instead, I've focused on how nicely the songs developed when played on stage, rather than showing how they originated."
As with the rest of the reissue series, Hello, I Must Be Going! and Dance Into The Light will be available as 2-CD and digital versions which feature the remastered album and the additional content, as well as the 180-gram heavyweight audiophile vinyl which features the remastered album as a standalone product.
Each album in the series features a bold new artwork concept in which Collins has recreated his poses from the original album covers with new photography that was shot in the present day.
HELLO, I MUST BE GOING!: DELUXE EDITION Track Listing
Original Album Remastered
1. "I Don't Care Anymore"
2. "I Cannot Believe It's True"
3. "Like China"
4. "Do You Know, Do You Care?"
5. "You Can't Hurry Love"
6. "It Don't Matter To Me"
7. "Thru These Walls"
8. "Don't Let Him Steal Your Heart Away"
9. "The West Side"
10. "Why Can't It Wait 'Til Morning?"
Bonus Tracks – CD & Digital Formats Only
1. "I Don't Care Anymore" – Live*
2. "I Cannot Believe It's True – Live*
3. 'Like China" – Live*
4. "You Can't Hurry Love" – Live*
5. "It Don't Matter To Me" – Live*
6. "The West Side" – Live Rehearsal*
7. "People Get Ready" – Live*
8. "Thru These Walls" – Live*
9. "It's Alright" – Live*
10. "Oddball" – Demo of "Do You Know, Do You Care?"*
11. "Don't Let Him Steal Your Heart Away" – Demo*
DANCE INTO THE LIGHT: DELUXE EDITION Track Listing
Original Album Remastered
1. "Dance Into The Light"
2. "That's What You Said"
3. "Lorenzo"
4. "Just Another Story"
5. "Love Police"
6. "Wear My Hat"
7. "It's In Your Eyes"
8. "Oughta Know By Now"
9. "Take Me Down"
10. "The Same Moon"
11. "River So Wide"
12. "No Matter Who"
13. "The Times They Are A-Changin"
Bonus Tracks – CD & Digital Formats Only
1. "Dance Into The Light" – Live*
2. "Just Another Story" – Live*
3. "Wear My Hat" – Live*
4. "River So Wide" – Live*
5. "Take Me Down" – Live*
6. "Lorenzo" – Demo*
7. "That's What You Said" – Demo*
8. "Another Time" – B-side
9. "It's Over" – B-side
10. "I Don't Wanna Go" – B-side
* Previously unreleased on CD

Latest posts by Best Classic Bands Staff
(see all)