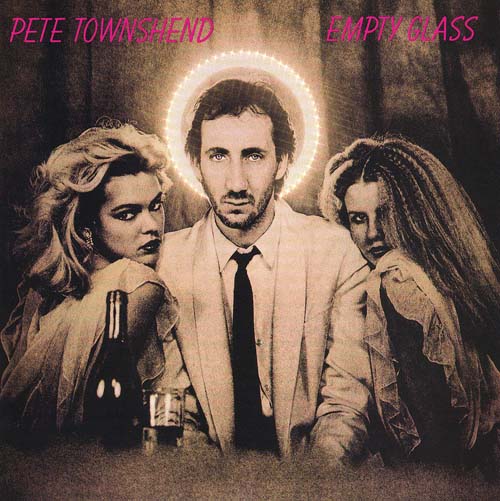 Although no official label announcement has been made, Pete Townshend revealed August 26 on his Facebook page that Universal Music will be reissuing expanded remastered versions of his first seven solo albums in physical formats. The works were re-released digitally in February 2015. Today (September 1) comes word that the reissue date is September 30.
The brief announcement said: "The first seven of Pete's solo albums will be re-issued on 30 September. The albums have all been remixed and remastered and will be available as digipaks with CD booklets. No bonus tracks. The third of Pete's solo albums was EMPTY GLASS, originally released on 21 April 1980. From it came the first single, 'Rough Boys' with this brilliant video." (Watch it below.)
The 2015 re-release involved 11 albums ranging from his 1972 solo debut Who Came First through 1980's big-selling Empty Glass as well as his 1977 collaboration with Small Faces/Faces bassist Ronnie Lane, and his ambitious series of Scoop titles which featured career-spanning compilations of demos for The Who and his solo work. The albums encompass numerous solo hits like his Top 10 U.S. single "Let My Love Open the Door" as well as "Face the Face" and "A Little is Enough" plus future Who songs like "Pure and Easy."
The specific titles are Who Came First, Rough Mix, Empty Glass, All the Best Cowboys Have Chinese Eyes, White City, The Iron Man and 1993's Psychoderelict. (So the Scoop series is not included.) The comment "No extra tracks" is confusing since previous reissues added demo versions of several songs. Best Classic Bands will have pre-order info when it becomes available.
Who Came First highlights include Townshend's solo version of the Who song "(Nothing is Everything) Let's See Action" plus "Sheraton Gibson" "Time is Passing" and "Pure and Easy."
Here's a live solo version of "Let's See Action" from a performance several decades later. What a song!
The overlooked Rough Mix, produced by Glyn Johns, includes the spirited first cut, "My Baby Gives it Away" and "Keep Me Turning." It was during the recording of the album that Ronnie Lane's multiple sclerosis was diagnosed. The album features guest appearances from John Entwistle, Eric Clapton and Charlie Watts.
1980's Empty Glass was far and away Townshend's biggest commercial success as a solo artist. The album featured his big solo hit "Let My Love Open the Door" as well as popular classic rock radio cuts "Rough Boys" and "A Little is Enough." Empty Glass reached #5 on the U.S. album chart.
1982's All the Best Cowboys Have Chinese Eyes includes great cuts like "Somebody Saved Me" and "Stardom in Acton." Here's a great live version of that album's "Slit Skirts" (with guest Phil Collins on drums)…
Townshend opened his enormous vaults with 1983's Scoop, which contained 25 revealing demos of such Who songs as "Behind Blue Eyes," "Bargain" and "Love Reign O'er Me." 1987's Another Scoop featured demos of Who classics "You Better You Bet," "Pinball Wizard," "Love Live Rock" and "The Kids Are Alright." 2001's Scoop 3 included "Eminence Front" as well as Quadrophenia's "Sea and Sand" and "The Real Me" among its 34 demos.
Best Classic Bands will update this story when details are announced.

Latest posts by Best Classic Bands Staff
(see all)