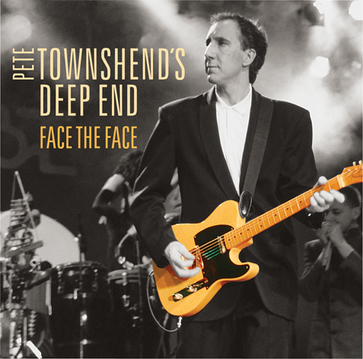 It's easy to forget but Pete Townshend once had a very active solo career with four albums in the 1980s alone. And though infrequent, he would tour with a band other than The Who every so often. A new collection, Face The Face, billed as Pete Townshend's Deep End, is coming September 16, 2016 (via Eagle Rock Entertainment) as a DVD+CD set. It's the first official release of this 1986 performance on either DVD or CD.
Pete Townshend's Deep End featured a celebrated line-up including, most prominently, Pink Floyd's David Gilmour on lead guitar, plus longtime Toto drummer Simon Phillips, Peter Hope-Evans on harmonica and  John "Rabbit" Bundrick – who regularly tours with The Who – on keyboards.
Filmed for the German TV series Rockpalast in Cannes, France on January 29, 1986, Face The Face captures Pete Townshend's Deep End while they were in the midst of touring in support of Townshend's 1985 solo concept album White City: A Novel. The setlist features Townshend solo numbers like "Rough Boys" and "A Little is Enough," Who classics "Won't Get Fooled Again," "Behind Blue Eyes" and "Pinball Wizard," Gilmour's "Blue Light" and several surprises.
Don't miss a post! Sign up for Best Classic Bands' Newsletter; form is on every page.
Face The Face shouldn't be confused with a 1986 vinyl release Pete Townshend's Deep End Live! which was recorded in November 1985 at the Brixton Academy in London, England, with essentially the same band.
Bonus: Here's a little-known gem from that White City album…
Face The Face Track Listing:
1) Won't Get Fooled Again
2) Secondhand Love
3) Give Blood
4) Behind Blue Eyes
5) After The Fire
6) Slit Skirts
7) Blue Light
8) I Put A Spell On You*
9) Hiding Out
10) The Sea Refuses No River
11) Face The Face
12) Pinball Wizard
13) A Little Is Enough
14) Rough Boys
15) Night Train
* = not on CD

Latest posts by Best Classic Bands Staff
(see all)