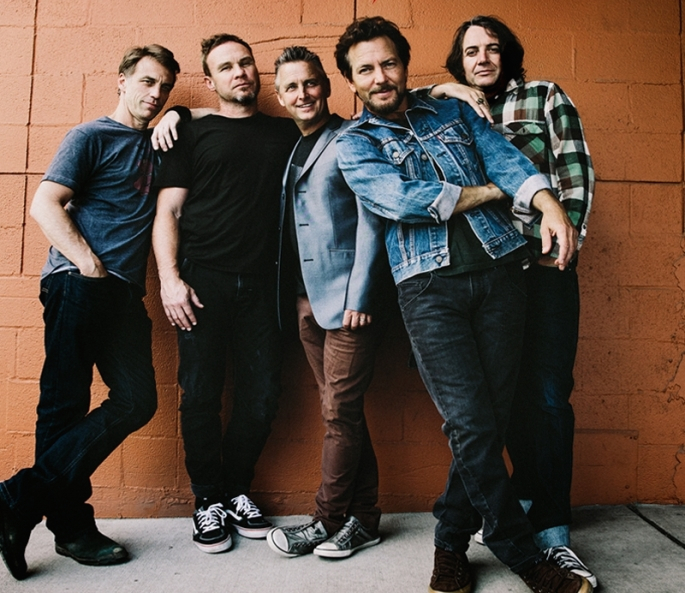 It was just one week since tragedy struck Paris, leaving 89 concertgoers dead at an Eagles of Death Metal concert at legendary venue Le Bataclan. At their November 20 show in Belo Horizonte, Brazil, Pearl Jam paid tribute to victims of the attack by covering the Eagles of Death Metal song, "I Want You So Hard (Boy's Bad News)," which is the first single from their second studio album Death By Sexy. (See our Breaking News item on the band here.)
"We've never played this one before," frontman Eddie Vedder said prior to launching into the song during an encore. Eagles of Death Metal's Josh Homme performed on Pearl Jam's 2012 single "In the Moonlight," and Homme has also played alongside Pearl Jam as part of Queens of the Stone Age (Homme was not with the band in Paris).
In a performance at São Paulo the night after the attacks, Pearl Jam also changed the lyrics to their song "Love Boat Captain" in order to make them relevant to the event in Paris. The original lyrics reference the grunge legends' own experience with a concert tragedy – the 2000 crowd crush in which nine people died and 26 were injured during the band's set at Roskilde Festival in Denmark. Crowd surfing, one of the primary precipitating factors, was subsequently forbidden at most festivals across Europe.
In addition to expressing support for Paris attack victims during their Friday show, Vedder denounced the mining giants responsible for the recent environmental catastrophe in Brazil following the collapse of two dams. He said that concert proceeds would benefit victims of the crisis.
Watch Pearl Jam perform "Love Boat Captain" in Sao Paulo:

Latest posts by Best Classic Bands Staff
(see all)