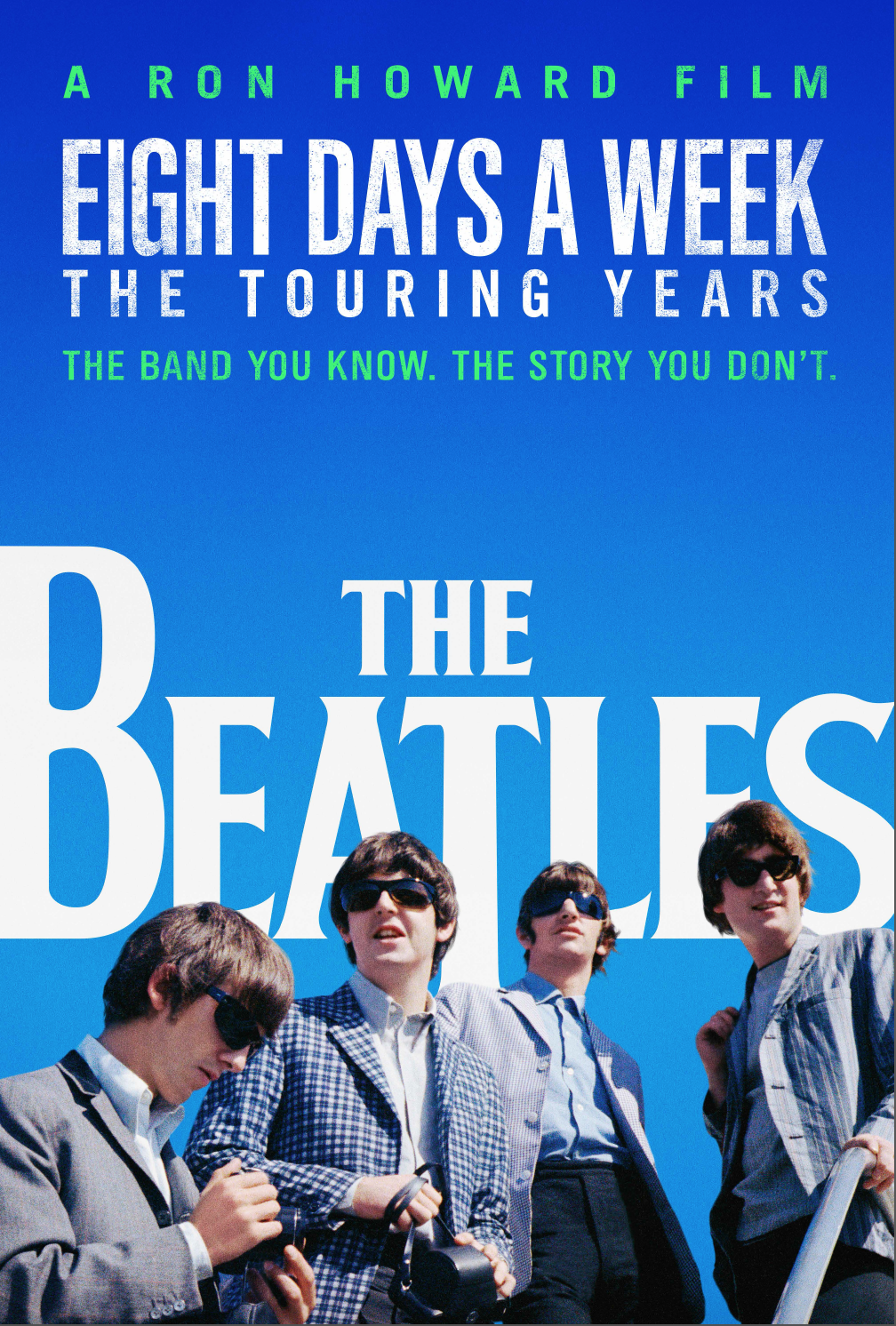 Ron Howard's award-winning 2016 documentary on The Beatles, Eight Days a Week – The Touring Years, will get its broadcast television premiere on PBS this fall, the network announced today (Sept. 25). Howard's film earned universal praise and recently won an Emmy® Award to go along with its Grammy Awards®. PBS will first air it on Saturday, November 25, 8:00-10:30 p.m. ET (check local listings).
Academy Award®-winner Ron Howard's authorized and highly acclaimed Emmy® Award and GRAMMY Award®-winning documentary film about The Beatles' phenomenal early career. The film will be followed by an encore broadcast of Sgt. Pepper's Musical Revolution, 10:30-Midnight ET on PBS, which continues the story beyond The Beatles' touring years, during the months the band spent creating Sgt. Pepper's Lonely Hearts Club Band, a groundbreaking masterwork that became popular music's most universally acclaimed album.
The Beatles: Eight Days a Week – The Touring Years is based on the first part of their career (1962-1966) – the period in which they toured and captured the world's acclaim. The film focuses on the time period from the early Beatles' journey in the days of the Cavern Club in Liverpool, England, to their last concert at Candlestick Park in San Francisco in 1966.
In its review, Best Classic Bands called the film "a nonstop rush of adrenaline, a comfort-food feast of melodic guitars and impeccable harmonies, unbridled creativity and boundless artistic determination, cheeky wit and newness and wonder and youth."
The Beatles began touring Europe in late 1963, after an extraordinary arrival on the British scene in 1961 and '62. However, it was their much-heralded appearance on The Ed Sullivan Show on February 9, 1964, that caused The Beatles' popularity to truly take off. By June, the band had commenced their first world tour, and continued on a relentless schedule for two subsequent years. By the time the band stopped touring in August of 1966, they had performed 166 concerts in 15 countries and 90 cities around the world. The cultural phenomenon their touring helped create, Beatlemania, was something the world had never seen before.
The Beatles: Eight Days a Week – The Touring Years features rare and never-before-seen archival footage of shows and interviews, plus new interviews with Paul McCartney, Ringo Starr and numerous prominent observers. The film captures the exhilaration of The Beatles' phenomenal rise to fame as well as the toll it eventually took on the band's members, prompting them to stop touring and devote their prodigious musical talents to their groundbreaking studio recordings.
The documentary was produced with the full cooperation of McCartney, Starr, Yoko Ono Lennon and Olivia Harrison.
Sgt. Pepper's Musical Revolution is hosted by award-winning British composer, author, music historian and broadcaster Howard Goodall. The film looks back at the creation and ongoing influence of Sgt. Pepper's Lonely Hearts Club Band, released on June 1, 1967, and currently celebrating its 50th anniversary.

Latest posts by Best Classic Bands Staff
(see all)