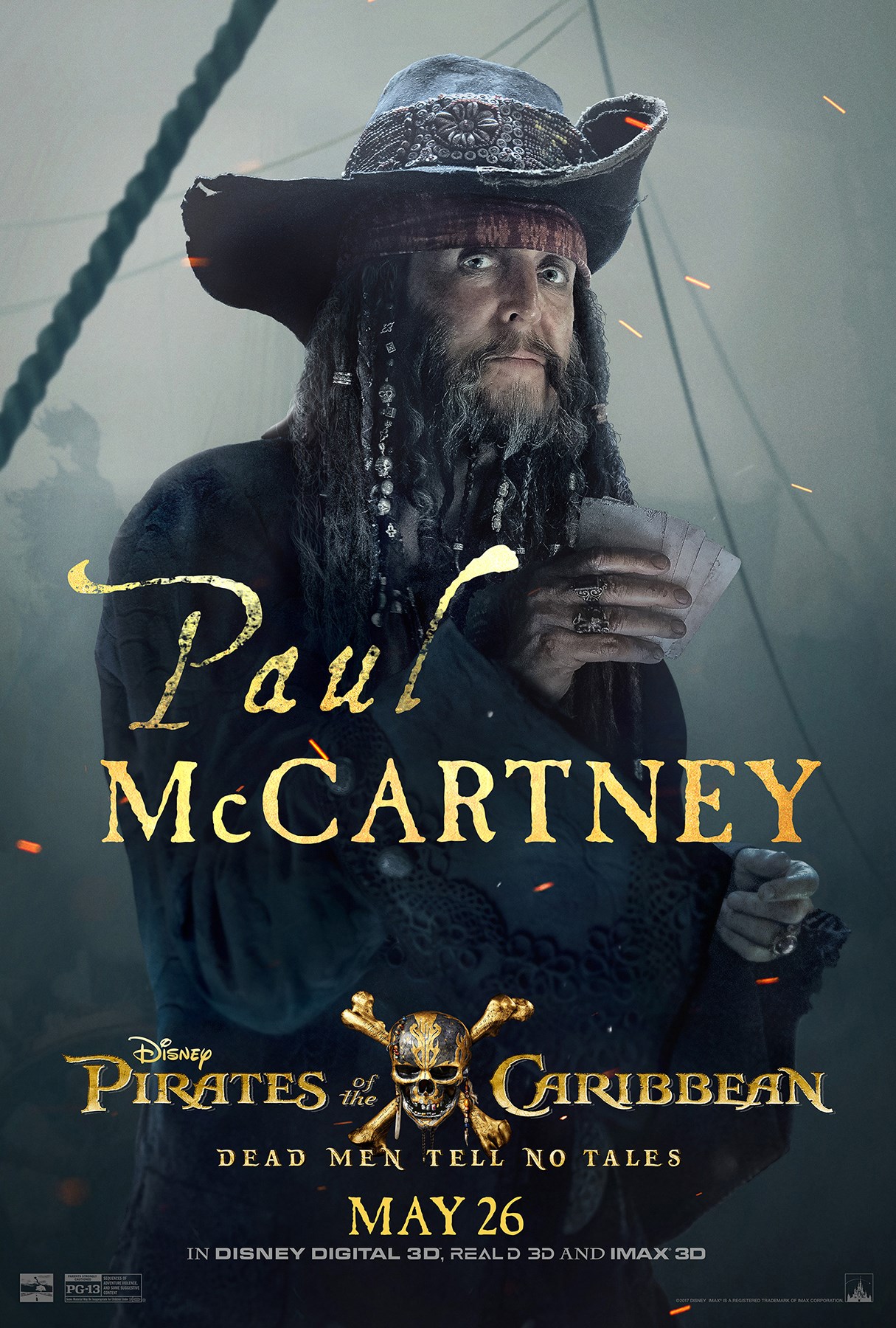 Back in March 2016, word first arrived that Paul McCartney was joining the star-studded cast of the fifth Pirates of the Caribbean installment, Dead Men Tell No Tales, for a top-secret cameo appearance. The word was that McCartney's part was added by the filmmakers to an action scene that they had already filmed. (He's listed in the cast credits as "Jail Guard 2.")
Today (May 13), Sir Paul shared a picture of himself, dressed in pirate regalia, on his social media accounts.
As you know, the Rolling Stones' Keith Richards has played Captain Jack Sparrow's father, Captain Teague, in several Pirates flicks, as the blockbuster series' star, Johnny Depp, has frequently cited Richards as inspiration for his eccentric Sparrow mannerisms.
McCartney has more acting credits than you may realize, once you consider all of the music films he's taken part in as a result of The Beatles and his own solo career, from A Hard Day's Night to Give My Regards to Broad Street. But this is undoubtedly his first swashbuckling action film.
McCartney has a very busy 2017. He played several concerts in Tokyo in April; his "One on One" tour returns to the U.S. in July, followed by a series of dates in Brazil. As for Richards, the Stones recently announced their No Filter tour in September.
For Dead Men Tell No Tales, Depp will also be joined by Keira Knightley and Orlando Bloom–who both sat out the last installment, 2011's On Stranger Tales–as well as Geoffrey Rush and Javier Bardem. The series began in 2003 with The Curse of the Black Pearl. The franchise has earned a reported $1.279 billion worldwide at the box-office, according to BoxOfficeMojo.com which tracks such things.
Each movie performed slightly worse than its predecessor, though #4 fell the most significantly. Its studio, Disney, hopes that the six-year gap in-between releases will kick start the franchise. Dead Men Tell No Tales opens Memorial Day weekend. Argghh!

Latest posts by Best Classic Bands Staff
(see all)