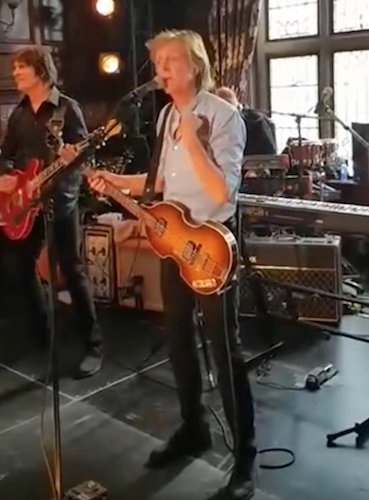 On June 9, 2018, Paul McCartney was in his hometown of Liverpool, touring several Beatles-related spots on a Saturday afternoon with TV host James Corden, for an episode of the latter's popular Carpool Karaoke feature. The visit culminated with a performance for a select few at the Philharmonic Pub on Hope Street. Amidst the set's list of Beatles favorites like "A Hard Day's Night," "Love Me Do," "I Wanna Be Your Man," and "Lady Madonna," Sir Paul premiered an upbeat, new song without revealing its title. (Watch "Come On to Me" below.) The 12-song set closed with "Hey Jude."
As word got out about the surprise performance, the crowd was elbow-to-elbow.
When audience members shouted that they were celebrating a 60th birthday that day, McCartney said: "Today? Alright, we've got a song for you." And to the assembled crowd: "Would you like to hear some new stuff?  This hasn't been released yet, but for you, this is the first time we've played it for anybody."
While McCartney was visiting Liverpool, his social media team was busy teasing the upcoming album, Egypt Station. On that day, his Facebook and Twitter pages had replaced his profile picture with an all-white image.
The image was replaced on Sunday, June 10, with an all-black, hand drawn sketch resembling a tunnel. The teaser campaign continued for several days.
The new album was released by Capitol Records. McCartney returned to his longtime home in a new deal announced in 2016.
In December 2017, McCartney answered some questions on his website. He was asked: "What would you like to achieve in 2018?"
His reply: "I'll probably be putting out a new album. So, I'd like that to be something I really love and then hopefully the fans will love it too! We're putting the finishing touches to it now and at the beginning of next year. So, I would like to achieve making that a really great album. Fingers crossed! That's not what it's called, but fingers crossed! [Pauses] It could be… it COULD be the new album title!"
McCartney offered Teaser #3 on June 11 via his Twitter account
— Paul McCartney (@PaulMcCartney) June 11, 2018
And on June 12 came Teaser #4 on Facebook and Twitter
— Paul McCartney (@PaulMcCartney) June 12, 2018
In an interview with BBC Radio in March 2017, McCartney revealed that he's been in the studio with American record producer Greg Kurstin, who has previously worked with such acts as Adele, Beck and Foo Fighters.
Watch McCartney sing "I Wanna Be Your Man" in Liverpool
Watch McCartney perform the new song, "Come On to Me"
Related: Watch McCartney's appearance on Carpool Karaoke

Latest posts by Best Classic Bands Staff
(see all)