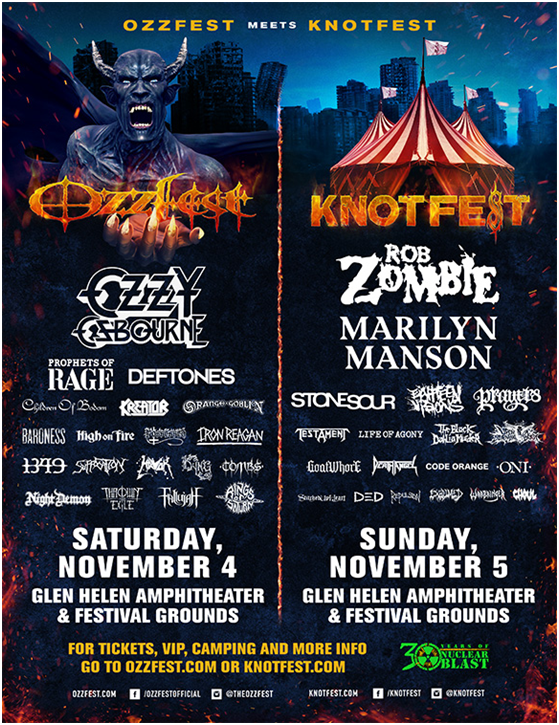 The lineup and other details of the 2017 Ozzfest Meets Knotfest have been announced. Ozzfest will take place Saturday, November 4, and Knotfest on Sunday, November 5. Both shows will be held at Glen Helen Amphitheater And Festival Grounds in San Bernardino, Calif. A special pre-fest kickoff is set for Friday, November 3 for all ticketed campers.
A Live Nation presale begins Thursday, July 13 at 10 a.m. local time here. Tickets go on sale Friday, July 14 at ozzfest.com and knotfest.com. Early ticket prices range from $29.00 for a single day GA lawn ticket to $239.00 for two-day GA pit passes; a variety of VIP packages are also available for each day.
Said Ozzy Osbourne: "Last year's show with Black Sabbath was just incredible and I'm thrilled to be coming back this year with Zakk, Tommy, Blasko and Adam to headline the 21st anniversary of Ozzfest."
Said Slipknot's M Shawn Crahan: "It's that incredible time again where Ozzfest and Knotfest meet up to bring all music fans together for two days of rock and roll. Let's not forget the beautiful culture we are involved in and the history that is being written. Join the true passion of our concepts. I'll see you there. Stay (sic)."
Sharon Osbourne: "Ozzfest Meets Knotfest is coming back for another round. Last year we had over 75,000 people attend and we have another great lineup this year with Ozzy's first solo show in L.A. in more than six years. This is not just another show…it's Ozzfest Meets Knotfest! And this year's event means the world to me as we'll be amongst friends like Prophets of Rage, Rob Zombie, Deftones, Marilyn Manson and Stone Sour…it's going to be another amazing weekend."
Related: How does this year's lineup compare with the 2016 fest?
Corey Taylor of Slipknot added: "Knotfest was never supposed to be exclusively about Slipknot. It was always about the things that fueled the spirit of Slipknot: music, art, passion, insanity, and the tribes that give it power. So it would make sense for Knotfest to carry on these ideas, even without Slipknot. Because these things are the gasoline of creativity, and there's plenty to go around, with plenty of great bands, acts and things to see. Teaming up again with Ozzfest means another weekend of the biggest, baddest, loudest and best. I hope you all will join us; it's going to be (sic)."
The multi-stage, two-day weekend camping event will include more than 40 acts:
OZZFEST
SATURDAY, NOVEMBER 4
MAIN STAGE
Ozzy Osbourne
Prophets of Rage
Deftones
Children Of Bodom
Orange Goblin
SECOND STAGE
Kreator
Baroness
High On Fire
IRON REAGAN
1349 (Official)
HAVOK
Kyng
Tombs
Night Demon
Thrown Into Exile
Nuclear Blast EXTREME STAGE
Possessed
Suffocation
Fallujah
Rings of Saturn
KNOTFEST
SUNDAY, NOVEMBER 5
MAIN STAGE
Rob Zombie
Marilyn Manson
Stone Sour
Eighteen Visions
PRAYERS
SECOND STAGE
Testament
Life Of Agony
The Black Dahlia Murder
Upon A Burning Body
GOATWHORE
Death Angel
Code Orange
ONI
Stitched Up Heart
Ded
NUCLEAR BLAST EXTREME STAGE
Repulsion
Exhumed
Warbringer
Ozzy also previously announced a handful of solo dates…
July 14 – Oshkosh, WI – Rock USA Festival
July 16 – Chicago, IL – Chicago Open Air Festival
Aug 09 – Sturgis, SD – Buffalo Chip
Aug 11 – Welch, MN – Treasure Island Resort & Casino
Aug 21 – Cartersville, IL – Moonstock Festival
Sep 30 – Louisville, KY – Louder Than Life Festival
Oct 22 – Sacramento, CA – Aftershock Festival
Watch: Take a look back at highlights from Ozzfest 2016

Latest posts by Best Classic Bands Staff
(see all)