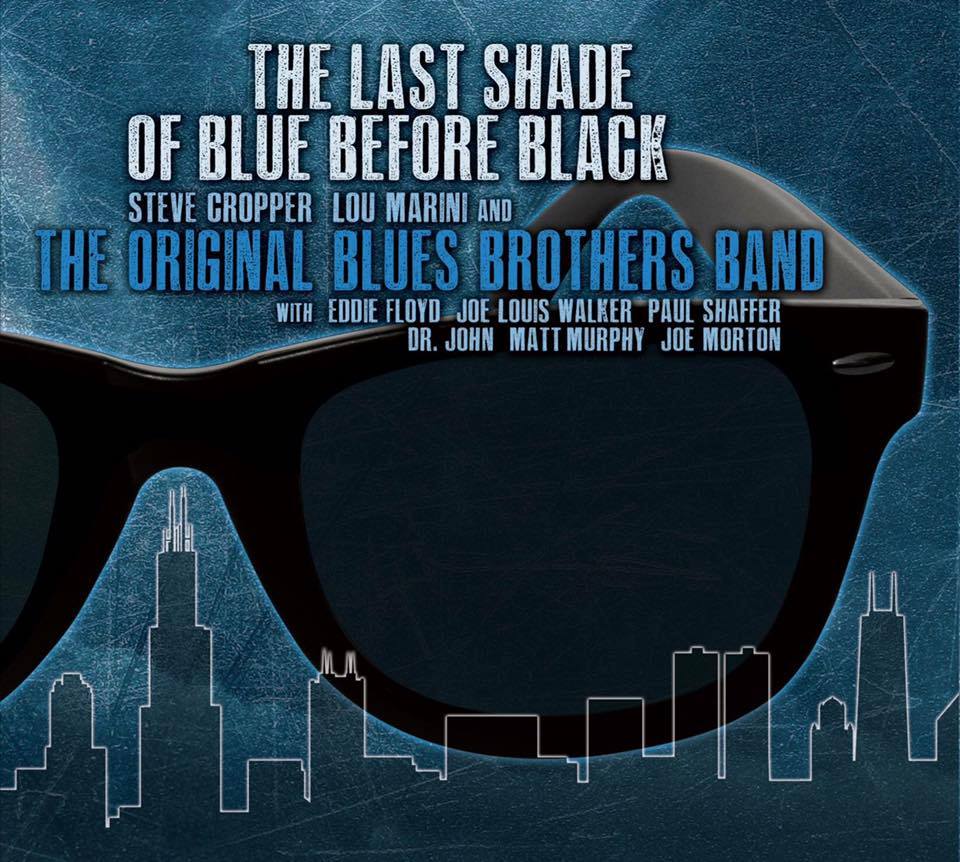 The Original Blues Brothers Band, featuring guitarist Steve Cropper (of Booker T. and the MG's fame) and saxophonist "Blue Lou" Marini, will release a new album, The Last Shade of Blue Before Black, on Oct. 6 on Severn Records. Special guests include Eddie Floyd (of "Knock on Wood" fame), Joe Louis Walker, Paul Shaffer, Dr. John, Matt "Guitar" Murphy and Joe Morton.
The album was produced by Marini, Cropper and The Original Blues Brothers Band and recorded at IWII Studios in Hoboken, N.J., by Jay Messina.
Pre-order the album here.
"Had anyone told me in 1978 that in 2017 I would still be traveling around the world and playing with the Blues Brothers' Band, I would have said they were out of their minds," says Marini in a press release. "But, amazingly here we are with a new CD and still playing all over the world."
Watch the Making-Of the album
Related: John Belushi dies, 1982
Essentially begun as a one-time musical skit that debuted on NBC-TV's Saturday Night Live in 1978 and fronted by John Belushi and Dan Aykroyd as Jake and Elwood Blues, "the band became an overnight sensation, spawning numerous TV appearances, hit albums, two blockbuster movies and global touring," says the release.
Watch the Original Blues Brothers Band
Track Listing and Additional Credits
Baby, What You Want Me To Do – Music & lyrics by Jimmy Reed (Conrad Music/The Seeds of Reed Music, BMI) Arranged by Lou Marini Bobby, Tommy and Rob-vocals, John Tropea-guitar solo, Rob Paparozzi-harp, Tom Malone-trumpet, Baron Raymonde-alto sax
Cherry Street – Music & lyrics by Delbert McClinton, Kevin McKendree & Gary Nicholson (East Folks Music, BMI/ASCAP). Arranged by Lou Marini Tommy "Pipes' McDonnell-lead vocal, Birch Johnson-trombone, Baron Raymonde-alto sax & solo
On a Saturday Night – Music & lyrics by Eddie Floyd & Steve Cropper (Irving Music, BMI) Arranged by Tom Malone Eddie Floyd-lead vocal, Tom Malone-baritone sax
Itch and Scratch – Music & lyrics by Ronald Hayes & Toby King (Gulf Coast Music LLC) Arranged by Lou Marini and The Original Blues Brothers Band Bobby "Sweet Soul" Harden-lead vocal, Rob, Tommy & Rusty-background vocals, Baron Raymonde-alto sax
Don't Go No Further – Music & lyrics by Willie Dixon (Hoochie Coochie Music, BMI) Horn arr. by Lou Marini, rhythm arr. by The Original Blues Brothers Band Joe Louis Walker-lead vocal, Rob Paparozzi-chromatic harp, Tommy McDonnell harp solo, Steve Howard-trumpet solo, Matt "Guitar" Murphy-guitar solo
You Left the Water Running – Music & lyrics by Dan Penn, Rick Hall & Oscar Franks (Screen Gems-EMI       Music, Inc., BMI.) Arranged by Tom Malone Bobby "Sweet Soul" Harden-lead vocal, Tommy, Rob & Lou-background vocals, Lou Marini-tenor sax solo, Tom Malone-baritone sax, David Spinozza-acoustic guitar
Don't Forget About James Brown – Music & lyrics by Eddie Floyd (Irving Music, BMI) Arranged by Leon Pendarvis Eddie Floyd & Tommy "Pipes" McDonnell-lead vocals, Baron Raymonde-alto sax, Tom Malone-baritone sax, Larry Farrell-trombone solo
Sex Machine – Music & lyrics by James Brown, Bobby Byrd & Ronald Lenhoff (Dynatone   Publishing Co., BMI.) Arranged by Paul Shaffer & Tom Malone Paul "The Shiv" Shaffer-lead vocal and piano solo, David Spinozza-guitar, Tom Malone-trumpet
Your Feet's Too Big – Music by Fred Fisher, lyrics by Ada Benson with extra lyrics by Fats Waller   (Morley Music Co/Sony ATV Tunes LLC, ASCAP) Arranged by Lou Marini and The Original Blues Brothers Band Rob Paparozzi-lead vocal & bass harmonica, Rusty Cloud-piano solo, Lou Marini-clarinet
21st Century Baby – Music & lyrics by Rob Paparozzi (Robodripper Tunes, SESAC) Arranged by John Tropea Rob Paparozzi-lead vocal, Baron Raymonde-alto sax, Tom Malone-trumpet & baritone sax
Blues in My Feet – Music & lyrics by Rusty Cloud (Stousefouse Music, BMI) Rusty Cloud-lead vocal, Tom Malone-baritone sax, Rob Paparozzi-harp solo
Qualified – Music & lyrics by Jessie Hill & Malcom Rebennack (Warner-Tamerlane Publishing OBO Skull Music, ASCAP) Arranged by Lou Marini Dr. John "The Nite Tripper"-lead vocal and piano, Bobby, Tommy, Rob & Rusty -background vocals, Birch Johnson-trombone, Baron Raymonde-alto sax, Lou Marini-baritone sax & tenor sax solo
I Got My Mojo Working – Music and lyrics by Preston Foster (ARC Music/Dare Music, Inc., BMI)     Arranged by Lou Marini Rob Paparozzi, Bobby Harden, Joe Morton & Tommy McDonnell-lead vocals, The Original Blues Brothers Band-background vocals, Rusty Cloud-organ solo,     Tom Malone-trumpet
The Last Shade of Blue Before Black – Music & lyrics by Lou Marini (Hip Pickles Music ASCAP) Arranged by Lou Marini and The Original Blues Brothers Band Lou Marini-lead vocal, Bobby, Tommy, Rob & Rusty-background vocals, John Tropea-guitar solo, Lou Marini-tenor sax solo
Watch a 1980 clip of the Blues Brothers with John Belushi and Dan Aykroyd–and Ray Charles

Latest posts by Best Classic Bands Staff
(see all)