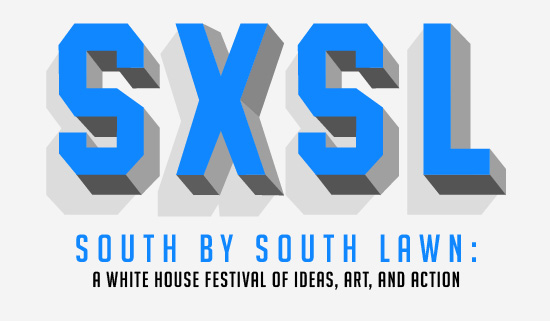 If you're the President of the United States and your term is about to end in several months, what might be left on your to-do list? Sure, you'll want to spend some of your time trying to get to those political things on your agenda that you still hope to accomplish, but you might also want to tuck a little bit of fun into the calendar too.
Which is why President Barack Obama is hosting a festival at the White House. Calling it South by South Lawn—an obvious takeoff on the mega-popular South by Southwest (SXSW) conference and music festival held annually in Austin, Texas—South by South Lawn (SXSL, of course) will take place one day only, on October 3. Billed as "A White House festival of ideas, art and action," the event "will bring together creators, innovators, and organizers who work day in and day out to improve the lives of their fellow Americans and people around the world," according to an announcement from the White House.
The idea for the gathering came about after President Obama and First Lady Michelle Obama spoke, earlier this year, at SXSW. Inspired by the Texas institution's focus on innovation and positive action in various areas, Obama teamed with SXSW to organize SXSL.
Watch President Obama's keynote speech at the 2016 SXSW
Don't pack your tent and head for D.C. just yet though, and no need to keep your eye on the Ticketmaster countdown clock. Not everyone who wants to attend will be able to do so. The White House has set up a web page for prospective revelers to nominate themselves, or their friends and associates, to be considered for attendance. Those who would like to be a part of this historic "evening of music, film, and great ideas" are asked to fill out a form with the person's vital information as well as "a little bit about why you or your nominee should attend."
Says the White House page on SXSL, "It is a call to arms for every American to roll up their sleeves and make a positive mark on our country—and a celebration of the great work so many of us have already accomplished. Know somebody creating change—big or small—-in your community? We're inviting you to nominate yourself or somebody you know to attend. Submit details by September 10th at 5 p.m."
What exactly will take place on the White House lawn October 3? Participants have yet to be announced and if the Pres knows, he's not telling. The SXSL webpage offers only this:
INTERACTIVE: Panel discussions throughout the day will explore topics like how to make change stick with organizers who are having an impact, as well as a discussion with influencers who are using their platforms to bring about positive change. Interactive booths will encourage attendees to engage with and learn about new technologies and innovations.
FILM: The film portion features the 3rd Annual White House Student Film Festival in association with its founding partner, the American Film Institute. Students in grades K-12 submitted more than 700 short films round this year's theme, The World I Want to Live In. The submissions are inspiring and we're excited to share official selections and honor young filmmakers as part of this event.
MUSIC: Musical performances will include well-known and emerging artists who are using their music to inspire audiences.
Related: President Obama's 2016 summer playlist
The SXSL bash is far from the first time the Obamas have hosted events at the White House relating to music and the arts. Earlier this year, in fact, the annual International Jazz Day global celebration of that genre held its main concert at the landmark. Watch Sting's performance from that event.
We'll update this page as more details emerge. Now, please excuse us—we have a form to fill out…

Latest posts by Best Classic Bands Staff
(see all)