We continue our series of looking at the most popular music for a given year. The topic, as you know by the headline, is singles and while we have done stories on the biggest hits of the year, this series slices things a bit differently. Here, we look at 1981's #1 pop hits in the U.S. according to Record World, a competitor of Billboard.
Unlike hit albums, which would often stay at #1 for weeks and often months at a time, singles generally turned over more quickly at the top. Thus, in 1974, no less than 44 songs reached #1. In 1971, 31 different singles, including "Maggie May," "Me and Bobby McGee," and "Brown Sugar" made it all the way.
However, in 1981, just 19 accomplished the feat, led by several acts that had multiple chart toppers. By this year, Top 40 radio wasn't rocking too hard, as programmers were favoring lighter sounds that were also succeeding on rival Adult/Contemporary stations.
Our recap begins in reverse, and alphabetically by artist, starting with the eight that grabbed the top spot for a single week. (Notes: The 1980 year-end chart was frozen for two weeks, so the total won't add up to 52. Many of the chart numbers will differ with those compiled by Billboard.)
1 Week
Air Supply – "The One That You Love"
The Australian soft rock duo had eight singles that reached the Top 5 in the U.S.
Daryl Hall and John Oates – "Kiss On My List"
The pair really took off with this third single from 1980's Voices. Its success was set up by their previous single, a cover of "You've Lost That Lovin' Feelin'," that had peaked at just #12 but laid the groundwork for their big comeback that included another four #1s in the coming years.
Kool and the Gang – "Celebration"
Of all the songs on this list, this is the one that continues to garner the most spins. (There's a little known law that requires it to be played at every wedding.) Good times, indeed. (Yup, we know you're tapping your foot right now.)
Juice Newton – "Angel of the Morning"
This cover of the Chip Taylor composition surpassed the success of its previous biggest version, the 1968 recording by Merrilee Rush. Newton followed it up with another smooth cover with "Queen of Hearts."
REO Speedwagon – "Keep On Loving You"
Of the many stories that can be told of the hardworking rock band from the midwest, it's the one of their determination that perhaps stands out the most. Their 1980 album, Hi Infidelity, was their ninth studio album yet their biggest pop success had peaked at #48. This single, with Kevin Cronin's smooth, confident vocal paved the way for the album to earn an astounding 21 weeks at #1 that year.
Related: The Nine #1 Albums of 1981
Smokey Robinson – "Being With You"
The legendary multi-hyphenate reminded radio programmers that he was still a force, even at 40, with his biggest solo hit after his great output with the Miracles. Watch an unique performance of the song in 2022.
Joey Scarbury – "Theme From The Greatest American Hero (Believe It Or Not)"
The early '80s TV series may have lasted just three seasons, but its theme song lasts forever. Everybody sing, "Believe it or not, I'm walking on air, I never thought I could feel so free-e-e…"
Stars on 45 – "Stars on 45 (Medley)"
As we wrote in our feature, Medley Mania of 1981-82, the novelty act from the Netherlands featured vocalists singing snippets from a pair of huge 1969 hits, "Venus" and "Sugar, Sugar," with snippets of no less than eight Beatles songs featuring Lennon and McCartney soundalikes.
2 Weeks
Blondie – "Rapture" and "The Tide Is High"
After several years of being ignored by Top 40, the new wave band with the photogenic Debbie Harry became radio darlings as they captured their third and fourth U.S. chart toppers. In his Record World, review, my officemate, Joe Ianello, called "The Tide Is High" a "surprising and pleasing reggae track." "Rapture" became the first single that featured rap to reach #1 on the pop chart.
Daryl Hall and John Oates – "Private Eyes"
The lead single and title cut from their next LP picked up right where they had left off as they continued their hot streak.
John Lennon – "(Just Like) Starting Over"
The single had finished 1980 at the top and stayed there through January, for all the wrong reasons, for a total of five weeks.
Rick Springfield – "Jessie's Girl"
One of the few rockers to top the year's chart, this won the Grammy for Best Male Rock Vocal Performance and marked a significant comeback. It's easy to overlook him, but this song began a stretch of a dozen Top 25 singles in the '80s for the handsome actor-musician.
3 Weeks
Christopher Cross – "Arthur's Theme (Best That You Can Do)"
Fresh off his phenomenal showing at the Grammys earlier that year in which he won, improbably, Album of the Year, Record of the Year, Song of the Year, and Best New Artist, Cross recorded the theme song for the Dudley Moore / Liza Minelli film. His co-writing partners? Burt Bacharach, Carole Bayer Sager and Peter Allen. The song went on to win the Academy Award for Best Original Song. Within another couple of years, though, it proved to be the best that he could do, which is better than most.
Sheena Easton – "Morning Train (Nine to Five)"
The first of eight Top 10 U.S. singles for the diminutive Scottish lass, she was just 21 when it was released in the U.K. with the title "9 To 5." Her U.S. label changed it to avoid confusion with Dolly Parton's single which had reached #1 stateside a few months' earlier. (More on that below.) Her acclaim was quick: soon after it had climbed the U.K. chart, she was selected to sing the theme to the James Bond film, For Your Eyes Only.
5 Weeks
Kim Carnes – "Bette Davis Eyes"
Magic happens sometimes. Carnes had had modest success as a recording artist until 1980 when Kenny Rogers commissioned her to write songs for his new album. She and her husband co-wrote "Don't Fall in Love With a Dreamer" and when she and the Gambler recorded it as a duet it became a pop and country smash. That was the springboard that led to what became the capping achievement of her career, 1981's Mistaken Identity album. We hand the story over to guitarist Waddy Wachtel, who we talked to about the track in 2021:
"I was done with my work in Hollywood and driving home and stopped into a [nearby] bar for a beer. And Val Garay, the producer saw me and said, 'Oh man, I can't believe you're here. I need another guitar player.' I had been working all day but he said, 'Check this song out.' So I went and heard it and went, 'Wow, this is something else' and I said, 'I'll just play eights to keep everyone together.'
"Everything you hear on that record is live. Every note of it. Kim's vocal. Every sound. It all went down when we performed it. I grabbed Val and I said, 'I bet you this is a smash. This is a f*cking smash.' And it was. Val used the monitor mix. It was great. We just 'had' it. It happens sometimes."
The track was #1 for five non-consecutive weeks that spring and summer, and was the year's top-selling single. The album also topped the chart and was even nominated for Album of the Year. The single earned Carnes the Grammy for Record of the Year.
Dolly Parton – "9 To 5"
As a recording artist, the beloved singer and songwriter has recorded two dozen singles that have topped the country chart. This buoyant theme song to the 1980 movie of the same name, in which Parton starred with Jane Fonda, Lily Tomlin, and Dabney Coleman, was her first to reach #1 on the pop chart. (Her only other was her 1983 duet with Kenny Rogers, "Islands in the Stream.") The single earned her two Grammys and an Oscar nomination for Best Original Song.
6 Weeks
Olivia Newton-John – "Physical"
The single closed the last six week's of '81 at #1, and continued at the top for another three weeks in 1982, becoming the most successful hit of her significant career. We'll let Olivia herself tell you how surprised she was by how the song was accepted, in this interview she did in the year-end issue of Record World. "I'm really delighted – you have no idea. I thought it was probably going to be either a big success or a complete failure. I didn't think it was going to be an in-between record, because it was kind of extreme for me, a different sound for me. So I'm delighted, because it was an exciting and nerve-wracking time when we put it out. I'm knocked out."
9 Weeks
Diana Ross and Lionel Richie – "Endless Love"
It was the theme song to the Brooke Shield's movie of the same name, and though the film was not a big hit, the single sure was, reaching the top on Aug. 15 and staying there through Oct. 10. (Richie wrote and produced it.) The record became the final #1 (other than "We Are the World," which Richie co-wrote with Michael Jackson) of Ross' extraordinary career. Conversely, the single provided a springboard for Richie's solo career: he became one of music's dominant stars of the '80s, with another four solo hits that reached #1. The pair sang it at the Academy Awards, though it did not win Best Original Song.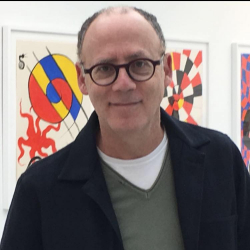 Latest posts by Greg Brodsky
(see all)