The Nine #1 Albums of 1981: Take It on the Run
by Greg Brodsky
Some of the stories making headlines in 1981: A minor league baseball game was finally suspended after the 32nd inning, tied at 2-2, at 4:07 a.m. Among the players were future Hall of Famers, Cal Ripken, Jr. and Wade Boggs.
Bob Marley died of cancer on May 11 at age 36. There were assassination attempts on President Ronald Reagan and Pope John Paul II.
Raiders of the Lost Ark arrived in theaters on June 12. Charles, the Prince of Wales, married Lady Diana Spencer on July 29. Simon and Garfunkel performed before an estimated 500,000 people on Sept. 19 in New York's Central Park.
Our recap of the U.S.'s number one albums of 1981 includes many classic rock favorites, as determined each week by Record World.
Before we get to the list, here are some of the noteworthy releases that earned big sales but were blocked from the top spot: The Who's Face Dances, Rush's Moving Pictures, Stevie Nick's Bella Donna, and Genesis' Abacab.
Nine different albums claimed the top spot in '81, each had a story to tell.
Listings are in reverse order, saving the longest-running title for the end. (Note: The stats will differ slightly from what was compiled by rival Billboard. Styx's Paradise Theatre, for instance, never reached #1 on the Record World chart, yet its solid sales each week – often at #2 – made it the year's overall second-biggest title.)
Pat Benatar – Precious Time (1 week)
Expectations were high for a follow-up to 1980's humongous Crimes of Passion. And while this July 6 release hit the top on Aug. 15, it didn't have anywhere near the lasting success of its predecessor. This one had just one big single, "Fire and Ice," which peaked at #17. Crimes producer Keith Olsen was joined at the controls this time by Benatar's lead guitarist, Neil Giraldo. One year later, the singer and her frequent songwriter partner were wed.
Kim Carnes – Mistaken Identity (1)
No overnight sensation, she. The songwriter worked for a while as a background singer and it wasn't until nine years after she released her first album, that the public truly became aware of her talents. In 1980, she co-wrote "Don't Fall in Love With a Dreamer" and recorded it as a duet with none other than Kenny Rogers. Their single was a country-pop crossover smash. That same year, she scored her own Top 10 hit with a cover of Smokey Robinson's "More Love." In '81, teamed with producer Val Garay, Carnes recorded "Bette Davis Eyes," which topped the pop charts for an astounding nine weeks. (It went on to win Grammy Awards for Song of the Year and Record of the Year.) Roughly three months after the album's release, it, too, hit #1 on July 11.
John Lennon/Yoko Ono – Double Fantasy (2)
Following a long hiatus, the legend returned to the recording studio in August. The joyous first single, "(Just Like) Starting Over," was released in late October. The album followed on Nov. 17, less than one month after the sessions were completed. Following Lennon's Dec. 8 murder, the single reached #1 in the final week of 1980. The album took a bit longer to top the chart, which it did on Feb. 14. If you were around then, you know just how tough a time it was.
The Moody Blues – Long Distance Voyager (2)
Nine years after the prog rock band had scored a #1 album in the U.S. with the superb Seventh Sojourn, the returned to the top, thanks to a pair of Top 15 singles, "Gemini Dream" and "The Voice." The May 15 release turned the trick for two non-consecutive weeks, beginning July 25.
Journey – Escape (4)
The band's seventh studio album in as many years continued their streak of peaking higher than its predecessor. It features four enormous hits including "Open Arms" (#2), "Who's Crying Now" (#4) and "Don't Stop Believin'" (which peaked at "just" #9). The July 17 release marked keyboardist Jonathan Cain's band debut; he and Steve Perry had their hand in writing every song on the album. It's sold more than nine million copies in the U.S. alone, first reaching #1 on Sept. 5.
Related: Looking back at Journey's Rock Hall induction
The Rolling Stones – Tattoo You (5)
It became the World's Greatest Rock and Roll Band's eighth straight studio effort to reach number in the States, an incredible feat. It's particularly noteworthy because the album was comprised mostly of songs from previous recording sessions. (One such track, "Never Stop," ultimately became "Start Me Up," which has since become one of the Stones' numerous signature songs.) The Aug. 24 release first reached #1 on Sept. 26.
Kenny Rogers' Greatest Hits (6)
"The Gambler" was dominating the country and pop charts, with no less than five Top 10 hits on Top 40 radio in a span of 18 months when this collection arrived on Sept. 23, 1980. And this well-timed release thoroughly dominated the sales charts: When it reached #1 that Nov. 8, it ran the table for the remainder of 1980. It continued its run into the new year – making it 12 weeks in all – and has sold an astounding 12 million copies in the U.S. alone.
Related: One year earlier… The #1 albums of 1980
Foreigner – 4 (10)
Two great singles led the way for this July 2 release.  The uptempo "Urgent," with its great sax solo from Junior Walker, arrived just before the album, and helped the LP top the chart for two weeks, beginning Aug. 22. Then, when the power ballad, "Waiting For a Girl Like You," was all over Top 40 that fall, the album returned to #1 on Nov. 7, where it stayed for the remainder of the year.
REO Speedwagon – Hi Infidelity (21)
Yes, you heard it from a friend correctly: 21 weeks at #1. The hard-working group's previous high water mark was #29 for You can tune a piano, two albums earlier. So what changed? Top 40's acceptance… no, make that embrace of the midwestern band. It took 14 weeks, but "Keep on Loving You" finally reached #1 on Mar. 21, joining the album at the top (where it first ascended on Feb. 28). And thanks to the ear candy follow-up single, "Take It on the Run," featuring Kevin Cronin's smooth vocal and Gary Richrath's guitar solo, REO Speedwagon's album was on top through the entire spring and well into summer, finally giving up its crown on Aug. 8. (Everyone cashed in: Record World ran a 36-page special section on the band in its Nov. 28 issue.) The album has been certified 10x Platinum.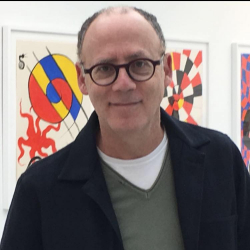 Latest posts by Greg Brodsky
(see all)