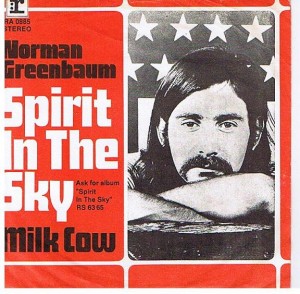 Here's a song that easily falls into a variety of categories. One-Hit Wonder? Check. Unlikely Chart Hit? Check. Timeless Classic? Check.
In 1969, Norman Greenbaum had left Dr. West's Medicine Show and Junk Band, a psychedelic band with limited success. Greenbaum, raised as an Orthodox Jew, was moved by watching Porter Wagoner perform a gospel number on TV. "I thought, 'Yeah, I could do that,' knowing nothing about gospel music," he told the New York Times in 2006. "So I sat down and wrote my own gospel song. It came easy. I wrote the words in 15 minutes."
When it was released that December, music industry trade magazine Record World wrote: "Here's a talented new singer-songwriter who has much progressive appeal. Good side."
The unlikely lyrics – I've got a friend in Jesus – combined with the distinctive fuzz guitar sound, was a winning combination and it vaulted "Spirit In The Sky" to #3 on the Hot 100 on April 18, 1970. More importantly for Greenbaum, its truly unique sound has led to its being used in numerous movies and TV commercials for top brands, earning the artist a sizable annuity.
Related: The song is on our list of 11 surprising radio hits of the '70s
Greenbaum, born on November 20, 1942, lives in Santa Rosa, Calif. He made headlines in March 2015 when a vehicle he was driving struck and killed a motorcyclist. In an undated post on his website (with the great URL) he writes: "I am home, finally, and starting the next phase of my rehabilitation. I want to thank everyone for their prayers and well wishes, very much appreciated. I know that it helped pull me through. I shall be posting updates when possible. God bless, Norman."
If you're a new Best Classic Bands reader, we'd be grateful if you would Like our Facebook page and/or bookmark our Home page.
Watch what's considered to be the "original" video
The song has been featured prominently in such hit films as Remember the Titans, Guardians of the Galaxy and more. It's also been used in TV spots for brands like Nike and American Express.
Watch Greenbaum celebrate his 75th birthday in 2017 with a performance

Latest posts by Best Classic Bands Staff
(see all)